Suzhou Travel Guide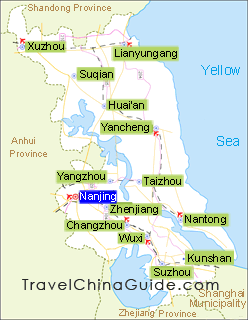 Basic Facts:
Area: 8,488 square kilometers (about 3,277 square miles)
Population: 6,073,100
Area Code: 0512
Zip Code: 215000

Suzhou is located in the center of the Yangtze Delta, in the south of Jiangsu Province, with Shanghai to the east, Zhejiang Province to the south, Wuxi City to the west and the Yangtze River to the north. Since 42% area of the city is covered by water, including a vast number of ponds and streams, it is praised as the 'Oriental Venice'. Taihu Lake, four fifths of which is in the territory of Suzhou, is one of the four largest fresh lakes in China, with East Hill, West Hill and other scenic spots in its vicinity. The city is cut by the Beijing-Hangzhou Grand Canal from north to south. Together with its mild climate, making it an available destination all year round, fertile landscape and abundance of produce, it is no wonder that Suzhou is called 'paradise on earth'.

Built in 514 BC, Suzhou is an ancient city with a 2,500 years' history. The unique characteristics of the past are still retained now. The double-chessboard layout of the city, with 'the streets and rivers go side by side while the water and land routes run in parallel', are preserved basically intact. Strolling the streets, you can feel the unique lingering charm of this landscape left by its long history.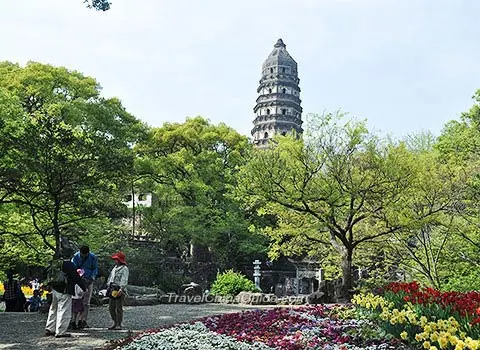 Garden of the Master of the Nets

As the saying goes - 'Gardens to the south of Yangtze River are the best in the world, and Suzhou gardens are the best among them'. These gardens attain their high reputation not only for their vast numbers, but also for their charming natural beauty and harmonious construction. At present more than 60 gardens are kept intact in the city, and a series of them have been listed in the World Heritage List, including the Humble Administrator's Garden, the Lingering Garden, the Garden of Master of Nets and the Mountain Villa with Embracing Beauty.

Rating alongside these classical gardens are the exquisite water townships. Zhouzhuang, Mudu Town, Tongli Town and so on should not be missed by any visitor. In any water township, a number of Ming and Qing dynasty preserved buildings can be found. The natural sights and human landscape enhance each other's beauty, which is a great attraction to visitors who linger there.


Zhouzhuang, an ancient water town
Being the cradle of Wu Culture, Suzhou plays a vital role in the country's cultural history. Many great names and schools of art arose here. For example, the Wumen Fine Arts School is the finest in the city's history, represented by Shen Zhou, Wen Zhengming, Tang Yin and Qiu Ying, whose poems, calligraphy and paintings are considered to be historical artifacts. Pingtan, Kun Opera and Suzhou Opera are praised as 'three flowers' in the cultural history of the city. Furthermore, embroidery, fans and brocade produced in Suzhou are noted world wide. If you want to explore more on their history visit the museum of Suzhou folk-costume for a complete description.
As one of the famous tourist cities, Suzhou has made a great improvement to its basic facilities and tourist functions. It is accessible by plane, train and bus. Star-rated hotels with good services and reasonable guesthouses and hostels provide a range of lodging. Of course, tasting local delicacies should not be forgotten in your journey. Authentic local cuisines and snacks can be found in Guanqian Street, where delicious food and friendly service are memorable. When night falls, the city is quiet and peaceful. You can enjoy it while sipping a cup of tea in any teahouse.

Banks:
The Zhejiang Branch of Bank of China offers currency exchange service.
Wuzhong branch: No.110, Dong Wu North Street


Humble Administrator's Garden

Emergency Numbers:
Fire: 119
Police: 110
Ambulance: 120
Traffic: 122

Useful Numbers:
Tourist Complaints: 65223377
Consumer Complaints: 12315
Telephone Directory Assistance: 114
Weather Forecast: 96121



Hospital:
The First Affiliated Hospital of Soochow University
Address: No.96, Shi Zi Street
Transport: The No.202, 529, 40, 309, 204, 501, 55, 89, and the tourist special route No.2 buses can take you directly to the hospital.
The Fifth People's Hospital
Address: No.2, Xi Er Road
Transport: Take the No.1, 21, 27, 28, 101, 102, 103, 218, 309, or 514 buses.The tourist special routes No.2 and 4 also go to the Tower Department.
You can also take the tourist special route bus No.5 and the regular buses No.39, 47, 305, and 949 which stop at Xin Shi Road.

Famous University:
Soochow University
Address: No.1, Shi Zi Street
Web site: http://www.suda.edu.cn/english/



Festival
Ya Shenxian (April 14th in Chinese lunar calendar)
April 14th is said to be the birthday of Lv Dongbin, one of the Eight Immortals in Chinese Taoist mythology. On that day, he comes to Suzhou disguised as a human to spread happiness and prosperity. To receive more luck from the immortal, people from all over the city crowd the streets in celebration. Today, this activity has turned into a bustling temple fair with various displays including handicrafts, plants, animals, and local snacks.