Chongqing Travel Guide
Chongqing is the largest municipality located in southwest China. It is a modern port city in the upper reaches of the Yangtze River at the confluence of the Yangtze and Jialing Rivers. With an area of 31, 800 square miles (82,400 square kilometers), it shares border with the provinces of Hubei, Hunan, Guizhou, Sichuan, and Shaanxi. As China's fourth municipality after Beijing, Shanghai, and Tianjin, Chongqing keeps fast economic development while reserving wonderful natural environment.
Being famous as the 'Mountain City', it has a wavy terrain and encompasses a wealth of water reserves, mineral resources, dense forests, and abundant flora and fauna. The city attracts more and more visitors from home and abroad for its natural wonders and cultural heritage. As a common starting port for the Yangtze River cruise, tourists can go for a downstream tour to the magnificent Three Gorges.

From Jan. 3, 2014, passport holders of 51 countries and regions including USA, UK, Australia, Canada, France, Germany, Italy, Denmark, Netherlands, Spain, etc. are granted a visa-free stay of up to 72 hours when taking an international transfer via Jiangbei International Airport.
Read details about
72-Hour Visa-Free Transit
.
Servicing western China, the city provides convenient water, land, and air transportation in and out. Fast developing urban transport system such as city-bus and subway makes traveling easy and comfortable. As a starting city of a Yangtze cruise, it meets thousands of travelers home and abroad each year
.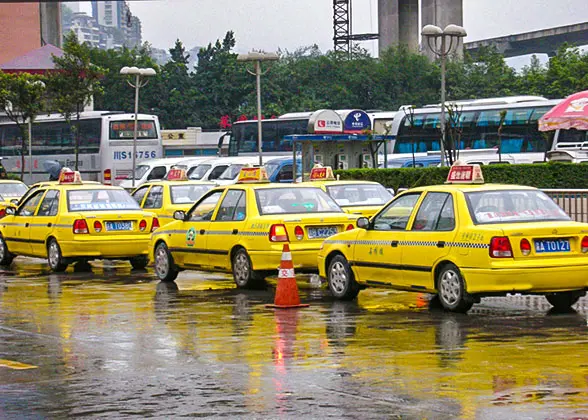 -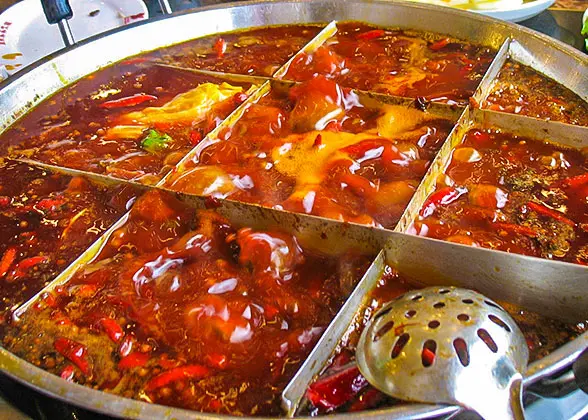 Chongqing is famous for its hot Sichuan cuisine and world-famous hot pot. Various brands of hot pot restaurants can be found here and there. The food is delicious even in a very small restaurant. Street vendors as well as restaurants feature exciting spicy delicacies for the gourmets. Bayi Food Street in the city center is the best place to taste the spicy local snacks.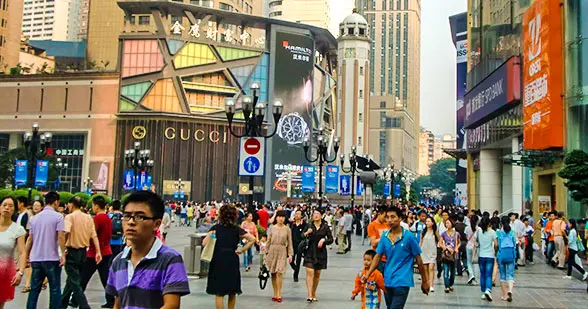 Although not being as bustling as Beijing and Shanghai, the city can still satisfy your desire for shopping with its five major commercial centers. Jiefangbei CBD is the most distinguished and prosperous, where a plenty of department stores, local products stores, supermarkets, and restaurants can be easily found.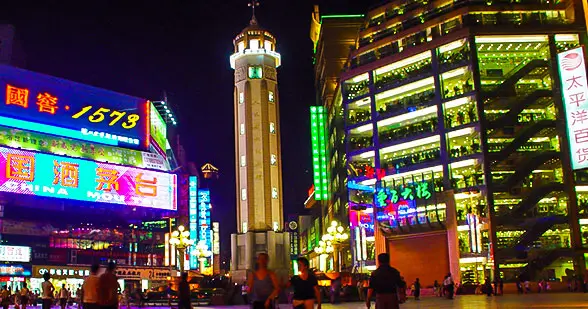 Nightlife is colorful here. Having hot pot at a riverside restaurant or heading for night food markets are highly recommended. The wonderful cruise on the Yangtze and Jialing Rivers provides a fantastic chance to appreciate the city's enchanting night view. Scattered colorful lights make the city beautiful and make you fall in love with it. Plenty of pubs or nightclubs are also available.
Before getting its present name nearly 800 years ago, its former names are Jiangzhou, Yuzhou, and Gongzhou. Since the Qin Dynasty (221 - 207BC), many dynasties have set up administrative institutions that have endowed the city with brilliant cultures. Perched beside the Yangtze, the "Golden River", Chongqing symbolizes Yangtze River civilizations and is the cradle of the Bayu Culture.
Some fast facts and practical information are provided to facilitate your life, study, trip or business in the city.
Consulates & Visa
Area Code & Zip Code
Post Office
Banks
Useful Phone Numbers
Famous Universities
Hospitals