Airport Code: CKG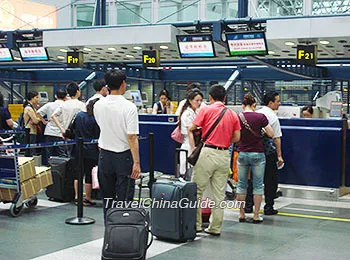 Location: Chongqing Jiangbei International Airport is about twenty-one kilometers northeast of Chongqing in Lianglu Town, Yubei District.

Brief Intro: Covering an area of about 2,860,000 square meters (707 acres), the airport has a 4E standard flight area; a 1,050 square meter (11,302 square feet) terminal building; a 3,200 meter (3,500 yards) runway and thirty-one gate positions. The airport offers about seventy air routes and connects over fifty domestic cities and four foreign cities.



From Jan. 3, 2014, passport holders of 51 countries and regions are granted a visa-free stay of up to 72 hours when taking an international transfer via Jiangbei International Airport.
Read details about 72-Hour Visa-Free Transit.



Chongqing Flights (flight search & ticket booking)



Airport Transportation



By Shuttle Bus

| | | | | |
| --- | --- | --- | --- | --- |
| Bus Routes | Operating Times | Intervals | Stops | Cost |
| Airport → Shangqing Si | From the first flight to the last arrival | According to the schedule of flights | Jiazhou Bus Station, Waimao Dasha | CNY15 |
| Shangqing Si→Airport | 06:00 ~ 20:20 | 30 minutes | Yutong Hotel | CNY15 |

Tip: Shangqingsi Station moves to the Statue of He Long at Chongqing Stadium temporarily from Oct. 2nd to Dec. 31st, 2012.

By Taxi
The flat rate fare of most taxis in Chongqing is about CNY5 for the prior 3 kilometers (about 1.9 miles) and then the distance surcharge is about CNY1.8 per kilometers. It will cost passengers at least CNY45 from the airport to downtown area.

Facilities: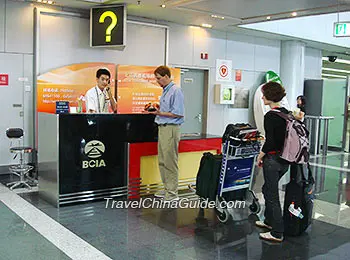 Terminal Building: divided into three sections of the Arrival Hall, Leaving Hall and the United Inspection Office, the building sets ten boarding gates and six boarding bridges, which will meet the needs of 800 person-times per hour at the peak time.
Rest Rooms: Near the No.6 Hall on the second floor of the Terminal Building. There are rest rooms with changing stations and facilities for the disabled.
Smoking Room: Passengers can find the smoking rooms near the No.9 and No.4 halls on the first floor.
Clinic: in the No.6 Hall, there is a First-Aid Center, medicine counters, doctors and nurses, ambulance offering the 24-hour service.
Parking Lot: there are four parking lots at the airport. The parking for taxis is free. As for the cost of the parking space, it is about one Yuan per hour.
Other: There are cafes, restaurants, shopping counters and luggage carts available throughout the terminal building.

Services:
Airport Information: Customer service counters are very near to the No.7 and No.8 halls on the first floor and to the No.3 and No.4 halls on the second floor of the Terminal Building.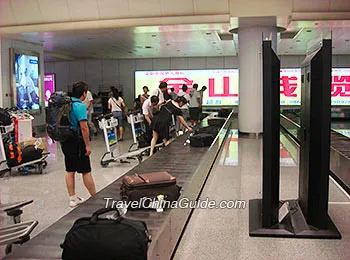 Airport Inquiring Tel: 023 - 67152335 023 - 67152336 023 - 67152337 023 - 67856444
Luggage Searching of CA: 023 - 67152343 023 - 67823331
Broadcasting Office: 023 - 67152300
Banks: there are small branches of China Construction Bank and Industrial & Commercial Bank of China set in the airport and the opening hour of which are from 08:30 to 11:00 in the morning and 13:30 to 16:30 in the afternoon.
Clinic of Terminal Building: 023 - 67152642
Police Station: 023 - 67152274 023 - 67152272