Chengdu Transportation - Getting There

By Air
Chengdu has one airport, the Shuangliu International Airport (CTU), in the southwest of the city. Located about 16 kilometers (10 miles) from the city center, it is the largest aviation hub in central and western China, and aims to form the national aviation hub in mainland China. It has flights to more than 70 domestic cities and over 20 international cities. Frequent one-hour flights are available to Kunming, capital of Yunnan Province. Flights to Xining, capital of Qinghai Province, take about one and a half hours, with two-hour flights available to Lhasa, capital of Tibet. It is convenient to visit the Jiuzhaigou Scenic Spot by air from Chengdu, a 40-minute flight from CTU to Jiuhuang (Jiuzhaigou and Huanglong) Airport with one-way fare of about CNY 700. Visitors are advised to book flights early for this popular trip. Discounts may be available through hotels or travel agencies.



Chengdu Flights (brief introduction & flight search)

By Train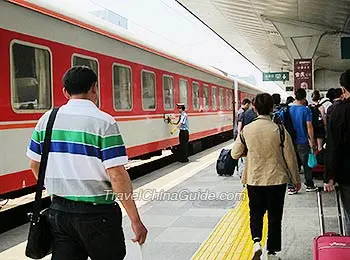 Chengdu Train Schedule
As the largest railway hub in southwest China, Chengdu has convenient railway transportation. At present, it has two railway stations for passenger transport: Chengdu Railway Station, namely North Railway station and East Railway Station. Another two passenger railway stations, south and west railway stations are now under construction. When completed, the "two principals (north and east railway stations), two assistants (south and west railway stations)" setup of Chengdu rail transport will be formed and better service passengers.

Where to purchase advance tickets:
Chengdu Through-transit Industry Co., Ltd: No. 91, second section, north of Second Ring Road
Chengdu Railway Station Transportation Office: No. 6, first section of Renmin North Road
Sichuan University: No. 24, first section, south of First Ring Road
Provincial Government Collective Economy Office: No. 31, third section of Renmin South Road



By Long-distance Bus
Chengdu has several main coach stations including Chengdu Bus Station (Wugui Bridge Bus Station), New South Gate Bus Station, Ximen (West Gate) Bus Station, Dongmen (East Gate) Bus Station, Chadianzi Bus Station, Beimen (North Gate) Bus Station, and Gaosuntang Bus Station.
Wugui Bridge Bus Station is near Tazishan Park, east part of the city. It provides tansport service mainly to cities along the Chengdu-Chongqing expressway and Neijiang-Yibin expressway such as Chongqing, Yibin City, Zigong County, Wanxian County, and Nanning City. For time-saving expressway service on high quality vehicles, the Wugui Bridge Bus Station is recommended.
New South Gate Bus Station, No. 57, Linjiang Road, provides service to renowned scenic spots, including Jiuzhaigou Scenic Area, Mt. Leshan, and Mt. Emeishan via buses 6, 28, 49, 55 and 301.
Chadianzi Bus Station is seated in the Second Ring Road. Buses here run mainly to the famous scenic spots and Tibetan areas in the west and north of Sichuan, including Wolong Panda Reserve, Danba County, Mt.Siguniangshan, Jiuzhaigou Scenic Area, and Mt. Qingcheng.
North Gate Bus Station is situated in the first Ring Road. The buses here serve primarily south Sichuan Province, such as Zigong County and Yibin City.
Located in the third section, north of the Second Ring Road, Gaosuntang Bus Station is easily missed. It is the station that provides buses for Lhasa, Tibet. It takes three days and two nights to run the whole distance at the price of about CNY 616. In addition, buses to Lanzhou, Xining, Shigatse and Urumqi are available here.