Chengdu Transportation

By Air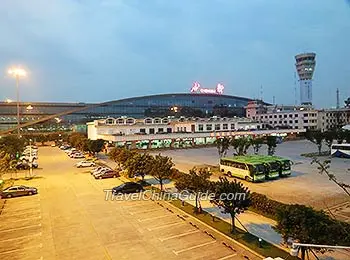 Chengdu Airport
Chengdu has one airport, the Shuangliu International Airport (CTU), in the southwest of the city. Located about 16 kilometers (10 miles) from the city center, it is the largest aviation hub in central and western China, and aims to form the national aviation hub in mainland China. It has flights to more than 70 domestic cities and over 20 international cities. Frequent one-hour flights are available to Kunming, capital of Yunnan Province. Flights to Xining, capital of Qinghai Province, take about one and a half hours, with two-hour flights available to Lhasa, capital of Tibet. It is convenient to visit the Jiuzhaigou Scenic Spot by air from Chengdu, a 40-minute flight from CTU to Jiuhuang (Jiuzhaigou and Huanglong) Airport with one-way full fare of CNY 980, excluding departure tax and fuel surcharge. Visitors are advised to book flights early for this popular trip. Discounts may be available through hotels or travel agencies.


Chengdu Flights (brief introduction & flight search)

By Train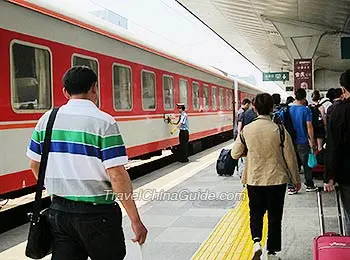 As the largest railway hub in southwest China, Chengdu has convenient railway transportation. At present, it has two railway stations for passenger transport: Chengdu Railway Station, namely North Railway station and East Railway Station. Another two passenger railway stations, south and west railway stations are now under construction. When completed, the "two principals (north and east railway stations), two assistants (south and west railway stations)" setup of Chengdu rail transport will be formed and better service passengers.


Chengdu Train Schedule



Tip:
Railway tickets are available 60 days prior to departure online or through phone and 58 days prior at railway stations and ticket outlets throughout the country. During holidays, especially Spring Festival and National Day holiday, they are always in great demand. Please book as early as possible.



By Long-distance Bus
Chengdu has several main coach stations transfering passengers within or outside Sichuan Province, including Chengdu General Bus Station (Wugui Bridge Bus Station), New South Gate Bus Station (Tour Bus Center), Chadianzi Bus Station, Airport Bus Station, East Railway Station Bus Station, Beimen (North Gate) Bus Station, and Wukuaishi Bus Station.


By Subway
Chengdu Planned to built 10 subway lines around the city which would make the subway transport easily accessible to the city's major distribution centers. Currently, only subway line 1 and the first phase of subway line 2 are in operation, while line 3, line 4, and line 5 are under construction. Passengers can take line 1 from Shenxian Lake to Century City via North Railway Station, Tianfu Square, Sichuan Gymnasium, South Railway Station, Ocean Park and other places in the city. The first phase of line 2 can take travelers to Chadianzi Bus Station, People's Park, Chunxi Road, East Railway Station, Chengdu Institute of Public Administration and other areas.


Subway Map



By City-Bus
Chengdu's public bus services extend in all directions. You can get to most of places, especially sights inside the city, by bus. Common public buses charge CNY 1, while those with air-conditioners charge CNY 2. Take small change as there are no conductors on many of the buses.


Bus/ Subway Search



By Scenic Shuttle Bus
Scenic shuttle buses bring great convenience for self-serviced tourists. They can take passengers to most scenic spots in Chengdu, including Wuhou Memorial Temple, Jinli Street, Panda Breeding and Research Center, Wide and Narrow Alley, Jinsha Site Museum, Thatched Cottage of Dufu, Three-Star Piles Museum, Dujiangyan Irrigation Project, and Mt. Qingcheng. Run directly between two appointed sites without stops, they are time-saving and more comfortable than city buses. However, the ticket is always sold together with the entry ticket of scenic spots, and sometimes even the guide service (bilingual in Chinese and English) onboard and inside scenic spots, making it more expensive than the real self-serviced itinerary by public transport. Fortunately, passengers can take some of the buses for free at appointed time after buying the destination entry ticket. Here are the free ones:
From
To
Ticket Outlet
Departure Time
Wide and Narrow Alley
Wuhou Memorial Temple
No. 1, Narrow Alley
10:40
Thatched Cottage of Dufu
14:00
Wuhou Memorial Temple
Thatched Cottage of Dufu
Visitor Center, front gate of Wuhou Memorial Temple
12:30
Jinsha Site Museum
14:30
Panda Breeding and Research Center
Wuhou Memorial Temple
Front gate of Panda Breeding and Research Center
14:30
Thatched Cottage of Dufu
Wuhou Memorial Temple
South gate of Thatched Cottage of Dufu
13:00
Jinsha Site Museum
11:15
Jinsha Site Museum
Thatched Cottage of Dufu
East gate of Jinsha Site Museum
13:30
Wuhou Memorial Temple
12:30
Shuangliu Airport
Thatched Cottage of Dufu
International transit passenger service center, gate 1-2, F1, T1;
International transit passenger service center, gate 4, F1, T2
12:00
Note: The above routes and departure time are for reference only. They may be adjusted any time.



By Taxi
Chengdu has created hundreds of new taxi stands in its streets. The stands are approximately 79 feet (2 meters) high, with a green ginkgo leaf shaped board on a blue Y-shaped support. The signs are written in both Chinese and English.
The taxi fare is CNY8 (or CNY9 for SAGITAR taxi) for the first 2 kilometers and CNY1.9 per succeeding kilometer from 6:00 to 23:00. At night from 23:00 to 6:00 next morning, the taxi fee is CNY9/CNY10 for the first 2 kilometers and CNY 2.2 per succeeding kilometer. If the journey is over 10 kilometers but less than 60 kilometers, 50% no-occupancy surcharge of the total fee should be paid. CNY1.9 (or CNY2.2 at night) will be charged for every 5-minute waiting time, which will be accumulated when the taxi speed is under 12km/hr.

By Pedicab
Gathering within the First Ring Road, especially in the city center, the pedicab has been a typical feature of the city. Drivers wear uniforms with identifying cards. The charge starts from CNY 5. You can bargain.

Rental
Despite traffic considerations, Chengdu welcomes private cars. Car rental is an option if you did not join a package tour.
Price: CNY 650 a day for a 12-seat microbus
CNY 1,000 a day for a 7-seat jeep
CNY 700 a day for a common car
And also you can employ a driver, about CNY 50 one person per day (8 hours).