Chengdu Shuangliu International Airport

Code: CTU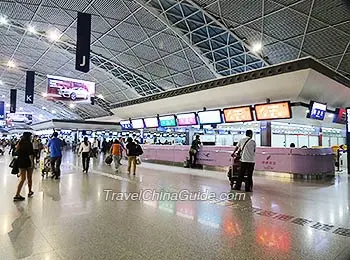 Shuangliu International Airport

Location: Shuangliu International Airport is located about two kilometers (about 1.2 miles) east of Shuangliu County, about 16 kilometers (about 10 miles) away from downtown area.

Brief intro: First built in 1938, Shuangliu International Airport is the largest in southwest China. It covers an area of over 9,333,333 square meters (about 2,306 acres) with two parallel runways and 200 parking stands. Currently, it has 143 scheduled domestic flight routes to cities including Beijing, Shanghai, Guangzhou, Qingdao, Nanjing, Hangzhou, Xian, Kunming, Xining, Lhasa and Nyingchi. In addition, flights to cities inside the province are available, such as to Dazhou, Xichang and Jiuzhaigou, etc. It also offers 56 international (regional) flight routes by the end of 2012. International flights include service to cities abroad such as Tokyo, Shanghai (Beijing)-Fukuoka, Osaka, Seoul, Bangkok, Singapore, Kuala Lumpur, Katmandu, Los Angeles, Vancouver, London, Sydney, Melbourne (Australia), Frankfort, Delhi and (Beijing)-Paris, as well as regional flights to Hong Kong and Macau.

Tips: Tourists bound for Chongqing and places inside Sichuan Province such as Jiuzhaigou must take flights from the old lobby of CTU, a short distance away from the new one. Flights from Chengdu to Nyingchi in southeast Tibet operate only one round trip per week, on Fridays. Tickets are only sold during the week of the trip and can not be reserved for the next week.

Passport holders of 51 countries and regions will be granted a visa-free stay of up to 72 hours when taking an international transfer via Chengdu Shuangliu Airport.
Read details about
72-Hour Visa-Free Transit
.

Terminal Buildings
Shuangliu International Airport has two terminal buildings, Terminal 1 and Terminal 2, covering an area of 500,000 square meters (about 124 acres). There are 74 boarding bridges, 64 security channels, and 207 check-in counters. Complete and advanced facilities and services are available in both terminals, including International and domestic transfer, VIP lounge, banks, dining, shopping, recreation and other dedicated services.

Airline Companies
T1: EVA Airways (BR), Dragon Air (KA), Air Macau (NX), Silk Air (MI), KLM Royal Dutch Airlines (KL), Thai Airways (TG), Asiana Airlines (OZ), China Airlines (CI), Air Asia X (D7), ANA (NH), Air China (CA), Sichuan Airlines (3U), Hong Kong Airlines (HX), Far Eastern Air Transport (FE), Vietnam Airlines (VN), Etihad Airways (EY)
T2: Air China (CA), Shandong Airlines (SC), China Express Airlines (G5), Shenzhen Airlines (ZH), Tibetan Airlines, Beijing Capital Airlines (JD), China United Airlines (KN), Juneyao Airlines (HO), Okay Airways (BK), Spring Airlines (9C), China Eastern Airlines (MU), Chengdu Airlines (EU), China Southern Airlines (CZ), Xiamen Airlines (MF), Hainan Airlines (HU), Sichuan Airlines (3U), Hebei Airlines (NS), Kunming Airlines (KY), Tianjin Airlines (GS), West Air (PN), Lucky Air (8L), Shanghai Airlines (FM)

Chengdu Flights
(flight search & ticket booking)

Airport Transfer
: offering Chengdu airport p
ick-up and see-off services

Transportation
There are several shuttle buses running to the downtown area of the city. It also provides long-distance buses to major cities within Sichuan Province. Taxi service is also available.

By shuttle bus:
Line

Routes to

Major Stops

Waiting Spot

Operating Time

Line 1

Minshan Hotel

US Consulates People's South Road, Bailout Tower 1st Circle Ring Road, Huaxi Dam

Gate 4 & 5 of T2
Gate 3 at 1F of T1

Mianshan Hotel:06:00-22:00
Airport: 06:30 - the last flight

Line 2

People's North Road, People's Middle Road, Tianfu Square, Jinjiang Hotel, Huaxi Dam, Bailout Tower 1st Circle Ring Road, US Consulates People's South Road, South Railway Station, Shiyang Crossroads, Taiping Temple Crossroads, Baijia Crossroads, Aerial Port, Labakou

Gate 5 of T2
Gate 3 at 1F of T1

06:30–20:00

Line 3

South Railway Station (East Road), Red Brick Bridge, South Gate of Sichuan Normal University

Gate 5 of T2
Gate 3 at 1F of T1

07:00-19:00

Line 4
South of the new Convention and Exhibition Center
Yangtze River Crossroad , Airport Road, North of the new Convention and Exhibition Center

Gate 5 of T2
Gate 3 at 1F of T1

06:10-19:00

By long-distance bus:
| | | |
| --- | --- | --- |
| Destinations | Schedule | Price(CNY) |
| Mianyang | 09:30--21:00 | 57 |
| Nanchong | 11:30, 14:30 | 78 |
| Zigong | 11:40, 12:40, 13:40, 15:10, 17:00 | 83 |
| Luzhou | 10:30, 12:00, 13:30, 15:00, 16:30, 18:30 | 111 |
| Yibin | 10:50, 12:30, 14:30, 16:30 | 109 |
| Deyang | 09:30--21:00 | 45 |
| Dujiangyan | 11:20, 12:30, 13:30, 14:20, 15:10, 16:00, 16:50, 18:00 | 24 |
| Ya'an | 11:20, 14:00, 16:20 | 48 |
| Leshan | 10:40, 12:30, 13:50, 15:30, 16:40, 18:30 | 53 |
| Anyue | 12:00, 14:00 | 62 |
| Meishan | 13:30 | 35 |
| Suining | 12:00, 14:30, 18:00, 20:30 | 78 |
| Neijiang | 12:00, 13:40, 16:00 | 75 |
| Longchang | 09:40, 14:20 | 80 |
| Ziyang | 14:50 | 49 |

Tips: Passengers can board buses at the area 200m south of Terminal 1. Tickets are sold 3 days in advance to Nanchong, Zigong, Luzhou, Yibin, Ya'an, Leshan, Anyue, Meishan, Suining, Neijiang, Longchang and Ziyang.



By taxi:
The taxi fare is about CNY80-100 from the Airport to North Railway Station, about CNY60 to East Railway Station, and about CNY20-30 to South Railway Station. Usually, you can negotiate the price with the taxi driver. The acceptable bargain price is about CNY50 by taxi to the city center area.



Facilities


Business Center: Located in the Departure Building, which provides photocopying and fax services.


Duty Free Shop: Located at the separated area of Corridor A in T1, which mainly deals with tobacco, alcohol, perfume, and decoration items.


Customer Complaint Phone: 028-85205678


First Aid Clinics: Clinics can be found at the entrance of Corridor A and C in T1, or 1F of Corridor G and 3F of Corridor D and F in T2. 24 hours Tel: 028-85205120


Lounges: It provides VIP lounges and First Class Seat lounges in both Terminals 1 and 2, with TVs, movies, newspapers and magazines, drinks, snack foods, and other self-service facilities.


Car Parks: There are three parking lots (No.1, No.2, and No.3) in front of the Terminal 1
Parking rates:
Small-sized vehicles: CNY4 for first 60 minutes and CNY2 for every 30 minutes afterwards
Large-sized vehicles: CNY8 first 60 minutes; CNY6 for every 30 minutes afterwards; CNY96 for one day


Train Ticketing Office: Exit 1 of the Waiting Hall in T1. It opens from 08:40 to 18:50.



Services


Ticket booking phone: 028-85205518 and 028-85205522


Inquiry: 028-85205555


Luggage storage: Luggage storage service is available at exit 1 and 4 of the Domestic Departure Hall in T1; or behind the check-in island N and P in T2. It serves from 05:00 to 23:00.


Lost & Found: The lost and found service counter can be found near exit 4 of the Departure Hall in T1, or behind the check-in island P in T2. It operates from 08:00 to 20:00.
Tel: 028-85206200 (T1), 028-85207230 (T2)


Hotel: Airport Express Hotel, a four-star business hotel, is located east of T2.


Bank: There are Bank of China, Bank of Communications, Industrial & Commercial Bank of China, China Construction Bank ATMs, and Bank of Chengdu.