TravelChinaGuide.com is now offering online train tickets booking and delivery service. Please search your schedule and start a reservation at our
China Train Ticket Booking Center
!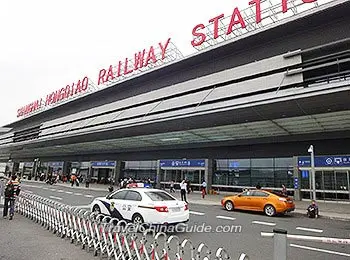 Hongqiao Railway Station
Shanghai Hongqiao Station (also Hongqiao Railway Station) is an important high-speed railway station in the city
which was built to serve the bullet trains between Shanghai and Hangzhou, Nanjing, Suzhou, Wuxi, Fuzhou, Wenzhou, Nanchang, Xiamen, Beijing and several other cities in China.
Currently, there are 160 high-speed trains operating at
Shanghai–Hangzhou High Speed Railway
, among which 150 of them are operated at Hongqiao Railway Station while the rest of them are operated at Shanghai Railway Station. Among the high-speed trains, the fastest one takes only 45 minutes from Hongqiao Station to Hangzhou Railway Station.
Shanghai–Nanjing High Speed Railway is also operating at Hongqiao Station. There are 70 G-trains departing from Hongqiao Station and the Railway Station to Nanjing, and vice versa. The fastest only takes 73 minutes from Hongqiao Station to Nanjing and 75 minutes on contrary. There are also 6 G-trains running to Changzhou, 7 to Wuxi, 12 to Suzhou and 3 to Kunshan.
Beijing-Shanghai High-Speed Train
has been put to use in 2011, which shorten the over 1,300km journey to 5 hours from 10 hours. There are also scheduled EMU D-trains running between Beijing South Railway Station and Hongqiao Railway Station.

Terminal Building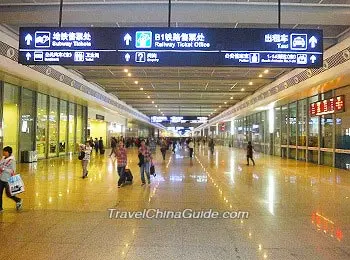 2nd Floor of Hongqiao Station
The Hongqiao Station is the largest traffic transfer hub in China, integrating train, plane, subway, city-bus, and long-distance bus. The main terminal building has two above ground floors and two underground floors.
The whole 2F (the second floor) of the Station, covering 10,000 square meters, was designed as the waiting room for the high-speed trains. It is equipped with comprehensive service facilities for passengers including many shops, restaurants and bars. The arrival platforms of the high-speed trains are located on 1F (the first floor), where there is a VIP lounge, long-distance bus transfer center, and Parking Lot 9.
B1 is a large traffic transit hub for train, flight, subway, bus and taxi. The 30 Exits of Hongqiao Railway Station are on this floor. Downstairs on B2, passengers can take the subway Line 2 to quickly reach the airport and downtown area.

Purchase Ticket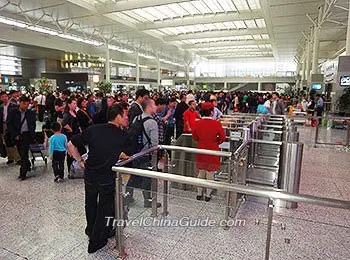 Ticket Vending Machines
The station has 154 ticket windows and 80 ticket vending machines (TVM). Tickets can be purchased up to 6 days in advance. Tickets for trains departing from the Hongqiao Station can also be purchased at the Railway Station, the South Station and in downtown area.
Tips: 1. The ticket vending machines only accept RMB cash at present.
2. Tickets for departures from Kowloon, Hong Kong are not sold here.

Transportation


To
Hongqiao Airport
At this station, passengers can quickly get to the Hongqiao Airport by taking subway Line 2 to the next stop. Alternatively, passengers can walk eastwards along the passenger channel on B1, and will arrive at Terminal 2 of the Airport in 10~20 minutes.

By
Subway Line 2
At present, passengers can take subway Line 2 to the this station from downtown area,
Pudong Airport
and Hongqiao Airport.
Subway Line 10
also go to the this station from downtown. When you arrive at the station by train you will be on the first floor. From there, take the elevator to the traffic transfer hub on B1 and then walk to the metro station via Exit 11, Exit 12, Exit 13, Exit 14 or Exit 15. Take the elevator down to B2 to board the metro.
Operating Time: 05:33~23:40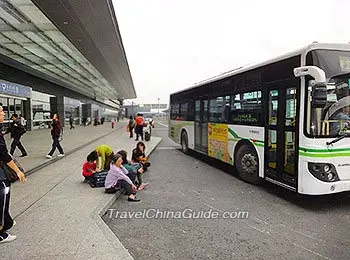 West Traffic Center of Hongqiao Station
Ticket: There are 12 ticket windows and 30 ticket vending machines placed around the subway station.

By Taxi
On B1 on both the north and south sides of Hongqiao Station, there are taxi parking lots. Currently, it is suggested that passengers walk to the taxi pick-up area via Exit 2 (North) or Exit 2 (South).

Shanghai Taxi

West Traffic Center
On the terminal's west side of the station, you will find the West Traffic Center, the Hongqiao Long-distance Bus Station, and an underground parking lot. Several city-buses leave from the traffic center for downtown area and the
Expo Park
.
Bus No.

Routes

Operating Time

Hongqiao Shuniu 1
Hongqiao Railway Station→
South Railway Station North Square
07:00-21:00
Hongqiao Shuniu 5
Fengxian Nan Qiao
06:00~23:00
Hongqiao Shuniu 6
Qingpu New Urban Area
06:00~23:00
Hongqiao Shuniu 7
Jinshan New City
06:00~23:00
Hongqiao Shuniu 8
Jinshan Zhujing
06:00~23:00
Hongqiao Shuniu 10
Songjiang New City
06:00~23:00
320 (Night Line)
T2 of Hongqiao Airport→Hongqiao Railway Station→Jiaotong Univeristy→Xujiahui→Huaihai Zhong Lu→Shaanxi Nan Lu→Yan'an Dong Lu→the Bund
00:00~04:00
Expo Line 19 (806B)
T1 of Hongqiao Airport→Hongqiao Railway Station→Shanghai Zoo→Xujiahui→Lupu Bridge (Gate 1 of Expo Park)
06:00~23:00