Beijing-Guangzhou High-Speed Train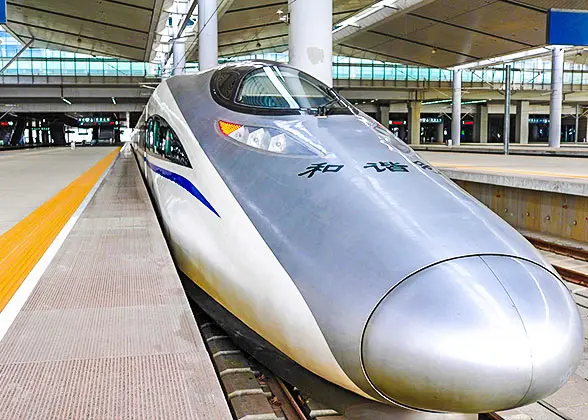 Beijing-Guangzhou High-speed Train
The Beijing-Guangzhou High-Speed Railway, short for Jingguang High-Speed Railway, has been in full operation since December 26, 2012. As an important north-south rail line of
China high-speed railway
, it runs from
Beijing West Railway Station
to
Guangzhou South Railway Station
with a total length of 2,298 km (1,428 miles). It is the longest high-speed railway in the world. The speed was designed to be 350 km/h (217 miles/h), but it is down to 300 km/h (186 miles/h) in real operation currently. The travel time from Guangzhou to Beijing is shortened to 8 hours via the high-speed train.
Jingguang High-Speed Railway is one of the most important passenger transportation arteries from north to south, connecting Bohai Economic Circle, Central Plains Economic Region, Wuhan Metropolitan Area, and the Pearl River Delta Economic Zone. It consists of four sections, including Beijing-Shijiazhuang-Zhengzhou (Jingshizheng), Zhengzhou-Wuhan (Zhengwu), Wuhan-Guangzhou (Wuguang), and Guangzhou-Shenzhen (Guangshen). In the future, the high-speed railway from Shenzhen to Hong Kong will be open, and it will be easy to travel by rail from Beijing to Hong Kong.
Beijing-Guangzhou High-speed
Railway Map (Click to enlarge)
Currently, Jingguang High-Speed Railway goes through 28 cities, including Beijing, Baoding, Dingzhou, Shijiazhuang, Gaoyi, Xingtai, Handan, Anyang, Hebi, Xinxiang, Zhengzhou, Xuchang, Luohe, Zhumadian, Xinyang, Xiaogan, Wuhan, Xianning, Chibi, Yueyang, Miluo, Changsha, Zhuzhou, Hengyang, Chenzhou, Shaoguan, Qingyuan, and Guangzhou. Several trains also reach Shenzhen North. It is also expected to pass through Hong Kong in 2015.
There are three high-speed services running daily between Guangzhou and Beijing. They all arrive at Beijing West Station. Apart from the one departing from Shenzhen North Station, the other two depart originally from Guangzhou South Station via different stations along the way. It takes only 7 hours and 59 minutes for the entire distance for one of the trains departing from Guangzhou South Station, which goes through four stations including Changsha South Station, Wuhan Railway Station, Zhengzhou East Station, and Shijiazhuang Railway Station. The other two take about 9 hours and 30 minutes to finish the whole journey.



Ticket fare:
From
To
Second Class (CNY)
First Class (CNY)
Super Class (CNY)
Business Class (CNY)
Beijing West
Shenzhen North
936.5
1479.5
-
2923.5
Guangzhou South
862
1380
-
2724
Wuhan
520.5
832.5
-
1642.5
Zhengzhou East
309
495
-
977
Shijiazhuang
128.5
206.5
-
408.5

Sections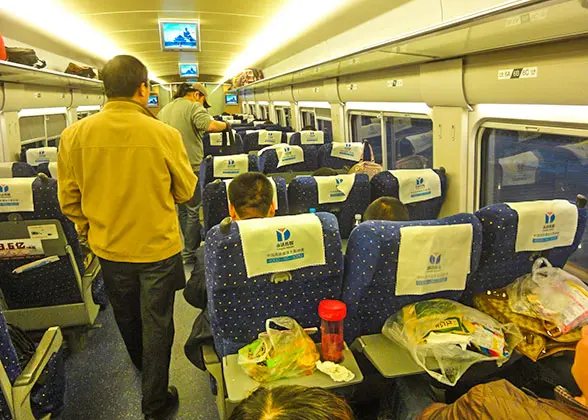 Second Class Seat

Jingshizheng High-Speed Railway: This section has been open since December 26, 2012. It has a length of 693km (431 miles) going across 14 stations, including Beijing West, Zhuozhou East, Gaobeidian East, Baoding East, Zhengding Airport, Shijiazhuang, Gaoyi West, Xingtai East, Handan East, Anyang East, Hebi East, Xinxiang East, and Zhengzhou East. The travel time has been reduced to 1 hour 10 minutes from Beijing to Shijiazhuang and 3 hours from Beijing to Zhengzhou.



Zhengwu High-Speed Railway: Zhengzhou-Wuhan High-Speed Railway has been in operation since September 28. 2012. The travel time has been reduced from 4 hours 28 minutes to 1 hour 56 minutes from Wuhan to Zhengzhou. Additionally, it takes only about 5 hours from Beijing to Wuhan via the high-speed rail. It runs for 536km with 8 stations, consisting of Zhengzhou East, Xuchang East, Luohe West, Zhumadian West, Minggang East, Xinyang East, Xiaogan North, and Hengdian East.



Wuguang High-Speed Railway: This part has been open to traffic since December 26, 2009. It is 968km (601 miles) in length via 16 stations, including Wuhan, Xianning North, Chibi North, Yueyang East, Miluo East, Changsha South, Zhuzhou West, Hengshan West, Hengyang East, Leiyang West, Chenzhou West, Shaoguan, Yingde West, Qingyuan, Guangzhou North, and Guangzhou South. Travel time has been shortened from 11 hours to 3 hours 16 minutes from Guangzhou to Wuhan via this high-speed railroad. What's more, the shortest travel time is 2 hours 2 minutes from Guangzhou to Changsha and 1 hour 11 minutes from Changsha to Wuhan by high-speed service.



Guangshen High-Speed Railway: This line from Guangzhou South Station to Shenzhen North Station have been in use since December 26th, 2011. The trains run about 102km (63 miles) in 35 minutes for the whole distance. There are 6 stations along this section, including Guangzhou South Station, Qingsheng Station, Humen Station, Guangmingcheng Station, Shenzhen North Station, and Futian Station (under construction). The ticket fare is CNY99.5 for a first-class seat and CNY74.5 for a second-class seat. At the same time, the current Guangzhou-Shenzhen Inter-City Trains remain in operation.



Special Facilities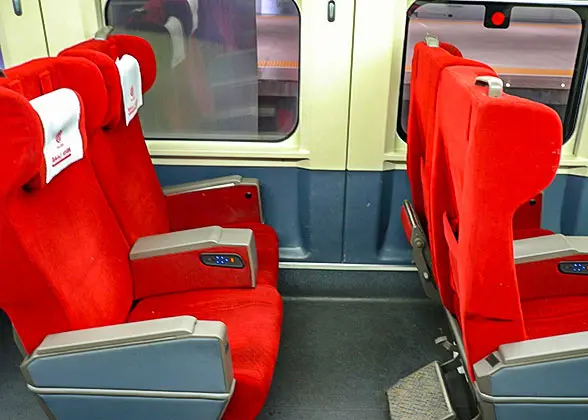 First Class Seat

There are power supplies for seats of any class.


WiFi is available onboard. The WiFi signal named CHR2 is unencrypted and it will be connected soon.


A business class seat is comparable with a first class seat on a plane. These seats can be adjusted 90 degrees for reclining. They can also be rotated. Each business class seat is equipped with an independent electronic screen and reading light.


Coffee is provided onboard.



Tips
Considering economic issues, it is better to choose the high-speed service for a comparatively short journey and take a flight for a long journey. For example, the journey from Beijing to Zhengzhou only takes about 3 hours and the price for a second class seat is CNY310 (usually cheaper than a flight). Flight is recommended for the trip from Beijing to Guangzhou since the duration is only about 3 hours and the airfare is always discounted. However, it takes at least 8 hours and costs CNY862 for second class seat by the high-speed train from Beijing to Guangzhou. Therefore, Wuhan can be considered as the cut-off point along Jingguang high-speed railway for passengers choosing between flight and train.



Beijing-Guangzhou Flight: Real-time schedule and ticket booking.