Xiamen Transportation - Getting There

Air


Xiamen Flights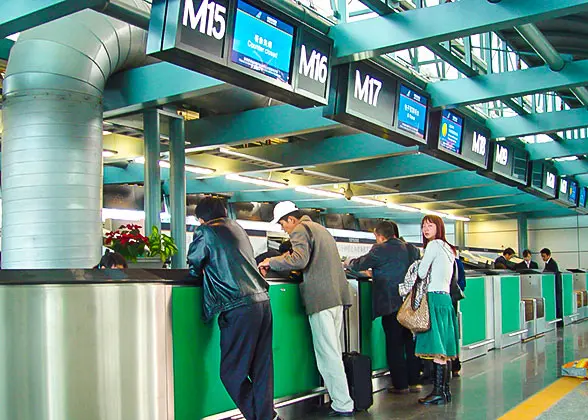 Having been in operation since October 22, 1983, Gaoqi International Airport (XMN) is one of the busiest airports in China. It is located at the northeast end of the city just 10 kilometers (about 6.2 miles) from the city center. Over 50 domestic airline routes to 58 cities in China including the major cities of Beijing, Shanghai, Guangzhou, Hong Kong, Nanjing, Guilin, Chengdu, Harbin, and others. In addition, a number of international flights leave from Gaoqi International Airport every week taking passengers to 17 cities in South Korea, Japan, America, Southeast Asia, and Europe.

Transport between the airport and the city center is quite convenient. At the bus station about 100 meters (about 300 feet) west of the airport, shuttle buses regularly depart for the railway station in the city center. The charge is CNY10 per person and the trip takes about 30 minutes.

Alternately, you can take a taxi from the airport to the city center. It takes a mere ten minutes and costs CNY25-30. Public bus service is also available outside the airport. The bus station is about 200 meters (about 600 feet) east of the airport. Several buses can take you to the city center. Among them, the No.27 Bus runs between the airport and the ferry dock. It leaves every half-hour and charges CNY1 per person. The whole journey will take you about one hour. The No.37 Bus heads for the railway station. It takes about 40 minutes and costs CNY1 per person.



Train


Train Schedule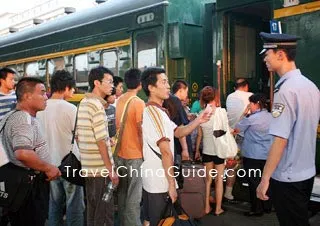 Xiamen Railway Station, located at the intersection of Xiahe Road and Hudong Road, can be easily reached by many buses such as the No.16, No.18, No.21, No.25, No.28 and No.37. Connected to the mainland by the transportation trunk line of the Ying-Xia (Yingtan-Xiamen) Railway Line across the Xiamen Bridge, the city has direct trains to most of the main cities in Fujian Province including Fuzhou, Sanming and Zhangzhou. Trains also depart for most major cities in China including Beijing, Shanghai, Guangzhou, Xian, Nanjing, Hangzhou, Chongqing, and Kunming. In the peak seasons, there are also special tourist trains to Wuyishan, a hot tourist destination featuring the famous Wuyishan Mountain. It's about 37 hours to Beijing, 26 hours to Shanghai, 14 hours to Guangzhou, and 30 hours to Xian.

North Railway Station is situated in Yannei Village of Houxi Town in Jimei District. It is one of the major stations in Fuxia rail line and Xiashen rail line. Trains from the station are all bullet trains. At present, one can go to Fuzhou, Shenzhen Shanghai, Beijing, Nanjing, Hangzhou, Chongqing, Changsha, Wuhan, Ningbo, Longyan and other cities from the north station.

Notes: Tickets for trains departing from these stations go on sale 58 days before the departure day in ticket windows in the railway stations. While in internet or telephone booking, train tickets can be purchased 60 days in advance.

Long-Distance Bus
Going to this city by long-distance bus is very convenient. There are mainly three long-distance bus stations and buses head for the major cities within Fujian Province as well as the cities of Guangzhou, Shenzhen, Hong Kong, Guilin, Nanning, Suzhou, Shanghai, Changsha, Wuhan, Ningbo, and many in other provinces. Buses bound for the cities of Fuzhou, Quanzhou, Zhangzhou, Longyan and Shishi within the province generally depart every hour or so during operating time. Buses headed for cities in other provinces depart at longer intervals, and buses bound for Hong Kong regularly depart twice a day at around 08:00 and 21:30.

The Tourist Distribution Center, located in South Hubin Bus Station, started operation on May 26th, 2007. At present there are four direct bus lines leaving the center separately for four scenic spots: Wild Valley Forest Park, Sanping, Qinglong Village, and Changtai Drift. In addition, the center offers individual travelers information about the scenic spots so that they can arrange their journey accordingly.



Songbai Bus Station
Address: No.211, Lianyue Road
Bus Routes: 24, 31, 86, 98, 201, 506, 530, 805, 812



South Hubin Bus Station
Address: No.59, South Hubin Road
Bus Routes: 10, 15, 23, 43, 45, 506, 810



Jimei Bus Station
Address: No.159, Yinjiang Road
Bus Routes: 18, 55, 56, 67, 79, 106, 616



Ship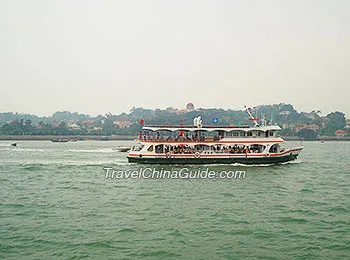 As a southeast Chinese port with a very long history, Xiamen Port has a wide, peaceful sea area without freezing or silting, providing an excellent water transportation network. It has domestic sea routes to Hong Kong and the Taiwanese island of Jinmen. A passenger ship bound for Hong Kong departs every Wednesday at 17:00 and makes the return voyage from Hong Kong every Tuesday at 14:00. Ships to Jinmen depart about every hour during the operating time of 09:00 to 18:00 (Winter Schedule). The whole journey takes about one hour and costs CNY150 (including CNY1 for insurance) per person. Please be sure to come at least 20 minutes before the departure time to finish the boarding procedures.

This port consists of several port areas such as Dongdu Port Area at the west side of Xiamen Island, and Haicang and Songyu Port Areas at the south coastal area. The Ferry Dock, the Heping Dock, and the Hulishan Dock are the main passenger ports and have convenient transportation to the city center. Buses No. 3, 4, 8, 12, 27, 32, 51, 71, 97 and 533 go to Heping Dock while No. 2, 8, 11, 19, 25, 27, 32, 44 and 67, etc. go to the Ferry Dock.

Address of Heping Dock: No.3, Lujiang Road, Siming District