Lanzhou Travel Guide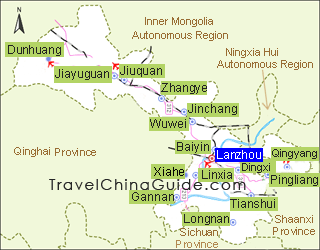 Lanzhou is the capital city of Gansu Province in northwest China. The Yellow River runs through the city, ensuring rich crops of many juicy and fragrant fruits. The city is the transportation and telecommunication center of the region. Covering an area of 1631.6 square kilometers (629.96 square miles), Lanzhou used to be a key point on the ancient Silk Road. Today, It is a hub of the Silk Road Tourism Ring, with
Maiji Caves
to the east,
Bingling Thousand Buddha Caves
to the west,
Labrang Monastery
to the south and Dunhuang
Mogao Caves
to the north.
With mountains in the south and north of the city and the
Yellow River
flowing from the east to the west, Lanzhou is a beautiful modern city with both the grand beauty of northern cities and the prettiness of southern cities.
The Landscape along the Yellow River should not be missed, as Lanzhou is the only provincial city through which the Mother River runs. Whether you choose to roam along the River, to cross
the First Bridge over the Yellow River
, or to have a cup of eight auspicious teas at the
Waterwheel Park
, you will be impressed by this city with its harmonious combination of the modern and the old.
| | |
| --- | --- |
| Waterwheel Garden | First Bridge over the Yellow River |
Chengguan, Qilihe, Xigu, Honggu and Anning are the five districts comprising the city's downtown. Chengguan District, situated in eastern Lanzhou, is the center of politics, economy, culture, scientific research and transportation.
In the northwestern area, Anning District is the economic development zone as well as the area where most colleges are located. Zhongxin Square, also named Dongfanghong Square is the largest in the city situated in the central area of the city. There is Dongfanghong Department Store in the south, Guofang Shopping Center in the east and Lanzhou Gym sitting in the west. The square is the daily entertainment place for local people and is also an ideal shopping area for tourists. The popular commercial streets are mainly Qingyang Road, Zhongshan Road, Jiuquan Road, Zhangye Road, Yongchang Road, Qin'an Road, Longxi Road and Linxia Road, etc.
While the natural parks around the city such as Yantan Park and Shifogou National Forest Park will restore and refresh you, the
White Pagoda Park
and the
Five-Spring Mountain Park
will give you an understanding of the cultural side of Lanzhou.
| | |
| --- | --- |
| Road along the bank of Yellow River | Bingling Thousand Buddha Caves |
If you want to experience something more exciting, the Bingling Thousand Buddha Caves, Labrang Monastery,
Sangke Prairie
,
Waterwheel Garden
and
Gansu Provincial Museum
should satisfy you thoroughly.
Besides the above-mentioned attractions, the hospitable locals, multifarious restaurants, cheap yet delicious snacks, and convenient transportation system will all ensure that you get a memorable trip in this tolerant and placid city.