Zhengzhou Train
Zhengzhou is one of the central cities in China which has a large and complex rail system named Zhengzhou Railway Hinge. It is regarded as the heart of the Chinese Railway System, lying at the meeting point of the Beijing-Guangzhou Railway, the Lianyungang-Lanzhou Railway, the Beijing-Hong Kong High Speed Rail Line, and the Xuzhou-Lanzhou High Speed Rail Line. The two main passenger transport railway stations in the city are the Railway Station and the East Railway Station. They provide services to most large cities throughout China. Passengers can also take bullet trains from here to Beijing, Shanghai, Xian, Guangzhou, Changsha, Wuhan, and Shenzhen



Zhengzhou Railway Station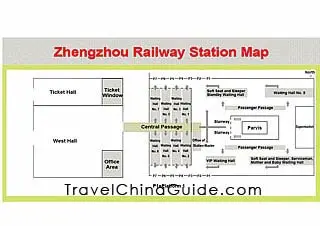 Click to enlarge the map.
The station is located south to Zhongyuan East Road, north to Datong Road, and west to Fuzhou Street at Erqi District. It was first built in 1904 and reconstructed in 1953 and 1988 respectively. In 1999, two further reconstructions were completed and the station has its present look. It is at the junction of Longhai (Gansu–Lianyungang) Railway and Jingguang (Beijing–Guangzhou) Railway. Due to its position and the number of passengers, the station is called the "Heart of China's Railway Passenger Transportation". Every day it operates more than 330 trains heading to over 40 Chinese cities with a total of nearly 160,000 passengers. Accompanied by the operation of Beijing-Guangzhou High Speed Railway on Sept. 28, 2012, the station began to serve high speed type to Beijing West, Guangzhou South, Shenzhen North, and Wuhan.
There are two halls in the station building; East Hall and West Hall. There are 12 waiting rooms that can hold more than 15,000 passengers. All services are shown very clearly on the 243 electronic guide screens. The ticket halls, in which there are altogether 60 ticket windows, can be found in both the East Hall and the West Hall. Walking through the central passageway, passengers will see two stairways on both sides as well as two escalators. From there passengers can get to Waiting Halls 1-8 on the second floor, among which Waiting Halls No. 7 and 8 are for bullet train (CRH) passengers. There are 14 platforms and Platform 7 is for Bullet Types.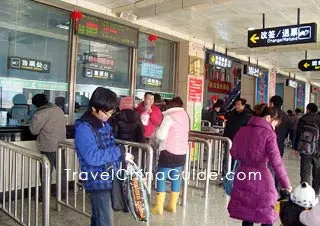 Ticket Window

Purchase Ticket
Passengers can buy tickets at the ticket windows upon arrival at the station; or book in advance from reliable agencies like TravelChinaGuide China Train Booking Center.



Services and Facilities


Luggage Storage: There are five luggage storage offices. They are located at the South and North Exits on both sides of the main building entrance and in the Ticket Hall. The fee is CNY2/item/day for luggage that is lighter than 10 kilograms, and CNY4/item/day for luggage that weighs over 10 kilograms.


Information Desk: The Information Desk is located in the entrance to the waiting hall, and staff is available 24 hours a day.


Stationmaster's Office: It's located on the second floor. Passengers can go there to find answers to their questions about railway operations.



Zhengzhou–Luoyang-Xian High Speed Train
The construction of the Zhengzhou-Luoyang-Xian High Speed Railway commenced in 2005, and started operating in 2010. With the opening of this line, the travel time from Zhengzhou to Xian was shortened to 2.5 hours from its original over 7 hours. The ticket price of this high-speed type is CNY 229 for second class seats, CNY 369 for first class seats, and CNY 441 for VIP seats.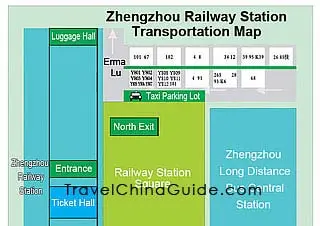 Click to enlarge the map.

Transportation


Buses at West Square: Nos. 20, 40, 41, 44, 50, 57, 66, 70, 99, 201, 210, 213, 217, 260 and 981.


Buses at East Square: Nos. 1, 4, 6, 8, 12, 13, 19, 21, 26, 28, 29, 32, 34, 38, 65, 67, 76, 81, 85, 91, 93, 95, 101, 102, 105, 108, 136, 138, 729, 966, 981, 985, B12, B17, B20, and Tourism Line 16.



East Railway Station
Located at the crossing of Shangding Road and the National Highway 107 in the East New Area of the city, the East Railway Station is a comprehensive passenger transportation hub incorporating high-speed type, intercity type, long-distance buses, subways, public buses, and taxis. It is the largest interchange station in Asia and mainly provides high-speed railway services.