Kung Fu & Ancient Culture
110: 12 Days Private Tour of Shanghai - Luoyang - Xi'an - Pingyao - Beijing
Tour Type:
Private Tour, any part of the itinerary can be customized
Guide & Driver:
English-speaking guide, experienced driver with an air-conditioned vehicle
Meals:
11 western buffet breakfasts, 3 lunches with some being a la carte style
Highlights:
Must-see sights in China - Mutianyu Great Wall, Forbidden City, Terracotta Army Museum
Visit the Longmen Grottoes & watch a martial art performance at the Shaolin Temple
Explore ancient city of Pingyao with complete city walls, lanes, yards and residences
Visit a local Chinese family home, interact & taste authentic home-cooked dishes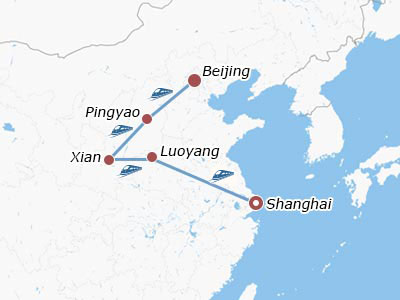 Day 1
Arrival in Shanghai
Upon your arrival in Shanghai today, your private guide will meet you at the exit of the airport arrival hall. The driver will then transfer you to the hotel in a comfortable air-conditioned car. After the hotel check-in, you are free to relax for the rest of the day.

Huangpu River cruise
Your private vacation begins from the
Shanghai Museum
, where you will learn some profound history and culture by appreciating its fantastic collection of ancient Chinese art. Later we will take you to the classical
Yu Garden
, a private garden of the Ming Dynasty. The nearby busy market which sells a variety of local snacks and small souvenirs also deserves your exploration. An
a la carte welcome lunch
(valued at CNY150.00 per person and included in our price) is served to you at a fancy local restaurant.
The afternoon tour continues to the
Jade Buddha Temple
, an old temple built to protect two precious jade Buddha statues. Then, we will take you to the
Bund
, where you will take a classic
cruise tour
for one hour on the Huangpu River for a visual spectacle of grand buildings on both sides. Later, we'll leave you some free time at the Bund before transferring you back to the hotel.
Meals: Western buffet breakfast, A la carte lunch
Day 3
Shanghai to Luoyang by High Speed Train
Shanghai is not only known as a modern metropolis, it also has unique characteristics that belong to a city in the south of the Yangtze River. Today, we will drive out of the city to visit the graceful and picturesque
Zhujiajiao water town
. With a history of more than 1,700 years, this small town boasts imposing gardens as well as ancient dwellings built during the Ming and Qing dynasties (1368-1912). Enjoy yourself here with the ancient houses, stone bridges and lively streets. Lunch is arranged on your own.
Later, we will transfer you to Shanghai Hongqiao Railway Station and you will take a 5.5-hour high-speed train to Luoyang. Your guide and driver in Luoyang will meet you at the train station and transfer you to your hotel.
Meals: Western buffet breakfast
Longmen Grottoes, Luoyang
After the hotel breakfast, we proceed to the
Longmen Grottoes
. These grottoes were constructed starting in the Northern Wei Dynasty (368-534), and the work continued for more than 400 years until the Song Dynasty (960-1276). Lunch is on your own.
We then drive for about 1.5 hours to visit the famous
Shaolin Temple
. A round-way public electric car is arranged for you. You will also visit the Pagoda Forest, where the tombs of all generations of Monks from the Shaolin Temple are located. After the death of eminent Buddhist monks, their ashes or bones are put into the underground palace and a pagoda is built on top to show their merits. Later in the day, a wonderful Kungfu show will form a delightful memory for you. It is a highlight not to be missed. After that, we will transfer you back to the hotel.
Meals: Western buffet breakfast
Day 5
Luoyang to Xi'an by High Speed Train
Big Wild Goose Pgaoda, Xi'an
This morning you will board a two-hour high speed train to Xi'an. Comfortable transfers to and from the train stations are provided.
Different from modern Shanghai, Xi'an is a famous ancient capital city of thirteen dynasties, and has much more to offer with its cultural relics and historic sites. We will first pay a visit to the
Giant Wild Goose Pagoda
to learn something of the Buddhist culture, and then visit the
Provincial History Museum
to have a general idea of our brilliant Chinese history and achievements of ancient times.
Meals: Western buffet breakfast
Terracotta Army
Today is a big day. You will visit one of the Eight Wonders of the World, the
Terracotta Army Museum
. We will set off earlier than usual and drive for about an hour to get to the magnificent Terracotta Army Museum. The Terracotta Warriors are an underground army built to protect the First Qin Emperor after his death. The funerary pits with a large number of life-sized terracotta warriors and horses with different shapes and faces are marvelous. It is amazing to see something of high artistic value from more than 2,200 years ago.
In the midday, we will drive you back to the downtown area and stop at a
local family's house
. The hostess will prepare delicious home-cooked dishes for you, and you can also join in to learn Chinese cooking skills, which make it a very special experience. The afternoon is filled with visiting the ancient
City Wall
and the
Great Mosque
.
Meals: Western buffet breakfast, Home-cooked a la carte lunch
Day 7
Xi'an to Pingyao by High Speed Train
Today we will proceed to the Ancient City of Pingyao on a high-speed train. Different from Xi'an, which has both ancient buildings and much more developed modern constructions and facilities, Pingyao is a well-preserved ancient city with complete old city walls, lanes, yards and residences. After a three-and-a-half-hour train journey, you will arrive at this old town and be transferred to your hotel.
In the afternoon, we will drive out of Pingyao to visit the
Wang Family's Compound
. Covering an area of 250 thousand square meters, this huge architectural complex has 231 courtyards and 2078 rooms built along a hill.
Meals: Western buffet breakfast
Old Pingyao Town
After breakfast, we have a full day visit to the Pingyao Ancient Town. The main sites we will see in the town are the
City Wall
,
Ming and Qing streets
, the
Temple of City God
, the
Ri Sheng Chang Financial House
and the Tongxinggong ancient bank bodyguards. With the guide's explanations, you will easily imagine how the people here lived in ancient times. If you are interested, you could walk through the main streets and narrow alleys, where there are many souvenir shops, restaurants and hostels on both sides, in a town full of bustling activities. We conclude the day at the
Shuanglin Monastery
, where there are more than two thousand painted clay sculptures from the Song to the Qing dynasties (960-1911). All of them are rare treasures, in the fine tradition of painted clay sculptures since the Tang Dynasty in China and have a highly realistic style.
Meals: Western buffet breakfast
Day 9
Pingyao to Beijing by High Speed Train
Pingyao ancient City Wall
This morning we will drive you to the Pingyao railway station, where you will take a high-speed train for about 3 hours to our capital city - Beijing. With a history of more than 3,000 years, Beijing has seven World Cultural Heritage Sites, more than any other city in the world.
Upon your arrival in Beijing, we will pick you up at the train station and take you on a
Hutong
tour by rickshaw before we transfer you to check in at the hotel. Hutong, alleyways between the traditional residential houses, presents you the real culture and history of this city.
Meals: Western buffet breakfast
Forbidden City, Beijing
Your excursion today starts in the heart of Beijing, at the
Tiananmen Square
. This is the largest city center square in the world. We stay about half an hour here for photos and then proceed to the
Forbidden City
. The grandiosity and solemnity of this architectural complex is tremendous. We will spend around 2 hours here walking through the palace halls and gardens, imagining the life and work of those emperors.
After that, you will have an
a la carte lunch
(valued at CNY150.00 per person and included in our price) at a good local restaurant. In the afternoon, you will have a leisurely visit to the largest imperial garden - the
Summer Palace
. The Kunming Lake, the Longevity Hill and the Long Corridor form the key landscape of the garden. Relax and enjoy your time here.
Meals: Western buffet breakfast, A la carte lunch
This morning we will visit the Great Wall at
Mutianyu
, the centerpiece of all Beijing trips. An about 1.5 hours' drive will take you there, and when you arrive, you will take a cable car or a chairlift up to the Great Wall. Enjoy your leisure time to hike on the wall and appreciate the majestic views. Afterwards, you will get down the wall by cable car, or take a toboggan down if you are interested.
Lunch is on your own today. You may have some fast food at the suggestion of your guide. We will then transfer you back to downtown and make a photo stop when we pass by the
Bird's Nest
(Olympic National Stadium). Later in the day, we will visit the
Temple of Heaven
, a place for ancient emperors to pray for the country's prosperity and peace. The tour ends when we transfer you back to the hotel.
Meals: Western buffet breakfast
Day 12
Departure from Beijing
Your private guide and driver will meet you at the hotel and transfer you to the airport based on your departure flight schedule. We hope you take away many happy memories of your days with us and we look forward to helping you again on another tour.

Meals: Western buffet breakfast
B-- Breakfast
L-- Lunch
D-- Dinner
Christmas & 2023 Special Deal
Enjoy
12% off
if you book before Dec 25, 2022
Tour Prices with Luxury Hotels
2-3 travelers
4-5 travelers
6-9 travelers

$2529

$2225

$2259

$1987

$1829

$1609
Tour Prices with Standard Hotels
2-3 travelers
4-5 travelers
6-9 travelers

$2229

$1961

$1959

$1723

$1629

$1433
Prices are per person in US Dollars based on double occupancy.
The prices in red reflect 12% discount.
Any part of the itinerary e.g. tour length, activities & hotels can be tailored to your individual interests.
Price Includes
Train fares
Hotel accommodation with breakfasts
A la carte lunches as itinerary specifies
Private English-speaking guides
Private drivers & air-conditioned vehicles
Entrance fees to tourist sites
Price Excludes
International airfares
Entry Visa fees
Personal expenses
Tips or gratuities for guides and drivers
Why Travel With Us
Itineraries you may also like:
Questions & Answers
Asked by Michel from NETHERLANDS | Jan. 15, 2019 01:37

Reply
My son (18 years old) and I intend to visit beautifull Beijing shortly for a city trip.
The stay will be less then 6 days and we will depart from Amsterdam, the Netherlands (country A), fly to BJ (country B) and then return to Düsseldorf, Germany (country C). Would we qualify for transit visas / 144 hour visa exemption in BJ?

Answers (1)
Answered by Paul from USA | Jan. 15, 2019 05:38

0

0

Reply
Make sure the flight to Germany does not land in Netherlands and has no other landings in China then this will be ok for 144 hour visa free transit.
Asked by Dave from CANADA | Feb. 27, 2018 08:51

Reply
Visa Requirement in China
We are Canadian Citizens and have a 20 hour layover at PVO [Shanghai] during our flight by China Eastern Airlines from Toronto to Delhi [India]. Can we go out for a city tour without a visa? Do we have to apply for 72 hour visa free transit?

Thanks
Dave
Answers (1)
Answered by Karen | Feb. 27, 2018 21:19

0

0

Reply
Yes, you can go out for a city tour without a visa. Just apply for the 72 hours visa free permit at the airport.
Asked by Nemanja from SERBIA | Jun. 11, 2017 18:15

Reply
I will arrive at Shanghai Pudong International Airport at 5AM.
I need to travel to Tangshan New Town, Jiangning Dist., Nanjing.
what is my best option and how much time will this trip last?

Thank you!
Answers (1)
Answered by Rita from USA | Jun. 11, 2017 22:02

0

0

Reply
Upon landing at the airport, you may take the metro line 2 to Century Avenue Station after going through the immigration procedures. After that, you may transfer metro line 4 to SH Railway Station, Exit 6. The first metro departs at 06:00 from the airport and this metro ride will take about 75 minutes. Then you may walk about 150 meters to SH Long-Distance Bus Station. Later, you may catch a long distance bus to Nanjing Bus Station which leaves at 09:30. The ticket fare is CNY105/person and the whole trip may take around 3-4 hours. Upon arrival, you may walk to Nanjing Railway Station to take metro line 3 to East Mozhou Road Station, Exit 3. Then please walk about 340 meters ahead to Shuanglong Avenue Mozhou Road Bus Stop. Later, you can take bus no.851 to Tongshan Bus Stop directly. This section may take around 3 hours.
Asked by Wasim from PAKISTAN | Apr. 10, 2017 01:49

Reply
China Visit Visa Information
Hello Concern's This is Wasim Im doing job in Dubai and i have Chinese Friend here she want me to go with her on 14days visit to china can you please guide me, what documents and process should i follow?
Answers (1)
Answered by Suzan | Apr. 11, 2017 19:59

0

0

Reply
Hi, you can come to the local chinese embassy to apply for the visa. Before that, you should prepare the application form, your passport with at least 6 months remaining validity, a passport-size color photo and invitation letter.
Asked by Tatlock from UNITED KINGDOM | Jun. 27, 2016 01:19

Reply
There are 2 train station at Luoyang?
One is listed as Luoyang and the other is Longman station? What is the difference?
Answers (1)
Answered by Angela | Jun. 27, 2016 01:19

0

0

Reply
Usually speaking, Luoyang Longmen Train Station is for the high speed train and bullet train, Luoyang Train Station is for other traditional train type.