Yellow Mountain (Huangshan Mountain)
Of all the notable mountains in China, it is probably the most famous to be found in the south of Anhui province. Originally known as Mt. Yishan it was renamed Mt. Huangshan in 747 AD in recognition of the legendary Huang Di, who was the reputed ancestor of the Chinese people and who made magic pills for immortality here.
Wu yue is the collective name given to China's most important mountains, namely Mt. Taishan in Shandong Province, Mt. Huashan in Shaanxi Province, Mt. Hengshan in Shanxi Province, Mt. Songshan in Henan Province and Mt. Hengshan in Hunan Province. It is said that you won't want to visit any others after seeing wu yue but you won't wish to see even wu yue after returning from it. This saying may give you some idea of the beauty and uniqueness of it. Together with the Yellow River, the Yangtze River and the Great Wall, it has become one of the great symbols of China.
It can boast not only of its magnificence but also its abundant resources and great variety of zoological species, for which it has been listed as a World Natural and Cultural Heritage Site.

Best times and locations to see the sunrise
The best east-facing viewing areas are Dawn Pavilion, Refreshing Platform, Lion Peak, Rosy Clouds Peak, Bright Peak Summit, Jade Screen Peak, Lotus Blossom Peak and Heavenly Capital Peak; best times to view a sunrise:

Spring ---- 05:30-06:00

Summer ---- 04:40-05:10

Fall ---- 04:50-05:20

Winter ---- 05:30-06:00
Best times and viewing areas to see sunglow:
Before and after sunrise is the best time to see sunglow. As with viewing the sunrise, you should be in position early.
Best times and viewing areas to see seas of clouds:
From September to May is the best season for cloud viewing, especially on a clear day after rainy or snowy weather. Seas of clouds are infrequent in summer. To best experience the beauty of seas clouds, tourists should change their viewing locations points according to the height of clouds.
| | |
| --- | --- |
| Sea of Clouds on Mt. Huangshan | Sunrise |

How to get to this scenic area from nearby cities
Visitors from Hefei, Nanjing and Anqing can enter the mountain via the north entrance through Taiping. Tangkou is the south entrance. Visitors from Shanghai, Hangzhou can go through Tangkou. As to
Huangshan telphers
(cable car stations), Taiping Telpher is close to the north entrance. Yungu and Yuping telphers are in the south entrance.
From Shanghai

By Air -
Shanghai Hongqiao Airport
has a flight in the afternoon, at
14:20
and arriving in Huangshan Airport at 15:25. Take airport bus to
Tunxi
first and then take bus to the scenic area then. The most convenient way is taxi. The total taxi fare is about CNY120, one hour.

By Train - There are two trains from
Shanghai Railway Station
:
K782
(12:40-00:19),
K8418
(21:24-9:00). If taking the first train, visitors should stay one night first at the city center. Then take taxi or bus no. 9 to Tunxi Bus Station in Qiyun Dadao for the bus to Tangkou, 1.2 hours ride. After getting out of the railway station, you can see minibus to the resort too. The journey will take about 2 hours to get there. Buses are available from 6:30 to 17:30.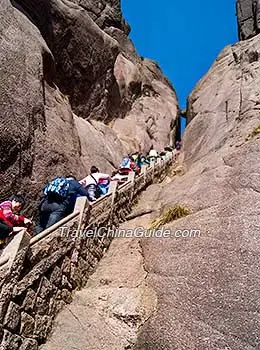 Climbing Yellow Mountain

By Bus - Shanghai South Bus Station has three buses a day departing at 07:58, 10:23 and 14:25. It takes about 6.5 hours and the ticket price is CNY148. The time may be a little changeable adjusted to the notice of the bus station on the same day of departure. For the morning buses, visitors had better go to the bus station for ticket one day in advance. There are also buses here to Tunxi, passing Yixian and Shexian counties. The ticket price is a bit cheaper and it takes about 5.5 hours. Visitors can choose where to go first.
From Hangzhou

By Bus - There is no train or airplane from Hangzhou. Bus seems to be the only and easiest way to get there. Hangzhou West Bus Station has about five direct buses every day, leaving at 7:20, 09:30, 12:00 and 15:10. It takes about 4 hours and costs about CNY 59 to get to the destination.
From Qiandao Lake (
Thousand Islets Lake
)

By Bus - Everyday, there is one blue New National Express bus to Qiandao Lake at 07:00 (arrive at 9:40) and back to here at 14:30.

By Ferry - Take ferry at Qiandaohu Passenger Transport Center to Shendu Ferry Wharf. Then take bus to Huangshan. It takes hours on the ferry, so it is better to choose bus. To Qiandao Lake, visitors can try the ferry to see the scenery of the lake. No need to take the cruise boat after getting to the lake area. It saves some money.
Departing from other cities? Just search how to get there by using our
China Flight
or
China Train
Search Tools.
Admission Fee:
CNY 230 (Mar. 1-Nov.30);
CNY 150 (Dec.1-Feb.28 or 29 the next year)
Cable Car:
Mar. 1-Nov.30:
CNY 80 (Single ticket for Cloud Valley)
CNY 80 (Single ticket for Jade Screen)
CNY 80 (Single ticket for Taiping)
CNY 40 (ticket for children 110cm - 130cm tall)

Dec.1-Feb.28/29:
CNY 65 (Single ticket for Cloud Valley)
CNY 65 (Single ticket for Jade Screen)
CNY 65 (Single ticket for Taiping)
CNY 35 (ticket for children 110cm - 130cm tall)

Note: West Sea Valley Telpher has been opened since July 9, 2013. A single ticket is CNY 100.
Opening Hours:
08:40 - 16:00
Recommended Time for a Visit:
two or three nights

Related Links:
Yixian
,
Shexian
- The Town of the residential houses from the Ming and Qing dynasties.

Recommended Itineraries:
Natural Wonders of Huangshan
: 3 Days of Yellow Mountain - Hongcun Village -Tunxi Old Street
Huangshan to Yixian & Shexian
: 4 Days to the Yellow Mountain, Hongcun Village, Tangyue Archways
More
Huangshan Tours