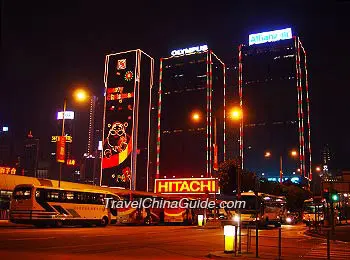 Golden Bauhinia Square at night

On July 1, 1997, the Hong Kong Special Administrative Region (SAR) was formed following Great Britain's return of the territory to China. In celebration, China's Central Government presented a gilded bauhinia statue to the city. The statue was placed in the square next to the Hong Kong Convention and Exhibition Centre facing the Wan Chai waterfront. This location is now called Golden Bauhinia Square.

The Monument in Commemoration of the Return of Hong Kong to China stands in one corner of the square. The monument is twenty meters high and is formed with 206 overlapping stone tablets. Each tablet stands for a year during the period 1842 to 2047. Six of the tablets have a round shape and are made of lightly colored granite. They represent the six most important years in Hong Kong's history. The watershed year of 1997 is marked with an extraordinary aura. On the body of the monument, you can seen nine glittering Chinese characters '香港回归祖国纪念碑' inscribed by former chairman of the Central Government, Jiang Zemin. The rings on the top of the monument symbolize Hong Kong's return to China. There are fifty rings in all suggesting that Hong Kong's previous capitalist system and way of life shall remain unchanged for fifty years.

At exactly 0800 on the first, eleventh and twenty-first day of each month, a contingent of police officers in dress uniform hold a flag hoisting ceremony. During the ceremony, the Police Silver Band performs the national anthem; after the ceremony, the Police Bagpipe Band plays other music for about ten minutes.

As a Hong Kong landmark, Golden Bauhinia Square is frequented by domestic and foreign visitors. It's also a good place to watch the performance of 'A Symphony of Lights' at night. There is a 400 meter-long waterfront promenade that is great for walking and enjoying the view of Victoria Harbor.


Admission:
Daba Viewing Platform: HK$4
Convention and Exhibtion Center: HK$10
Opening Hours:
09:00 to 18:00
Transportation:
1. Take Hong Kong MTR to Wan Chai Station Exit A5. Walk across the footbridge, go right and pass through the lobby of the Central Plaza, go on walking across the linking overhead walkway, then get down to the ground level. Walk towards the waterfront ahead, and the statue and monument is on the left. It is about a 15mins walk.
2. Take the ferryboat from Tsim Sha Tsui Star Ferry Pier to Wan Chai.
3. Take Bus No. 25A, 25C or 961 to the Hong Kong Convention and Exhibition Centre stop.