Shanghai Happy Valley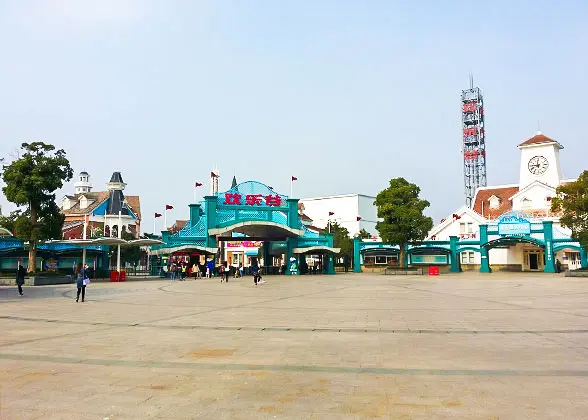 Happy Valley, Shanghai
Shanghai Happy Valley is renowned as a theme park of beautiful scenery, huge areas to explore, superb scientific and technological content with breathtaking and exciting amusements. It is located in the central area of Shanghai Sheshan National Holiday Resort, Songjiang District, about 40 kilometers (25 miles) west of the downtown area. Covering an area of 863,500 square meters (213 acres), it is composed of seven major areas, each with different themed zones, such as Sunshine Beach, Happy Times, Typhoon Bay, Gold Mine Town, Ant Kingdom, Shanghai Beach and Shangri-la Woods. There are more than a hundred attractions and 12 top recreational distractions.

The Sunshine Beach contains Arthur's Palace and the Flying Cinema. Arthur's Palace can host banquets, performances and shows whilst the Flying Cinema is a 4K cinema that gives the feeling of flying while watching the movie. In the Happy Times area, there is the Wooden Coaster-Fireball. It is the first wooden roller coaster in China, and is shielded against the elements! The Twin-Tower Heroes attraction is also located here. The Typhoon Bay zone has exciting water based adventures, and you would hurtle from 26 meters (85 feet) high to the water in 'Shoot the Chute'.

The Gold Mine Town is a recreation of American West during the gold rush, with authentic looking trains and saloons. The realistic scenery makes you believe you are really there! There is a mine cart which is known for its high speed, high altitude and high adrenaline thrills. The place at the highest point of this theme park is known as the Treasure Island and has amazing views of Sheshan Mountain and Moon Lake. Apart from these, the OCT (Overseas China Town) Theater is also located in this area and contains lots of performances, including circus, musical and acrobatics shows.
| | |
| --- | --- |
| | |
If you get tired of extreme sports and thrills, you can head for the Ants Kingdom, which contains many distractions for children. In Shanghai Beach zone you return to the thrills with the world best backboneless drop-coaster which plummets from 60 meters (197 feet), giving it the nickname the "king of coasters". The Gyro Swing, which cost more than a hundred million RMB to construct, is also located here. It can raise up to 15 stories high and gives a spectacular overview of the park. The Shangri-la Woods zone has many nature based distractions, such as the Rapid River and Jungle Rescue. Take your time drifting along the river and admire the beautiful canyon, rockeries, culverts, forests and flowers.

Besides fairground-style attractions, there are also numerous performances such as the Mayan Carnival and International Magic Festival. No mater what your tastes Happy Valley has something to cater to all tastes and make your dreams come true!

Tips for dining:
There are Pizza Hut and East Dawning in the business street near the entrance. KFC is located at the entrances of Shanghai Beach and Gold Mine Town. Special restaurants are located in Typhoon Bay and Shangri-la. Coffee house and tea house are located in Shanghai Beach and the Ants Kingdom.

Transportation:
By Bus: take Songjiang no.19 bus or Songchong Line and get off at Happy Valley Station.

By Subway: You can take Subway Line 9 from Xujiahui Station to Sheshan Station. Cross the overpass and find the free shuttle bus in orange color to the park directly.


Shanghai Bus / Subway Search

Opening Hours of Games in Shanghai Happy Valley (August 31 to September 30, 2015):
No.

Area

Entertainment

Opening Hours





01




Happy

Times

Wooden Coaster-Fireball

10:00-17:00

Twin-Tower Heroes

09:30-20:30

Power Surge

09:30-17:00

Dreamy Top

09:10-17:00

Double-decker Carousel

09:10-20:30

Happy Bouncing

09:10-17:00

Wave Swinger

09:30-20:30

X-Dimension

09:30-20:30

02

Sunshine

Beach

Soaring Dragon

10:00-17:00



03


Typhoon
Bay

Shoot the Chute

10:30-20:30

Splash Over

10:00-20:30

Magic Hat

09:30-20:30

Storm Travel

11:00-17:00



04


Gold

Mine

Town

Memory of the West

10:30-17:00

Ranger Camp

09:30-17:00

Treasure Island

10:30-20:00

Mine Adventure

10:00-17:00

Magic Theater

10:30-17:00

05

Ants

Kingdom

Arctic Safari

10:00-17:00

Jumping Kangaroo

10:00-17:00

Water Battleship

10:30-20:00

Ants Chariot

10:00-17:00

Happy Airship

10:00-17:00

Leap Frog

11:00-17:00

Crazy Wheel

09:30-17:00

Crazed Goblin

10:00-20:00

Bubble Bash

10:00-17:00

Mini Drift

11:00-17:00

Ants Convoys

10:30-20:00

Bugs Parachute Team

10:00-17:00

Castle Theater

10:00-17:00

Flying Spray

09:30-17:00



06


Shangri-la

Woods

Mega-lite

10:30-17:00

Hovering Hump

10:00-17:00

Jungle Rescue

10:00-17:00

Kenpei Ancient Pagoda

11:00-17:00

Rapid River

10:30-17:00



07


Shanghai Beach

Sky Drop

11:00-17:00

Energy Storm

09:30-17:00

Gyro Swing

10:00-17:00

Diving Coaster

10:00-17:00

4D Theater

10:00-17:00
Admission Fee:

CNY 200 for adults and children above 4.9 feet (1.5 meters)
CNY 120 for children between 3.9 and 4.9 feet (1.2 and 1.5 meters).
Free for children under 3.9 feet (1.2 meters).

* Evening ticket: CNY 80 for adults and children above 3.9 feet (1.2 meters).

Opening Hours:

July 4 to August 30, 2015:
9:00 - 22:00
* Evening ticket holders are allowed to enter after 17:30.

Transportation Inside the Park:
You can take a battery powered car or sight-seeing train to travel around. It costs CNY 30 per person. You just need to wave the driver to stop and then board the car or train. By the way, there is no limit on how many times you can take the car or train.

Related Reading:
Beijing Happy Valley Shenzhen Happy Kingdom
Print