Hong Kong Bus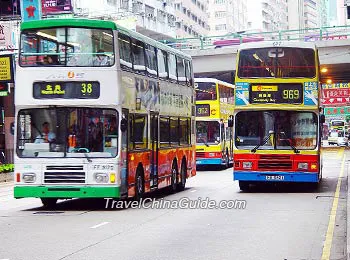 Hong Kong buses

The bus system in Hong Kong is very easy to use. Final destinations are shown on the front of the buses both in English and Chinese. The bus routes cover almost all of Hong Kong except some outlying islands. In particular, buses are a very important means of transportation in the Ocean Park, Repulse Bay and Lord Stanley (in the south of Hong Kong Island) areas. Almost all the buses running on Hong Kong Island are equipped with air-conditioning and 75 percent of the buses running in Kowloon and the New Territories have air-conditioners.

Buses in Hong Kong are self-service ticketing and change is not given. Generally, ticket fare is displayed on information boards at the bus stops. Passengers should ensure they are carrying the correct change before boarding or using an Octopus Card to pay the ticket fare. When you are approaching your destination stop, press the electronic buttons fixed in the bus, to advise the driver that you want to get off. Otherwise, the driver may not stop.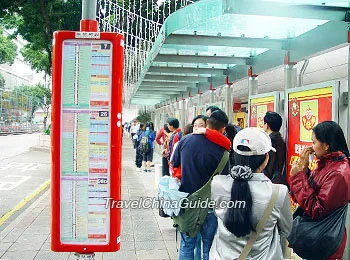 Bus Stop

Hong Kong boasts many double-decker buses. You can sit near the front on the top deck, catch all the excitement and feel the pulse of city life. For instance, Bus No.15 goes to the Peak from Exchange Square in Central. The bus goes up winding roads and the scenery is wonderful.

There are also the open-top buses. There is nothing to compare with riding in an open-top double-decker bus. Bus No.15 C, runs between the Central Ferry Piers and the Lower Peak Tram Terminus. You can transfer to the peak tram at the Lower Peak Tram Terminus to visit Victoria Peak. Bus No.15C operates from 10:00 to 23:45. It departs from the lay-by outside Central Pier 6.

There are five major bus companies in the city. They are Kowloon Motor Bus Company (KMB), Citybus Limited (CB), New World First Bus Company (NWFB), Long Win Bus Corporation Limited and New Lantao Bus Corporation Limited. Long Win Bus Corporation together with KMB is operated by Transport International Corporation Limited. The bus routes provided by these companies are carefully devised for the convenience of passengers. Some bus routes have been introduced especially for visitors.

Kowloon Motor Bus Company (http://www.kmb.hk/english.php?page=search) offers a Hong Kong Bus Tour service. Most of their tour buses run in Kowloon and New Territories. The tours have their own themes. For instance, if you want to enjoy the fun of shopping and dining, you can take the KMB Bus No.8A, 12A, 30X, 212, 8P or 115 to the Wonderful Worlds of Whampoa, which is covered by a number of shops, cinemas and restaurants. After that, you can go on to take the KMB Bus No.3B, 7B, 15, 69B, 85C, 268B, 269B or 297 to reach the Hung Hom Ferry Concourse Bus Terminus. It is very pleasant to stroll along the beautiful beach there.

Citybus Limited (http://www.citybus.com.hk/eng/RouSer/RouteSearch/routesearch_main.asp)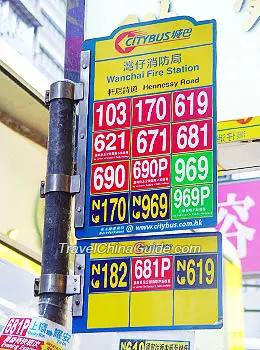 City Bus Signboard
offers special buses to Ocean Park. Bus No.629 'Admiralty – Ocean Park' operates from 09:00 to 16:00 at intervals of 10 to 15 minutes; Bus No.929 'Central (Star Ferry Pier) – Ocean Park' departs at 09:35, 09:55, 10:15, 10:35, 10:55. The ticket fare is HK$10.60. You can buy an admission ticket to Ocean Park in advance when buying a ticket for Bus No.629 at Admiralty (West) Bus Terminus.

New World First Bus Company (http://www.nwfb.com.hk/chi/) provides buses to many attractions and shopping places in the city. The following is some related information:
Buses to main attractions:
Ocean Park: 38, 42, 65, 315, 590A, M590
The Museum of Coastal Defense: 2X, N122
The Police Museum: 15, 15B, 315
Victoria Peak: 15, 15B, 315
Buses to main shopping areas:
Manly Plaza: 2, 2A, N8, 19, 81, 81A, 82, 106, 110, 116, N122, 682, 682P, M722, 802
Time Square: 2A, 2X, 8, 8P, N8, N8P, 15B, 23, 23A, 23B, 25, 26, 38, 42, 65, 109, 112, 113, 116, N121, N122, 601, 680, 680X, N680, N691, 692, 811, 914, 948
Cityplaza: 2, 81A, 82, 110, N122, 682, 682P, 720, 720A, 720P, M722, 802
Pacific Place: 2, 15, 23, 23A, 23B, 25, 26, 43X, 66, 101, 104, 109, 111, 113, 115, N121, 590A, M590, 680, 680A, 680P, 680X, N680, N691, 692, 720, 720A, M722, 811, 905, 914, 948

Customer Service Telephones & Customer Service Centers:
Kowloon Motor Bus Company & Long Win Bus Corporation Limited
Tel: +852-27454466 (dial '3' for English version)
Hung Hom Customer Service Centre (10:00–20:00): Cross Harbour Tunnel Bus Interchange, Salisbury Road
Tsim Sha Tsui Customer Service Centre (10:00–20:00): Star Ferry Bus Terminus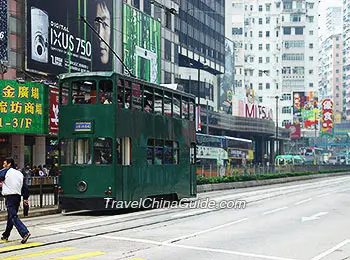 Tram


Mei Foo Customer Service Centre (1:00 -14:00, 15:00–20:00): Mei Foo Bus Terminus
Lam Tin Customer Service Centre (11:00-14:00, 15:00–20:00): Lam Tin MTR Bus Terminus
Tuen Mun Customer Service Centre (11:00-14:00, 15:00–20:00): Tuen Mun Central Bus Terminus
Shatin Customer Service Centre (11:00-14:00, 15:00-20:00): Shatin Central Bus Terminus, 18 Shatin Central Street
Tsuen Wan Customer Service Centre (11:00-14:00, 15:00–20:00): Tsuen Wan MTR Station Bus Terminus, Sai Lau Kok Road
Tin Shui Wai Customer Service Centre (11:00-14:00, 15:00– 0:00): Tin Heng Estate Bus Terminus

Citybus Limited
Tel: +852-28730818
Citybus Limited has several customer service centres in Central (Exchange Square) Bus Terminus.
Service Hours: 10:00–14:30 and 15:30–18:15 from Monday to Saturday; 10:00-18:15 on Sundays and public holidays.

New World First Bus Company
Tel: +852-21368888
NWFB Customer Service Centre is located at No.90 Queenway, Admiralty (East).
Service Hours: 11:00-14:00, 15:00–19:00 from Monday to Friday.

New Lantao Bus Corporation Limited
Tel: +852-29849848