Hong Kong boasts many piers and can be grouped into, firstly, Hong Kong Macau Ferry Terminal, SkyPier, China Ferry Terminal and secondly, the Tuen Mun Pier, Central Piers, Wan Chai Ferry Pier and North Point Ferry Pier etc. Whilst the first group provides transportation to mainland China or Macau, the second group provides routes between Hong Kong Island and Tsim Sha Tsui, Hung Hom or some outlying islands, such as Lamma Island, Peng Chau Island and Cheung Chau Island.

Central Piers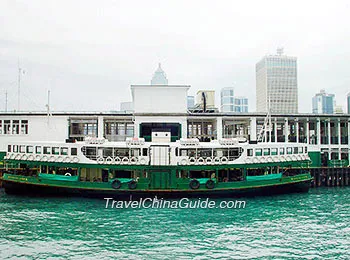 Star Ferry, Hong Kong


It consists of nine piers. Only Pier 2, 3, 5, 6, 7 and 8 serve the public. However, since 2006, Pier 7 and 8 were reserved for Star Ferry, operated by Star Ferry Co. Ltd. As such, the locals also call them 'Central Star Ferry Pier'.
Address: near International Finance Center, Central
How to get: Take the subway train to get off at Central Station and go out through Exit A.
Take the Airport Express to get off at Hong Kong Station and go out through Exit A2.

Tuen Mun Pier
Address: in the south of Tuen Mun New Town
How to get: By Buses No. 259B, 59A, 59M, 59X or N260
You can go to Tuen Mun Stop by light rail. Tuen Mun Stop is just near Tuen Mun Pier.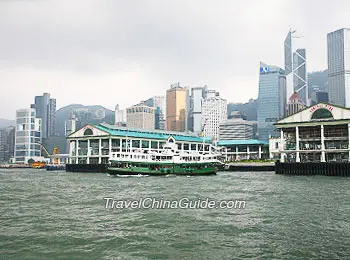 Central Pier, Hong Kong

Wan Chai Ferry Pier
Address: near Hong Kong Convention and Exhibition Center, Wan Chai
How to get: Go to Wan Chai Station by subway.
By Buses No.104, 914X, 948P or 961 etc.

North Point Ferry Pier
Address: Harbor Road, North Point
How to get: By Buses No.10, 23B, 27, 38, 41A, 42, 63, 65, 82 or 85.
Take the subway to get off at North Point Station, which is not far from North Point Ferry Pier.
Hereunder is some urban ferry information of Hong Kong for your reference:


Central ↔ Park Island, Ma Wan
Departure Place: Central Pier 2/Park Island Ferry Pier on Pak Lai Road, Ma Wan
Operation Hours: about 22 minutes
Frequency: 15 to 20 minute intervals in peak hours and 30 to 60 minute intervals in off-peak hours
Ticket Fare: HK$16

Central ↔ Discovery Bay
Departure Place: Central Pier 3/Discovery Bay Ferry Pier, Lantau Island
Operation Hours: about 25 minutes
Ticket Fare: HK$27



Central ↔ Sok Kwu Wan, Lamma Island
Departure Place: Central Pier 4/Sok Kwu Wan Ferry Pier 2
Operation Hours: ordinary ship: about 45 minutes; high-speed ship: about 35 minutes
Ticket Fare: HK$11.8/HK$14.8 Monday to Saturday;
HK$15.6/HK$19.6 on Sunday and public holiday
To Sok Kwu Wan: 07:20, 08:35, 10:00, 11:20, 13:10, 15:00, 16:45, 18:45, 20:10, 21:40, 23:20 daily
To Central: 06:45, 08:00, 09:25, 10:45, 12:30, 14:00, 16:00, 17:30, 19:20, 21:00, 22:40 daily

Central ↔ Yung Shue Wan, Lamma Island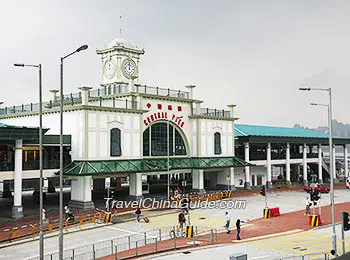 Central Pier, Hong Kong

Departure Place: Central Pier 4/Yung Shue Wan Ferry Pier
Operation Hours: ordinary ship: about 30 minutes; high-speed ship: about 20 minutes
Ticket Fare: HK$11.8/HK$14.8 Monday to Saturday;
HK$15.6/HK$19.6 on Sunday and public holiday
To Yung Shue Wan: 06:30~24:30 Monday to Saturday; 07:30~24:30 on Sunday and public holiday
To Central: 06:20~23:30 Monday to Saturday; 06:40~23:30 on Sunday and public holiday

Central ↔ Cheung Chau Island
Departure Place: Central Pier 5/Cheung Chau Ferry Pier, Praya Street
Operation Hours: ordinary ship: about 48 minutes; high-speed ship: about 32 minutes
Ticket Fare: HK$11.3/HK$17.7/HK$22.2 Monday to Saturday;
HK$16.7/HK$26/HK$32 on Sunday and public holiday
To Cheung Chau Island: 00:30~23:45 Monday to Saturday; 00:30~23:55 on Sunday and public holiday
To Central: 02:20~23:45 Monday to Saturday; 02:20~23:30 on Sunday and public holiday

Central ↔ Peng Chau
Departure Place: Central Pier 6/Peng Chau Ferry Pier located on Lou Ping Street
Operation Hours: ordinary ship: about 38 minutes; high-speed ship: about 25 minutes
Ticket Fare: HK$11.3/HK$17.8/HK$22.2 Monday to Saturday;
HK$16.7/HK$26/HK$32 on Sunday and public holiday
To Peng Chau: 00:30~23:30 Monday to Saturday; 00:30~23:40 on Sunday and public holiday
To Central: 03:25~23:30 Monday to Saturday; 03:25~23:35 on Sunday and public holiday


---
Page 1
2