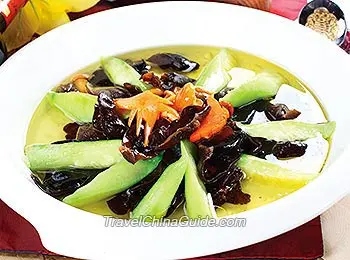 Braised Sponge Gourd with Black Fungus
Vegetarian diet is becoming a trend in the whole world. More and more people choose to be vegetarians. Besides the original reasons of religion, animal protection, and environmental protection, people now believe that vegetarian diet has a lot of benefits.
Vegetarian diet is good for health. It is proved to lower people's blood pressure and cholesterol. As a result, it is effective in preventing people from suffering from heart disease and cancer. The glutamate and vitamin B in a vegetarian diet can activate one's brain and enhance one's concentration. Vegetarian diet also benefits the beauty. It helps people lose weight and smoothes and tenders one's skin.
As an international metropolis, Shanghai attracts a large number of visitors including many vegetarians. The vegetarian restaurants in the city become more and more popular. Various Chinese and western vegetarian dishes will satisfy all the vegans, lacto-ovo vegetarians, lacto vegetarians, semi-vegetarians, and fruitarians. In addition, the vegetarian diet is tasty while usually at a comparatively low price.



Recommended Vegetarian Restaurants:



Chunfeng Songyue Vegetarian Restaurant
Chinese name: 春风松月楼 (chūn fēng sōng yuè lóu)
Specialties: It is located near the Old Town God Temple, so it is popular for the locals and the visitors to dine here after visiting the temple. It serves vegetarian dishes, noodles and snacks. The vegetable stuffed buns are highly recommended.
Address: No.99, Jiu Jiaochang Road, Huangpu District (near Bailing Road)
Operating Hours: 11:00 - 20:00
Average cost per person: CNY 10 - 20

Godly
Chinese name: 功德林 (gōng dé lín)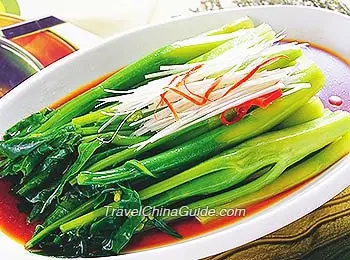 Wukang Road Branch: No. 97, Wukang Road, Xuhui District (near Wuyuan Road)
Specialties: This branch mainly serves vegetarian snacks such as vegetable stuffed buns, wonton, and mung bean cake. Simple vegetarian dishes and noodles are also available.
Average cost per person: CNY 15
West Nanjing Road Branch: No. 445, West Nanjing Road, Jing'an District (near North Chengdu Road)
Specialties: This is an old vegetarian restaurant in Shanghai. It is decorated in an ancient Chinese style with engraved gate, wooden coiled curtain, and bluestone floor. The quiet and exquisite environment makes it popular with many old Shanghainese. Dishes served here are vegetarian versions of meat dishes such as mock chicken, duck and pork.
Operating Hours: 7:00 - 15:00, 17:00 - 21:30
Average cost per person: CNY 70 - 120

Jen Dow
Chinese name: 人道素菜欢喜斋 (rén dào sù cài huān xǐ zhāi)
Specialties: It is a vegetarian buffet dinner restaurant offering more than 200 dishes, including Chinese, Japanese, and Italian dishes. Sweeties here are also recommended. The delicate environment and excellent service will make you feel comfortable.
Address: inside Longhua Hotel, No.2787, Longhua Road, Xuhui District (near Tianyaoqiao Road)
Operating Hours: 11:30 - 14:00, 17:00 - 21:00
Average cost per person: CNY 158

Ji Xiang Cao Vegetarian Restaurant
Chinese name: 吉祥草素食 (jí xiáng cǎo sù shí)
Specialties: It is decorated with bluestone floor, flax curtain, and wooden tables and chairs. Dishes served are mainly made of mushroom. Jixiang Mixed Dish and Bi Yu Zhuang Cheng are worth trying.
Address: 3F, Sun Shine International Plaza, No.3721, Hongmei Road, Minhang District (near West Yan'an Road)
Operating Hours: 11:00 - 21:00
Average cost per person: CNY 60 - 90



Vegetarian Lifestyle
Chinese name: 枣子树 (zǎo zi shù)
Specialties: Although not very capacious, it attracts much attention. It serves tasty and healthy vegetarian food. Chang Xiang Si is the signature dish that you must have a try. Please note that smoking and drinking are not allowed here.
Average cost per person: CNY 50 - 60
Jiangning Branch: No. 258, Fengxian Road, Jing'an District (the intersection with Nanhui Road)
Operating Hours: 11:00 - 14:00, 17:00 - 22:00 (please order before 21:00)
Gubei Branch: 1F, Paris Garden, No. 848, Golden City Street, Changning District (near South Shuicheng Road)
Operating Hours: 11:00 - 14:00, 17:00 - 21:00
Huaihai Branch: 1F, Shanghai Palace, No. 77, Songshan Road, Huangpu District (near Middle Huaihai Road)
Operating Hours: 11:00 - 14:00, 17:00 - 21:00

The Vegeatery
Chinese name: 艺素馆 (yì sù guǎn)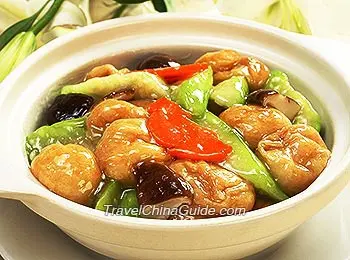 Braised Wheat Gluten and
Vegetable en Casserole

Specialties: Decorated in an European style, it has a slogan of 'trendy healthy cuisine'. Dishes served here taste fresh and clear. The pumpkin meal is recommended.
Address: 3F, Central Plaza, No.381, Middle Huaihai Road, Huangpu District (between Madang Road and Danshui Road)
Operating Hours: 11:00 - 14:30, 17:00 - 22:00
Average cost per person: CNY 60 - 100
Specialties: Address: 3F, Central Plaza, No.381, Middle Huaihai Road, Huangpu District (between Madang Road and Danshui Road)
Operating Hours: 11:00 - 14:30, 17:00 - 22:00
Average cost per person: CNY 60 - 100

New Age Veggie
Chinese name: 新素代 (xīn sù dài)
Specialties: It is a famous vegetarian restaurant in Pudong New Area of Shanghai. Dishes here taste good and vegan diet is available. The Bibimbap, eggless veggie cake and vegetarian steak are worth trying. Smoking and drinking are not allowed.
Zhengda Branch: 5F, Super Brand Mall, No.168, West Lujiazui Road, Pudong New Area
Huaihai Branch: 5F, No. 988, Middle Huaihai Road
Operating Hours: 10:00 - 22:00
Average cost per person: CNY 50 - 80

Jade Buddha Temple Vegetarian Restaurant
Chinese name: 玉佛寺素菜馆 (yù fó sì sù cài guǎn)
Specialties: It is a good choice for vegetarians after visiting the Jade Buddha Temple. Vegetarian dishes, snacks, and noodles are served. The cost will be rather inexpensive if you just have the noodles.
Address: No.999, Jiangning Road, Jing'an District (the intersection with Anyuan Road)
Operating Hours: 11:00 - 16:30, 17:00 - 20:30
Average cost per person: CNY 30 - 70

Longhua Temple Vegetarian Restaurant
Chinese name: 龙华寺素食 (lóng huá sì sù shí)
Specialties: It is famous for its delicious vegetarian noodles. The vegetarian duck, chicken, and ham are also tasty.
Address: inside Longhua Temple, No.2853, Longhua Road, Xuhui District
Average cost per person: CNY 10 - 20

L'Arbre de Provence
Chinese name: 普罗旺斯的树 (pǔ luó wàng sī de shù)
Specialties: This is a western vegetarian restaurant. Various western foods provide you with many choices. You can try the paper hot pot and the Provence nut meal here. Vegetarian buffet dinner is also available.
Address: 4-2, 4F, Metro City, No.1111, Zhaojiabang Road, Xuhui District (near Caoxi Road)
Operating Hours: 10:00 - 22:00
Average cost per person: CNY 60 - 100