Romania Trip Around Carpathians
TRM103: 11 Days Private Tour of Bucharest - Brasov - Sighisoara - Bicaz Gorge - Gura Humorului - Merry Cemetery - Corvin Castle - Sibiu - Transfagarasan Road - Bucharest
Tour Type:
Private Tour, any parts of the itinerary can be customized
Guide:
English-speaking driver guide, experienced and knowledgeable
Vehicle:
Air-conditioned car, spacious and comfortable
Accommodation:
4-star handpicked hotels, also be open to your own choice
Meals:
Authentic local cuisines and western-style food for your choice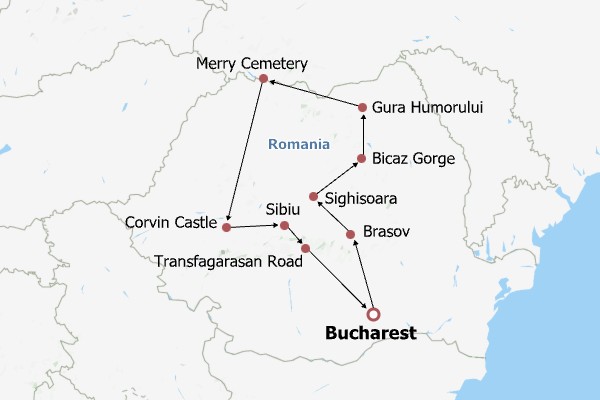 Day 1
Arrival in Bucharest, Airport pick-up
Welcome to Romania's largest city, Bucharest, which is also known as the "Little Paris". Our driver-guide will wait for you at OTP Airport in advance and then send you to the hotel. After checking in, we can arrange a guided tour to the old town or the Revolution Square.
Accommodation: Capitol Hotel




Day 2
Peles Castle & Bran Castle excursion, Arrival in Brasov
In the morning we will drive to the mountain resort of Sinaia, 130 km north of Bucharest, where we will visit the royal palace Peles Castle. Then we'll head to the famous Bran Castle, also known as Dracula's Castle. Our final destination today is Brasov, where you can overlook its medieval Saxon buildings and visit the Council Square.
Meals: Breakfast
Accommodation: Grand Hotel Belvedere





Friendly Tips
The interior areas of Peles Castle are closed every Monday and Tuesday from November to next March, but the courtyard is always open to the public.
Day 3
Bear Sanctuary & Viscri discovery, Sighisoara walking tour
After breakfast, we will visit the world-famous Black Church, which is the largest Gothic building in Romania. After that, a native guide will escort you to explore the Bear Sanctuary in Zarnesti for 1 hour, during which you can get a close look at the daily lives of brown bears. Next we will set off for Rasnov Fortress and Viscri Village. You will have the chance to visit the Blacksmith, enjoy traditional lunch with local people, and travel around the picturesque village in a horse-cart. Finally, go for a walk in the old town of Sighisoara for an hour. Tonight we will stay in Sighisoara.
Meals: Breakfast, Lunch
Accommodation: Hotel Central Park Sighisoara




Day 4
Bicaz Gorge & Red Lake exploration, Arrival in Gura Humorului
In the morning we will take a three-hour drive to the stunning Bicaz Gorge and Red Lake. Bicaz Gorge has one of the most scenic roads in the whole Europe, which is a narrow stretch of road surrounded by 1,000 ft high limestone cliffs. Then we will continue driving for another 3 hours to the hotel in Gura Humorului for rest.
Meals: Breakfast
Accommodation: Hotel Buchenland




Day 5
A taste of Bucovina Painted Monasteries & Steam Train "Mocanita"
On the fifth day, we will mainly visit Bucovina tourist attractions, including the Painted Monasteries of Voronet, Humor and Moldovita, the Steam Train "Mocanita" in Moldovita and see Bucovina's most representative handicraft - painting on eggs. After the visit, return to the hotel in Gura Humorului for rest.

Meals: Breakfast
Day 6
Ciocanesti & Barsana Monastery sightseeing trip, Arrival in Breb
After breakfast, we will drive to Ciocanesti Village to visit the National Museum of the Painted Eggs and the Ethnographic Museum. Next we are going to the second stop, Maramures County. After arriving, we will first visit the Wooden Barsana Monastery to learn about the daily life of monks in the ancient times and then come to Breb Village for a rest. Then we will walk for 20 minutes to meet the local shepherd at the pasture and enjoy dinner at Sheep Station. You can also walk around the village of Breb, chat with the villagers and have delicious dinner together. Tonight we will stay in a wooden hotel with local characteristics in Breb.

Meals: Breakfast, Dinner
Accommodation: Village Hotel Maramures
Day 7
Merry Cemetery & Budesti wooden church exploration, Back to Breb
In the morning we will visit Merry Cemetery in Sapanta in Maramures Region, where the epitaph on the gravestone has its own unique style and is worth reading. On the way to Sapanta, we will stop at the market of farm product in Sighetu Marmatiei. In Maramures, we will also visit the UNESCO wooden church in Budesti, its wooden gates and other handicrafts. We will still stay at Breb tonight.

Meals: Breakfast
Day 8
Surdesti wooden church & Turda Salt Mine adventure
Today we are going to visit a UNESCO wooden church in Surdesti. Then your guide will lead you to the square of Cluj Napoca to see its medieval architecture. Finally, we will go to the Turda Salt Mine for an underground adventure to end today's tour. Tonight we will stay at a hotel in Turda.
Meals: Breakfast
Accommodation: Hunter Prince Castle & Dracula Hotel




Day 9
Corvin Castle exploration, Sibiu walking tour
In the morning we will depart from Turda to start today's Romania private tour by visiting the famous fortress Alba Iulia Citadel. Then we will drive for 1 hour to the Corvin Castle with Gothic Renaissance style. Finally, we will go to Sibiu to enjoy a short tour, where there are ancient streets, beautiful wide squares, magnificent council tower, medieval churches and other buildings with hundreds of years' history. Tonight we will stay in Sibiu.
Meals: Breakfast
Accommodation: Hotel Republique




Day 10
Transfagarasan road experience, Back to Bucharest
After breakfast we will return to Bucharest by Transfagarasan road, which is open from July to October each year. From the top of the mountain path you can overlook the winding road and the beautiful valley. On the way, we will visit the Vidraru Dam, Poienari Fortress and the Curtea de Arges Monastery. If you want to stand in the Poienari Fortress having a bird's-eye view of the lush valley, you need to climb the steps for about 20 minutes.
Meals: Breakfast
Accommodation: Capitol Hotel





Friendly Tips
If Transfagarasan road is closed, we will change our way to Bucharest, visiting the Cozia Monastery and Curtea de Arges Monastery midway.
Day 11
Bucharest sightseeing, Airport see-off
We will start today's two-hour sightseeing tour, which includes the Palace of Parliament and the Village Museum. The driver-guide will then send you to the airport on time.

Meals: Breakfast
This trip can be customized to meet your individual needs!
Itineraries you may also like: