See by Year: 2013 2012 2011 2010 2009 2008 2007 2006 2005

Company News in 2011: Page 1 2 3
TravelChinaGuide Issues the Firsthand Statistics on China Tourism 2011
Published: December 31, 2011
On the last day of 2011, TravelChinaGuide.com provided the global tourist market with some firsthand statistics on China tourism especially the inbound tourism in 2011 for your reference. The rankings of the top 20 China destinations for overseas tourists and the top 20 tourist source countries are best guidelines for your travel plan in 2012. We wish you all a happy New Year and hope to welcome you to China in 2012!
TravelChinaGuide Is Offering Theme Tour Collections
Published: December 12, 2011
TravelChinaGuide.com has built a new column recently to introduce various China theme tours. These new collection pages can cater to different needs of tourists who would like to plan a family tour, or perhaps a honeymoon tour, food tour, train tour, photo tour, adventure tour, China festival tour… For every theme, the tour itineraries are displayed with ratings on comfort, culture and natural scenery as important reference information.
Please click to see details of China Theme Tours.
TravelChinaGuide Established Enterprise Page on Google+
Published: December 5, 2011
TravelChinaGuide has just created its own Google+ enterprise page. We will release the real-time headway of TravelChinaGuide.com and our company, latest tourism news and tourism product promotions. We sincerely invite you to visit and read about TravelChinaGuide at Google+: https://plus.google.com/109824597521362455910.
TravelChinaGuide's Train Booking Service Extension
Published: November 27, 2011
TravelChinaGuide started to offer online train ticket booking service in early 2010. Train journeys to and from some of the major cities in China were available. Our business scope has been extended recently. You can process a booking order for train tickets to and from the provincial capital cities and popular tourist cities, as well as international trains. Please search for China train schedules you need and submit online reservations at China Train Booking Center.
As a reminder, the Spring Festival travel rush is coming soon. It will be very difficult to get a train ticket around that period. TravelChinaGuide wants to remind you that it is advisable to avoid the travel rush. If you have to travel around China at that time by train, please book tickets as earlier as possible.
TravelChinaGuide.com Released Latest Top Tour Routes for 2012
Published: October 17, 2011
Basing on the statistics and market expectation, TravelChinaGuide has released the top travel routes for 2012. Tours are rated by comfort, culture display and natural sceneries. Please click to see the Best China Tours that delicately designed for you. We have also worked out 2012 Small Groups, which has preferential prices, compared with those in 2011.
A short time after the Golden Week Holiday in October, the tourism market is entering the traditional low season. However this means lower price and more conform in traveling. Some places would be still popular and maintain visitor growth in spite of the traditional low season. We are sincere to provide professional travel advice.
TravelChinaGuide Attended The 7th Strait Travel Fair
Published: September 12, 2011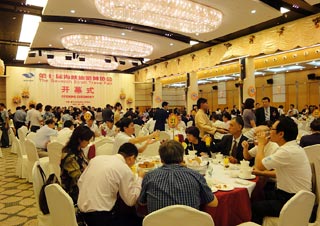 Opening Ceremony of
the 7th Strait Travel Fair, Xiamen
The 7th Strait Travel Fair was held in
Xiamen
from September 6 to 11. Our general manager and his party went to attend the fair and appeared in the opening ceremony of the travel fair in the evening of September 6 at Xiamen International Conference and Exhibition Center.
The six-day fair was co-hosted by the National Tourism Administration and Fujian Provincial Government, with the theme of 'Strait travel creates win-win cooperation'. More than 3,000 people were invited to participate this year. Travel sellers and investors from mainland China, Taiwan, Hong Kong and Macau gathered together. Important government officials and consulate officials of foreign countries in Xiamen and Guangzhou also showed up in the fair this year. The Cooperation Declaration on Fujian and Taiwan Tourism Industrialization was signed. The fair also organized travel routes in Xiamen Gulangyu Island, Mt. Wuyi, Tulou (Earth Towers of the Hakkas) and other top attractions in Fujian, as well as performances featuring Fujian and Taiwan customs.
There were 408 exhibition booths in the 8,000 square meter venue. The entire exhibitions had strengthened the 'mountain, water, strait and culture' elements of Fujian. TravelChinaGuide also gained ground in the fair to promote related travel products.
TravelChinaGuide.com Join in ASTA

Published: September 5, 2011

TravelChinaGuide.com (Xian Marco Polo Int'l Travel Service Co., Ltd.) has successfully become a member of ASTA (American Society of Travel Agents), the world's largest association of travel professionals. Member ID is 900207220.
ASTA and its affiliated organizations have the mission to improve the business of selling travel through effective representation, shared knowledge and enhancement of professionalism. TravelChinaGuide is a reputed China tour operator offering a great selection of tours which show the best of China. We join in ASTA to pursue responsible information and partnership in other travel markets of the world, and spread our brand name to the global travel network to express our confidence to serve with guarantee.
DIY Your China Tours at TravelChinaGuide

Published: August 1, 2011
Defined tour itineraries do not completely fit your requests? TravelChinaGuide has released a new function – DIY China Tour Quote, which allows users to customize itineraries they are interested in and get the approximate quotation at the same time.
Please come and get your DIY travel itinerary freely!
Step One: Select a city where you want to travel in China or added more cities as you like. Decide how long your trip will last and then fill the tour requirements to tell the system about the basic information – date of departure, amount of participants, tour class.
Step Two: A detailed itinerary is shown on the page and you can edit it as you wish. Delete any of the destinations or add a new one; change the travel plan of each destination; choose hotels, different means of transportation and airport pick-up service. Finally, provide your name, country and email address.
Step Three: Calculate the sum of the quotation by USD and CNY for reference. Query ID, Query time and the entire schedule will be listed below. Then you can decide to DIY one again, or enquiry our online travel consultant for exact price for a real booking.
We also provide other ways to accept your customized application.


By 24/7 service call: 1-800-315-3949 (US & Ca),
0-808-189-1339 (United Kingdom),
1-800-665-977 (Australia),
+86-29-8523 6688 (International Call)


By contacting our travel consultant through Skype
Skype ID:travelchinaguide.com


By submitting Tailor-made Enquiry Form guaranteeing a reply within 24 hours
Early Bird Savings Applicable: Up to 10% on Discount

Published: July 18, 2011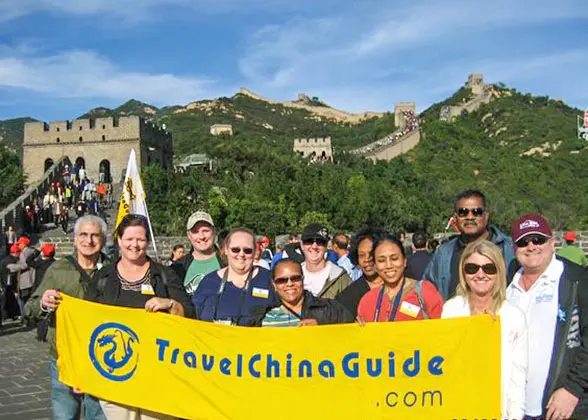 Our Tour Group at Badaling Great Wall
TravelChinaGuide always offer 'Early Bird' discounts on China tours and now the rate reaches an all time high, 10% discount at the highest. According to the date that our clients' single payment fully arrives, we will give a 3% discount for a booking 30 days in advance, 6% for 60 days and 10% for 90 days before the start of the tour. As usual, the special offer applies to all the inclusive
China Tours itineraries
we arrange, only except the budget series tours, a few city packages and the bookings only comprising of
Yangtze cruise ships
, hotel, or flight reservations.
Everybody who has a China travel plan, get rolling earlier for a better discount!
Learn more about our Early Bird Savings.

Company News in 2011: Page 1 2 3
---

More Company News in 2011:


New Version of China Videos Online -July 14, 2011


TravelChinaguide Adds Google, Facebook and Twitter's Social Buttons - July 13, 2011


Attraction Expedition to Henan Province - June 16, 2011


TravelChinaGuide 2011 Yangtze Training Tour - June 2, 2011


TravelChinaGuide's Staff Trip to the 2011 Xian Int'l Horticultural Expo Park - May 10, 2011


TravelChinaGuide.com's New Subdomain - Answers - Online - April 30, 2011


TravelChinaGuide Adds Print Stripes Below Attraction Pages - April 11, 2011


Xian Marco Polo International Travel Service Arrives at AAAAA Grade in Evaluation - March 24, 2011


Face-Lifted Photo Album Online - March 2, 2011


TravelChinaGuide Has All Tour Itineraries Adapted - February 14, 2011


TravelChinaGuide Provides 24/7 Service during Chinese Spring Festival - February 1, 2011


2011 Annual Banquet and Awards Ceremony - January 15, 2011


TravelChinaGuide Provides Airport Transfer Service - January 5, 2011