Norway, Finland & Sweden Tour
TFIN106: 11 Days Group Tour of Kittilä - Tromsø - Harstad - Björkliden - Kiruna
Tour Type:
Group Tour of 5 - 12 travelers, guaranteed departures
Guide:
English-speaking guide, professional and knowledgeable
Driver:
Experienced driver with a spacious air-conditioned coach
Accommodation:
10 nights at good hotels
Meals:
10 continental buffet breakfasts, 1 lunch, 3 dinners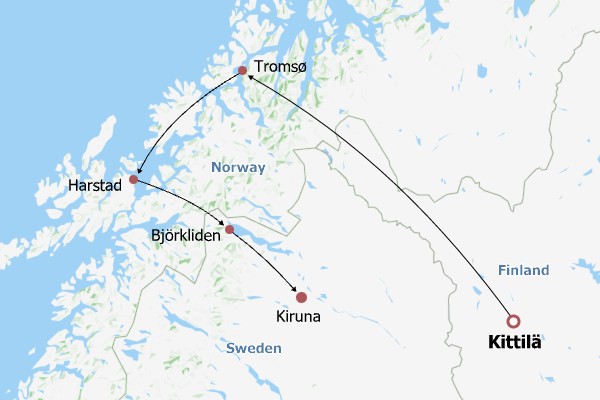 Day 1
Arrival at Kittilä, Lapland and Experience the Glass Igloo
This is a small group Norway Finland and Sweden packages. According to the itinerary, you need to arrive in Kittilä, Lapland check into Levi Golden Crown Igloos on your own today. Each glass igloo is equipped with an electric furnace, a microwave oven, a coffee maker, a kettle, a toaster and a fridge. What's more, the electrically heated windows can prevent from freezing.

Later you will meet your tour leader and other group members. Then we will serve all of you a dinner at Restaurant Aurora Sky.

Meals: Dinner
Accommodation: Levi Golden Crown Igloos
Day 2
Dog Sled in Levi & Optional Afternoon
We'll go on an 8-km (about 5-mi) dog sledding tour with the husky dogs today. At the spot, the staff will tell you all the safety notices and give out the warm clothes. After that, enjoy a cup of hot drink by the bonfire.

The afternoon will be free time for you. You may try some local foods in a café or restaurant, or take part in the optional downhill skiing.

Meals: Breakfast
Day 3
Interesting Ice Fishing & Snowmobile Safari to Summit of Levi
We'll transfer you to the snow white forest with snowmobiles. There is a lake with countless fishes there, which makes the site a great place for ice fishing. You can have fun in ice fishing, and the fish you catch can be great ingredients for lunch. The owner of lakeside wooden cabin will also cook mouthwatering soup for you. After lunch, our snowmobile safari will continue. We will drive to the summit of Levi for sightseeing. At the end of the day, send you back to the hotel.

Meals: Breakfast, Lunch
Day 4
Bus to Tromsø - One of the Best Places to View Northern Lights
Today, our Norway Finland Sweden tour will extend to Norway. After breakfast, board a northwards minibus. 6 hours later, we'll pass through the border and arrive in Tromsø. In the north of Norway, Tromsø is one of the northernmost cities globally. It's also one of the best places to appreciate aurora, because the temperature there stays below 0℃ five months of a year, and it is snowy for almost half a year. In addition to the ice and snow landscapes outdoors, the indoor restaurants, cafés, bars and night clubs are abundant. Stay overnight in a local hotel on arrival.

Meals: Breakfast
Accommodation: Clarion Hotel The Edge
Day 5
Guided Walking Tour in Tromsø & Northern Light Watching
In the morning, we will go on a guided walking tour in this Arctic Capital city, to visit its highlights including the Polar Museum, Polaria aquarium and environmental center. Then you'll get a free afternoon, to explore this city on your own or fresh up at a café or restaurant. If the weather permits, we will see the gorgeous northern lights at night.

Meals: Breakfast
Day 6
Free Day in Tromsø & Northern Lights Cuisine Cruise
Enjoy a free day in Tromsø. Tonight we will arrange you a Northern Lights Cuisine Cruise, and a five-course dinner will be served. The cruise will sail out of the area with light pollution, then you can glut your eyes with northern lights and the panoramic view on deck. You can also see the beautiful sights from the panorama hall on the second floor. During the cruise, the experienced guide will also share interesting information about Arctic life, Norwegian coastal culture and Nordic foods. The cruise ship will get back to Tromsø at 22:30. After, return to the hotel.

Meals: Breakfast, Dinner
Day 7
Express Boat to Harstad & Transfer to Abisko and Björkliden
In the early morning, we will transfer you to the express boat sailing to Harstad. On arrival, change to a minibus to Abisko and Björkliden in Sweden, taking 3-4 more hours. After the long transfer of Norway Finland and Sweden packages, check in the hotel and enjoy dinner.

Meals: Breakfast
Accommodation: Björkliden Lodge, Abisko Mountain Lodge or similar
Day 8
Watch Reindeers at a Sami Area & Chase Aurora Borealis
Björkliden is a partial area of Sápmi Region, where Sami people have been living for generations. Today, we'll visit the old village of Sami People, to learn their living style and how to raise reindeer. You can try to feed the reindeer in person. If time allows, a reindeer-sledding will be arranged for you. In a lavvu (Sami tent), the host will serve you traditional local food as lunch in front of the open fire.

You will be free to arrange your own activities in the afternoon. After dinner, we'll head to Abisko Aurora Sky Station, which is commonly recognized to be the best place to enjoy northern lights. After, send you back to the hotel.

Meals: Breakfast
Day 9
Local Train to Kiruna & Stay at the ICEHOTEL
After breakfast, take a local train to Kiruna and check in at the Icehotel. ICEHOTEL is a special accommodation that constructed with snow and ice cubes, making it like a giant, breathtakingly beautiful ice sculpture. You could sleep on the bed with warm sleeping bag and animal hides. Besides, ICEHOTEL will provide you snow boots and a set of snow suits for free.

Meals: Breakfast
Accommodation: ICEHOTEL
Day 10
Ice Sculpting & Snowmobile Excursion
During today's Norway Finland Sweden tour, the local guide will accompany you to appreciate ice and snow sculptures. As if stepping into a magical world, you'll marvel at these crystal sculptures. To night, with thermal clothes, we are going to chase northern lights by snowmobile. Dinner will be served at a wilderness camp. Stay overnight at a local hotel.

Meals: Breakfast, Dinner
Accommodation: A local hotel
Day 11
Departure from Kiruna
After breakfast, you will be transferred back to Kiruna airport. Then our Arctic adventure in Northern Europe will come to the end. Wish you have had a good time with us and a pleasant flight journey home!

Meals: Breakfast
This trip can be customized to meet your individual needs!
Itineraries you may also like: