Soul of Taiwan
TWN05: 6 Days Taipei - Taroko - Sun Moon Lake - Taipei
Tour Type:
Private Tour, any parts of the itinerary can be customized
Guide:
English-speaking guide, experienced and knowledgeable
Driver:
Private driver with a spacious air-conditioned car
Accommodation:
3 to 4-star handpicked hotels
Meals:
Authentic local cuisines and western-style food for your choice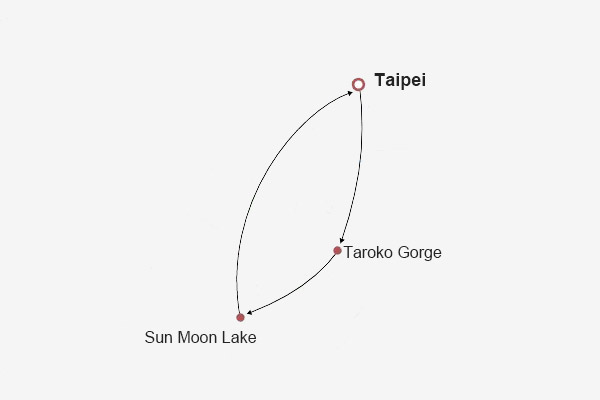 Upon your arrival at Taipei Taoyuan International Airport our guide will greet you at the exit, holding a welcome board with your name and you will be escorted to downtown Taipei to check in at a local high quality hotel. Then visit the National Palace Museum to appreciate ancient Chinese imperial artifacts and artworks, and the Matyr's Shrine to see the changing of guards. The evening is free for you to explore the bustling Taipei night markets, such as Rao He market or Huashi Street market. Your tour guide will give you some advice on how to get there and the popular local snacks worth a try. Or you may go shopping in Xin Yi District.
Day 2
Taipei - Yehliu - Jiufen - Taipei
After breakfast at the hotel our guide will pick you up and drive to the Yehliu Geopark, where the cape stretches approximately 1,700 meters into the ocean. In the park we will see a number of rock formations with imaginative names according to their shapes, such as the "Queen's Head", the "Fairy Shoe", the "Ginger Rocks", the "Camel Rock", the "Beehive" and many other interesting shapes waiting for your discovery. Afterwards, transfer to Jiufen, a typical mountain town. A cup of tea or coffee is recommended at its famous Sky Castle Teahouse. Transfer back to Taipei and visit Taiwan's landmark skyscraper, Taipei 101, to have a panoramic view of the city.
Meal: Breakfast, Lunch
Train in Taiwan
Tamsui Fisherman's Wharf
Day 3
Taipei - Hualian - Taroko
Today we leave Taipei. Our guide will help you with the check-out and see you off on a train to Hualian. After a two hours train journey you will reach Hualian and be greeted by your tour guide, who will take you to Taroko National Park, which is famous for its spectacular mountains and marble canyons. Here you will visit Taroko Gorge Gateway, Eternal Spring Shrine, Swallow Caves, Tunnel of Nine Turns, Tienshiang Lodge and Chi Hsing Beach Hualien Stone Sculpture Park.

Meal: Breakfast, Lunch
Day 4
Taroko - Taichung - Sun Moon Lake
In the morning, transfer to Hualian to take a train for around four hours to Taichung. Our Taichung guide will pick you up at the railway station and drive for 1.5 hours to Sun Moon Lake, the pearl of Central Taiwan and also the largest natural fresh water lake in Taiwan. The lake is divided by La Lu Island. The eastern part resembles a sun, while the western part is shaped like a moon, hence the name "Sun Moon Lake". Here you may find various small wildlife, such as little egrets, president fish, butterflies and fireflies.

Meal: Breakfast, Lunch
Today we will visit the famous sites around the lake, including Ci En Pagoda and Wen Wu Temple, and also take a boat to La Lu Island. The remainder of the day is free for you to enjoy the beauty of the peaceful lake. You may wander around the lake or just have a pot of tea or coffee in a café for total relaxation.

Meal: Breakfast, Lunch
Day 6
Sun Moon Lake - Taipei - Departure
Our guide will escort you to Taipei Taoyuan International Airport to board your homeward flight.

Meal: Breakfast
This trip can be customized to meet your individual needs!