Best of Taiwan
TWN01: 7 Days Taipei - Taroko Gorge - Sun Moon Lake - Alishan - Taipei
Tour Type:
Private Tour, any parts of the itinerary can be customized
Guide:
English-speaking guide, experienced and knowledgeable
Driver:
Private driver with a spacious air-conditioned car
Accommodation:
3 to 4-star handpicked hotels
Meals:
Authentic local cuisines and western-style food for your choice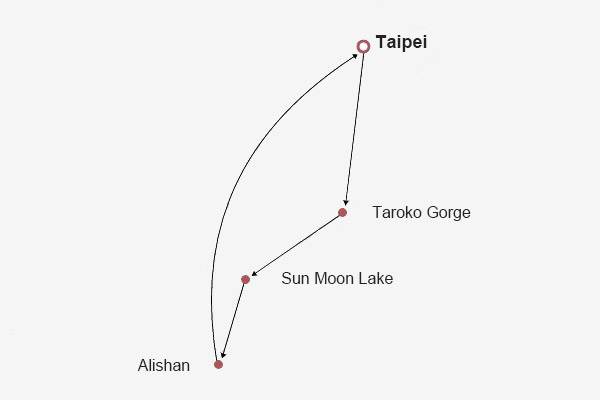 Welcome to Taiwan! Once your flight lands at the Taoyuan International Airport, our driver will wait for you outside the customs area holding a board with your name on it. Then, we will transfer to the hotel and help you check-in. The remainder of the day is free for you.
Accommodation: Folio Hotel



or similar
Day 2
Taipei - Taroko Gorge
We will start our Taiwan 7 days 6 nights itinerary with a morning drive via the towering Qingshui Cliffs. The cliff is more than 1,000 meters (3,281 ft) high and faces the Pacific Ocean at an angle of nearly 90 degrees. Upon arrival, you will be guided to explore the Taroko National Park. The park boasts a vast array of waterfalls, cliffs, temples, tunnels, rivers and trails. Since the park is so large, we can't visit all the scenic spots in a short time. Nevertheless, you will be escorted to visit some highlights of the park, including visits to the Eternal Spring Shrine and the Swallow Grotto. In addition to sightseeing and hiking, we might encounter some wild animals, like cute monkeys. If weather permits, we might have an opportunity to hike the Baiyang Trail with delightful caves and waterfalls. The open portions of the trail might be changed due to the weather condition. After hiking, we will head back to your hotel inside the scenic area.
Meals: Breakfast
Accommodation: Taroko Liiko Hotel




or similar
Sun Moon Lake, Taiwan
Day 3
Taroko Gorge - Sun Moon Lake
After breakfast at the hotel, we will leave for Sun Moon Lake, one of the highlights of this 7 days Taiwan tour. With the car climbing higher along the mountains, we will cross the central mountain range on the Central Cross-Island Highway. Along the road, we will take many photo breaks for sightseeing or overlooking a panoramic view. It is worth mentioning that we will make a stop at the Bilu Sacred Tree, located at an altitude of 2,150 meters (7,054 ft) with a height of 50 meters (164 ft) and a diameter of 3.5 meters (3.8 yd). It's said that this flourishing tree may date back to biblical times. After driving over the mountain ridge, we will drive to the valley and finally reach the beauteous Sun Moon Lake. You will be feted with a traditional tribal meal and then check into a 3-star garden hotel with stunning view of the lake.
Meals: Breakfast, Dinner
Accommodation: Lealea Garden Hotel (Moon)



or similar
Today is dedicated to exploring and savoring the charm of Sun Moon Lake in depth. Sun Moon Lake, the largest fresh-water lake in Taiwan, is surrounded by lush forests and charming mountains. Apart from its natural beauty, it houses some Buddhist temples, some of which are related to Master Monk Xuanzang of the Tang Dynasty (618 - 907). We will take a morning tour to Wenwu Temple, built in 1932. It is dedicated to Confucius, Guangyu and other deities. Afterwards, we will take a pleasure boat ride from the Ita Thao Wharfs to travel across the lake. After disembarking and going ashore, we will hike to Xuanguang Temple before cycling around the lake by bicycle.
Meals: Breakfast
Accommodation: Lealea Garden Hotel (Moon)



or similar
Night Market
Taroko National Park
Day 5
Sun Moon Lake - Alishan
In the morning, we will drive onward to the last stop - Alishan. Here, you can enjoy blossoming cherry flowers in spring, a cool climate in summer, red-flaming maple leaves in autumn and a sea of clouds in winter. If you care more about the flourishing flowers in Alishan, the best travel time is around the beginning of February to mid-April. Along the road, the picturesque scenery will make our mountain drive impressive, with winding mountain roads, lush forests, and clear streams. And we will en route stop to visit a well-known tea farm, where we will have a chance to see parts of a tea plantation on a trail walk. As we reach Alishan, we will take the Alishan Mountain narrow gauge railway ride. Later, check into the Alishan house hotel.
Meals: Breakfast
Accommodation: Alishan House Hotel (History) or similar

Friendly Tips
Hotel conditions in Alishan Recreation Area:
In order to protect the Alishan Recreation Area, the government has strict rules of refurbishment. Therefore, most of the hotels stay with the original layout. They might not the best and satisfied hotels. However, these hotels have a long history and were built from thousand-year-old cypress trees from the Alishan area.
In addition, the heat in the Alishan hotels is only turned on when the temperature is lower than 8℃. Hotels only provide warm shower water from 16:00 to 08:00.
Get up early in the morning, and we will hike through the forest to enjoy the breathtaking scenes with a deep breath of fresh air. Around noon, we will have a cup of pure tea at Alishanwin Tea House, where you may have a chance to learn more about Chinese tea culture. Later, it's time to say goodbye to Alishan, and we will drive back to Taipei.
Meals: Breakfast
Accommodation: Folio Hotel



or similar
Day 7
Departure from Taipei
After a good breakfast, we will transfer you to the Taoyuan International Airport. We sincerely wish you a pleasant homebound flight!

Meals: Breakfast
This trip can be customized to meet your individual needs!