Essence of Taipei
TWN07: 4 Days Taipei Tour Package
Tour Type:
Private Tour, any part of the itinerary can be customized
Guide & Driver:
Professional guide and driver with an air-conditioned car
Accommodation:
Carefully selected 4-star hotels
Highlights:
Explore two of Taipei's best night markets for authentic Taiwanese snacks.
Learn about Chinese civilization through artifacts in the Palace Museum.
A historic wander through the old streets of Dadaocheng and Tamsui.
A pleasant walk in Yangmingshan National Park to enjoy the natural beauty.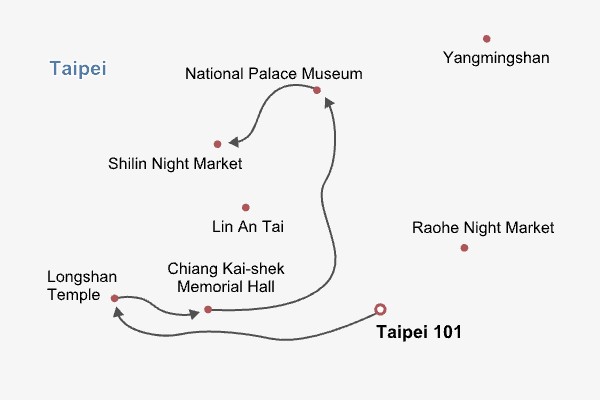 Day 1
Arrival in Taipei; Airport Pick-up, Night Market Food Tour
Welcome to Taipei! Upon your landing today, our guide will be waiting for you in the Arrival Hall of Taoyuan Airport. Then, you will be escorted to the hotel by a private car for about one hour. Along the way, the guide will be very glad to deliver you a splendid introduction of Taiwan. After arrival, you will be assisted with hotel check-in.
As one of the most popular cities in Asia, what do you expect Taipei to look like? In the following days, you will experience the city's and even the whole Taiwan's history, culture and customs under the guidance of our professional guide.
►
Raohe Street Night Market Food Tour
To understand a city, you cannot miss its food culture. In Taiwan, the most distinctive food culture is the night market culture. After a short rest in the hotel, our guide will accompany you to explore the most authentic Raohe Street Night Market, which is only a 5 or 6 minutes' walk from your hotel. It offers all kinds of food and snacks, clothing stores, folk ornaments, as well as traditional skills performances. Of course, we will focus on tasting Taiwanese snacks. During this food tour, the guide will introduce various snacks and choose 5 or 6 for you according to your taste. Among them, you can't miss Fuzhou Shizu Baked Pepper Bun, which is one of the three snacks of Raohe Night Market in the Michelin Guide's Bib Gourmand list.
Meals: Dinner
Accommodation: Amba Taipei Songshan




or similar
Day 2
Taipei: Longshan Temple, Chiang Kai-Shek Memorial Hall, Ding Tai Feng, National Palace Museum, Shilin Night Market
Your first stop today will be the famous
old Longshan Temple
, which is for worshiping Goddess Kwan-yin and other divine spirits. The Longshan Temple was built in 1738. During World War II, its main hall was destroyed by gunfire and only the Guanyin Bodhisattva deity statue sat safely on the lotus seat. It is believed that this is the theophany of the Guanyin Bodhisattva deity. Plus another two gods, the well-known matchmaker and Emperor Wenchang, the temple attracts more believers and visitors.
After that, we will visit
Chiang Kai-Shek Memorial Hall
which was completed in 1980 in memory of Chiang Kai-Shek, the first president of the Republic of China. One of the highlights is changing the guard at every clock, when you can see the military guard's meticulous attitude and uniform movements. If you want to capture good pictures or find a better angle to record videos, then you need to stand on the red carpet opposite the statue 5 to 10 minutes ahead.
Chiang Kai-Shek Memorial Hall
Night Market of Taipei
►
Lunch at Michelin Restaurant Din Tai Fung
Enjoy lunch at Din Tai Fung, a Michelin restaurant at Taipei 101. Once recommended by the New York Times as one of the "Top 10 Restaurants in the World", it boasts a signature dish, Xiao Long Bao with a Golden Ratio of 18 Folds, a kind of steamed pork dumpling. The "Golden Ratio of 18 Folds" was finally decided upon by the founder and their head chef through trials and errors, and the food must be served to guests with right temperature. Their pursuit of high quality and perseverance makes every guest enjoy it and thus there is always a long line at the door of Din Tai Fung. Don't worry! Our guide will help you book in advance so that you can enjoy a great lunch.
In the afternoon, we will continue our visit to the
National Palace Museum
, which houses more than 696,000 pieces of ancient Chinese imperial artifacts and artworks, including ancient bronze castings, calligraphy, scroll paintings, porcelain, jade, and rare books. It has the same root with the Palace Museum in the Forbidden City in Beijing. They have been divided into two museums as a result of the Chinese Civil War. After that, we will head to explore the largest night market in Taiwan,
Shilin Night Market
. You may taste some local food there at your own expense.
Meals: Breakfast, Lunch
Accommodation: Amba Taipei Songshan




or similar
Day 3
Taipei: Yangmingshan National Park, Tamsui Old Street, Sunset at Tamsui Fisherman's Wharf
Today we will drive about one hour to Taipei's back garden,
Yangmingshan National Park
and relax in nature. The sightseeing includes Qingtiangang, a vast green grassland where you can see the cattle raised by the local farmers; Lengshuikeng, a famous public hot spring of 40℃ where visitors can take a bath or just enjoy foot springs outside; Xiaoyoukeng, where you can feel the sulfur gas up close in the crater; Bamboo Lake and so on.
The reason why it is called Taipei's back garden is that various plants can be appreciated here all year round. The prunus campanulata, Japanese cherry blossom, plum blossom, azaleas, camellia, peach blossom, apricot flower, and arum are in full bloom from December to April in order. Lily from May to July, and miscanthus flower from October to November, all attract many tourists.
Then we will continue to drive to
Tamsui's Old Street
, which is a waterfront walkway with busy shops on one side and the Tamsui River on the other. Here you can enjoy buildings in different styles, including Fujian, Japanese and Western architecture, most of which were built in the 18th and early 19th centuries, full of history. Entering the Old Street, you will see a lot of old brick houses, antique stores, and dart shops. Stone carvings, wood carvings, cultural relics, calligraphy and paintings are placed everywhere. At the same time, most people in Taiwan have religious beliefs. So you can also see many Buddhist temples, Taoist temples and various palaces. Take a leisurely stroll along the streets, you can enjoy the beautiful scenery along the river. In addition, all kinds of delicious snacks are unmissable, such as fish balls, fish cake, and Aburaage which is a kind of deep-fried Japanese Tofu.
Yangmingshan National Park
Sunset at Tamsui Fisherman's Wharf
Amazing Sunset at Tamsui Fisherman's Wharf
Today's last stop is the Fisherman's Wharf and the sunset here is very famous. Standing on the footpath overlooking the opposite Guanyin Mountain and the Taiwan Strait at the end of the outlet, watching the sunset slowly falling from the horizontal plane, you will be amazed at the beautiful scenery.
What makes the sunset here even more appealing?
►
Different from the traditional fixed wharf, the Fisherman's Wharf can rise and fall with the tide, and can accommodate 150 fishing boats at a time, which is quite spectacular.
►
The Lover's Bridge is a famous landmark here, measuring about 165 meters. It looks like a white sail from far, conveying the blessing of smooth sailing. The colorful lights at night offer a more romantic atmosphere.
►
Buskers playing guitars, couples walking hand in hand, adults and children relaxing on the beach, and local people watching the sunset with their pets, all contribute to a strong atmosphere of life.
After that, we will transfer you back to the hotel.
Meals: Breakfast, Lunch
Accommodation: Amba Taipei Songshan




or similar
Day 4
Taipei: Lin An Tai Historical House & Museum, Dadaocheng; Departure from Taipei
Continue to go sightseeing and learn more about Taiwan today. Firstly we are going to visit Lin Antai Ancient House, a traditional Chinese courtyard house with a history of more than 160 years. It is the most complete ancient building in Taipei, featuring a rare Chinese-style garden architecture in Taiwan, which contains ancient houses, gardens, rockeries and pavilions, a good sample for understanding traditional Chinese architecture.

Then we will go to the Dadaocheng Old District. Dihua Street is the core of the Dadaocheng District. The whole street is about 800 meters long, which is the most well-preserved old street in Taipei City. In Dadaocheng business circle and Dihua Street, whether the former residence of celebrities, traditional folk crafts, tea and cloth stores, or herbal medicine and local food, the historical traces can be seen everywhere. This place not only retains the cultural customs of old Taipei, but also adds many emerging cultural and artistic elements, and many shops choose to keep the original appearance to open the newly created boutiques. For a glimpse of traditional old Taipei life, don't miss Dadaocheng!

Finally, our guide will transfer you to the airport to board your return flight and say farewell to you.

Meals: Breakfast
This trip can be customized to meet your individual needs!
Tour Prices
| Travelers | 2-3 travelers | 4-5 travelers |
| --- | --- | --- |
| Year Round | USD1189 | USD959 |
Prices are per person on twin sharing basis.
Any part of the itinerary e.g. tour length, activities & hotels can be tailored to your individual interests.