Taiwan Travel in Depth
TWN06: 11 Days Taipei - Lukang - Sun Moon Lake - Tainan - Kenting - Taroko - Yilan - Jiufen - Taipei
Tour Type:
Private Tour, any parts of the itinerary can be customized
Guide:
English-speaking guide, experienced and knowledgeable
Driver:
Private driver with a spacious air-conditioned car
Accommodation:
3 to 4-star handpicked hotels
Meals:
Authentic local cuisines and western-style food for your choice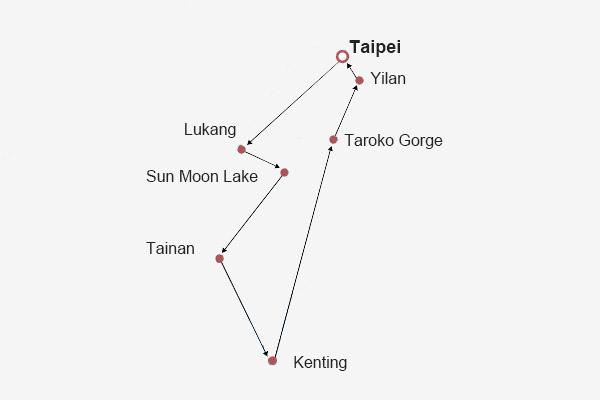 Our tour guide and driver will meet you at Taipei Taoyuan International Airport and escort you to the hotel. Relax for the remainder of the day.
After breakfast, our guide will collect you for a drive to the National Palace Museum which houses numerous pieces of ancient Chinese imperial artifacts and artworks. Later we will see Taiwan's changing of guards at the Martyr's Shrine. Enjoy lunch at Taipei 101 where we will also get a panoramic view of the city from the observation deck on its 91st floor. Afternoon visiting will be the Lungshan Temple and Taiwan Democracy Memorial Hall. Following the full day visit, we will go to the Shilin Night Market to find Taiwan's famous snacks.
Meals: Breakfast, Lunch
Taipei Skyline
Today we will visit the diverse Yangmingshan National Park which is the only park in Taiwan that has volcanic geography and hot springs. The frequently visited attractions here are Yangmingshuwu, Bamboo Lake and Butterfly Corridor. The park is available for visiting any time of the year, but spring is best when it is flower season. A Hot Springs Museum visit will be arranged after lunch. Afterwards, continue to Tamsui for a stroll along the historical Old Street. Drive back to Taipei.

Meals: Breakfast, Lunch
Day 4
Taipei - Lukang - Sun Moon Lake
Drive out of the city to Lukang, which used to be a harbor and the second biggest town in Taiwan. But now it is a rendezvous of traditional culture and modern civilization. Here we will experience ancient Chinese traditions and Taiwanese culture by visiting its old streets and temples like Tanhou Temple, Longshan Temple and Nine-turns Lane. At the end of the day, we will reach Sun Moon Lake and stay overnight.
Meals: Breakfast, Lunch
Kenting
Village in Taiwan
Spend a whole day enjoying the stunning landscape of Sun Moon Lake. In the morning, we will visit Ci En Pagoda and Wen Wu Temple. Then take a cruise to La Lu Island which divided the lake into two parts. The east side resembles a sun while the westside looks like a crescent moon, hence the name "Sun Moon Lake". Afternoon is free for you to enjoy the beauty of the peaceful Lake. You can rent a bike to ride along the bike path or take a leisure walk around part of the lake.

Meals: Breakfast, Lunch
Day 6
Sun Moon Lake - Tainan
Head to the traditional Tainan. Explore the historical and cultural city of Tainan seeing the Confucius Temple, the first Confucius Temple in Taiwan built in the Ming Dynasty, Anping Fort, a 400 year old fort which was first settled by the Dutch and then was modified by several different regimes when they ruled this place in the past years, thus makes it an important place to learn history of Taiwan and the former Tait & Co Merchant House, the first Mazu temple built by government in the Qing Dynasty. Transfer to a Tainan downtown hotel. In the evening, you may explore night markets on your own.

Meals: Breakfast, Lunch
Depart for Kenting National Park which is 140 kilometers away from Tainan. The Park is famous for its tropical climate, warm sunshine, scenic beach and varied wildlife and it is one of the top 10 tropical botanical gardens in the world. It is an ideal destination for outdoor activities like biking and hiking. Here we will see the well-known Oluanbi Lighthouse and Cape Maobitou. Stay overnight in Kenting.
Meals: Breakfast, Lunch
Taiwan Coastline
In the early morning, we will pick you up at your hotel and commence our trip with driving northward to Taroko along the East Coast to enjoy the breathtaking scenery. On the way, we will stop at Siaoyeliou, Sansientai, the Stone Steps and the Caves of the Eight Immortals to discover the unique landscapes and rocky coastline. Following the visit, we will make our way towards Taroko and check in at a hotel upon arrival.

Meals: Breakfast, Lunch
Today we will discover the beauty of Taroko National Park which is famous for its spectacular mountains and marble canyons. Here we will visit the magnificent Taroko Gorge, Eternal Spring Shrine, Swallow Caves, Tunnel of Nine Turns, Tienshiang Lodge and Chi Hsing Beach Hualien Stone Sculpture Park. Continue along the highway to reach Yilan and stay overnight.

Meals: Breakfast, Lunch
Commence our drive to the mountain town of Jinguashi to visit the Gold Ecological Park to experience histories of the area. Following the morning activities, we will enjoy our time in Jiufen. It was the centre of the gold mining industry and was later restored as a tourist attraction. A cup of tea here is recommended when sitting in a tea house that has a great view of Taipei and the town. Proceed to Taipei before night. For the last night in Taipei, the tasty foods at Raohe Night Market could not be missed.

Meals: Breakfast, Lunch
Day 11
Departure from Taipei
Free time will be left for you until departure to transfer to Taoyuan International Airport with our guide and private vehicle.

Meals: Breakfas
This trip can be customized to meet your individual needs!