Classic Around Taiwan Tour
TWN02: 8 Days Taipei - Hualien - Taitung - Kaohsiung - Tainan - Chiayi - Taichung - Taipei
Upon your flight arrival at the Taoyuan International Airport, you will be met by our driver with your name on the welcome board after your luggage claim and custom clearance. Then, we will transfer you to the hotel, and the rest of the day is free for a good rest for the following Taiwan 8 days 7 nights itinerary.
Accommodation: Folio Hotel



or similar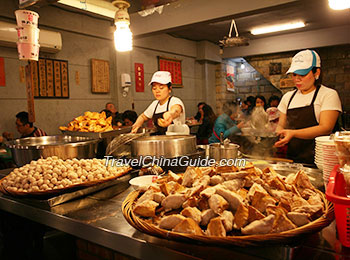 Night market, Taipei
We will leave Taipei City after breakfast, and drive onward to the eastern coast. Along the road, we will see the Qingshui Cliff, Taiwan's largest coastal cliff, which faces the Pacific Ocean and is augmented by crystal blue seawater and sandy beaches. Then, we will get to the Taroko Gorge National Park, where you can see spectacular canyons, gorges, waterfalls and lush forests. Hiking along the wooden trails, you can experience climate changes of the four seasons in one day. However, the opening condition of the trail might be changes due to the weather. After appreciating natural beauty of the Taroko National Park, we will head to Hualien and stay there overnight. If you are interested, you can explore the neighborhood or wander round the bustling night markets in Hualien on your own.
Meals: Breakfast
Accommodation: Day Plus Hualien



or similar
In the morning, we will leave Hualien and drive southward to Taitung. Along the road, we will drive through the East Rift Valley, between Central Range and Coastal Mountains. The wide watercourses are perfectly complemented by precipitous cliffs and gorges on either side. Later, we will continue the 8 days Taiwan tour with a drive across the Tropic of Cancer. Then, a few hours will be spent on a bicycle ride on beautiful roads and bike paths that traverse wetlands, rice paddies and flower fields. At the end of the day, we will reach the city of Taitung and check into the scheduled hotel.
Meals: Breakfast
Accommodation: F Hotel Chihpen



or similar

Friendly Tips
Hotel is equipped with hot spring and swimming pool so please remember to bring the swimming suite.
Day 4
Taitung - Kaohsiung - Tainan
Fo Guang Shan Buddhist Monastery
After breakfast, we will go on the journey driving through Taiwan's southern banana belt region, and later head northward to Kaohsiung, a western seaside city. Here, we will pay a visit to Fo Guang Shan Buddhist Monastery, which boasts a vast array of monastic architecture, including exquisite pavilions, towers and palaces. In addition, the monastery houses a large collection of Buddhists figures of different sizes. After that, we will proceed to Tainan, the oldest city and spiritual heart of Taiwan. Upon arrival, check into a well-equipped hotel where we will round off today's Taiwan 8 days tour.
Meals: Breakfast
Accommodation: Tainan Fushin Hotel



or similar
Today is dedicated to exploring Tainan, a historic city with far-reaching cultural significance. We will meander along the old stone streets, which are said to have been built during the Qing Dynasty (1616 - 1912), and make delightful stops to visit some ancient temples, neighborhoods and fortress. Many buildings were built during Taiwan's colonial times, which offers a good opportunity for you to learn more about Taiwan's ancient history. Afterwards, we will enjoy a healing soak at Guanziling Mud Springs before departing for the town of Chiayi.
Meals: Breakfast
Accommodation: Day Plus Chiayi



or similar
Day 6
Chiayi - Lugang - Taichung
Lugang Old Town
After breakfast in Chiayi, we will drive onward to Lugang, which has been given the nickname for the fact that it was once a port city exporting large amounts of deerskin. Upon your arrival here, we will firstly tour the Lugang Old Town with visits to its temples and other cultural and historical sites. Walk along the old streets, and we will make several stops to visit some of the temples, like the Longhsan and Matsu temples. Later, we will alight at the Lugang Osmanthus Alley Artist Village, where you will be guided to create your own traditional dough figurine. After the cultural exploration of this historic port, we will depart for Taichung and check in the hotel after arrival.
Meals: Breakfast
Accommodation: Day Plus Taichung



or similar
Taipei 101
Today, we will leave for the most beautiful stopover of this Taiwan itinerary 8 days - the Sun Moon Lake. We will take a boat trip around the lake to enjoy the breathtaking scenery of azure water and elegant shoreline. Afterwards, we will spend some relaxing time at the Maolanshan tea plantation for a cup of pure tea. Later, we will go back to Taipei. If time allows, explore the political capital on your own, and it's advisable to buy some souvenirs for your parents and friends at night markets or famous Taipei 101.
Meals: Breakfast
Accommodation: Folio Hotel



or similar
Day 8
Departure from Taipei
This 8 days Taiwan itinerary will come to an end today. After having breakfast and checking out of the hotel, we will transfer you to the airport for your homeward flight and see you off. We wish you a pleasant journey home!

Meals: Breakfast