Taiwan Culture and Heritage Tour
TWN02: 8 Days Taipei - Taichung - Sun Moon Lake - Tainan - Taipei
Tour Type:
Private Tour, any part of the itinerary can be customized.
Guide & Driver:
Professional guide and driver with an air-conditioned car.
Accommodation:
Carefully selected 4-star hotels.
Highlights:
Marvel at natural beauty of Sun Moon Lake and sunset at Gao Mei wetland.
Feel the strong historical atmosphere at Lugang Old Town and Tainan city.
Explore mysterious Meixi tribe to learn about Seediq people's culture.
A truly gourmet tour from Michelin restaurant, night markets to a cup of bubble tea.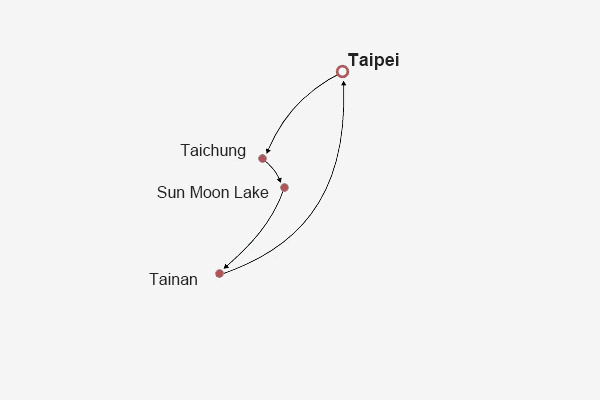 Day 1
Arrival in Taipei; Airport Pick-up
Upon your flight arrival at Taoyuan International Airport, you will be met by our guide and driver after your luggage claim and customs clearance. Then, you will be transferred to check into the hotel. The rest of the day remains free for you to get refreshed.
►
Activities Suggestion:
Taipei, the capital of Taiwan, is a shopping paradise. Its major business districts are well developed, which could meet different consumption needs. If you arrive early today, you can just put down your luggage and get out to explore this exciting city. Just a 6-minute walk from your hotel, you can go to Wufenpu Business District, which is a fashion center. There are nearly 1,000 boutiques here, all featuring the season's most popular clothes, shoes and hats. The novel styles and reasonable prices attract locals, tourists, and even stars coming to find good things. If you're interested in such items, just come here.
Accommodation: Amba Taipei Songshan




or similar
Day 2
Taipei: Visit Longshan Temple, Chiang Kai-Shek Memorial Hall, Taipei Palace Museum & Shilin Night Market
Morning Activities:
After a hearty breakfast, your 8 days Taiwan tour begins. Our guide will pick you up from the hotel. The first stop we're going to visit today is
Longshan Temple
, one of the three temples in Taipei. During the Pacific War, the nave and right porch of Longshan Temple were destroyed by an airplane, but the statue of Guanyin was intact. As the news spread, believers from far and wide worshipped the statue as a miracle, and the temple became more and more prosperous. Longshan Temple is a folk belief center integrating Confucianism, Buddhism and Taoism. In addition, its exquisite stone, wood and porcelain carvings will take your breath away.
After that, visit the
Chiang Kai-shek Memorial Hall
, built in 1976 in memory of Chiang Kai-shek, the military leader of China's Nationalist Party. Modeled after the top of the Temple of Heaven in Beijing and the main body of the Egyptian pyramids, the building is towering and majestic, reflecting the beauty of Chinese palace architecture. The first floor is mainly occupied by exhibition rooms and screening rooms, displaying historical relics of Chiang Kai-shek's life. The top floor is decorated with a bronze statue of Chiang Kai-shek. There are guards stationing on either side, and their hourly shift change ceremony has become one of the highlights in this site.
Lunch is specially arranged at the famous Michelin restaurant
Din Tai Fung
. Xiao Long Bao, the restaurant's signature dish, is not to be missed. Other recommended foods are wonton, steamed dumpling, fried rice, hot and sour soup, etc.
Afternoon Activities:
After lunch, we will head to
Taipei National Palace Museum
, a famous museum of history, culture and art in China. This museum contains thousands of years of precious bronzes from the Shang and Zhou dynasties (1600 BC - 256 BC), calligraphy and paintings handed down by legendary painters in the past dynasties, exquisite jade carvings and many other treasures, which will make you lose track of time by immersing yourself in these exhibits. We will visit here for 2-3 hours.
Treasures in Taipei Palace Museum
Shilin Night Market
►
Guided Food Tour to Shilin Night Market
It is incomplete for a tourist to visit Taiwan without exploring its night markets. No matter Taipei, Taichung, Tainan or even Taitung, from the north to the south, almost every city or town in Taiwan has thriving night markets, which are undoubtedly an epitome of Taiwan culture. In the night market, there are not only all kinds of snacks, but also a variety of goods, including clothes, shoes, traditional handicrafts, and many others. There, you can feel strong local characteristics and truly integrate yourself into authentic Taiwanese life.
On today's tour, our guide will take you to experience the Shilin Night Market, the largest one in Taipei. There are so many kinds of snacks in the market that you can't taste them all. With the guide's recommendation, you will taste the most distinctive foods and learn about their ingredients, cooking methods and maybe some interesting stories. The price of tasting food is included, and all you need to do is to prepare an empty stomach for a gourmet adventure.
Meals:Breakfast, Lunch, Dinner
Accommodation: Amba Taipei Songshan




or similar
Day 3
Taipei to Taichung via Lugang; Visit Lugang Old Town, Artist Village & Sunset at Gaomei Wetland
Today, we will drive 2.5 hours onward to Lugang, which has been given the nickname for the fact that it was once a port city exporting large amounts of deerskin. Upon arrival, we will firstly travel through the
Lugang Old Town
with visits to some cultural and historical sites including Longshan and Matsu temples. Later, we will alight at the
Lugang Osmanthus Alley Artist Village
, where you will be able to create your own traditional dough figurine. After cultural exploration of this historical port, we will depart for Taichung and check in at the hotel on arrival.
Lugang Old Town, Taiwan
Sunset at Gaomei Wetland
►
Chun Shui Tang: The World's Popular Bubble Tea was Invented Here.
Have you ever tried bubble tea? This should be pretty high on your list of things to do during your trip in Taiwan. Why? Because Taiwan is the homeland of Pearl Milk Tea, a milk iced tea infused with pearls (generally tapioca balls). The chewy nature of the pearls and the milky sweetness of the tea are quite delightful.
Before we continue our tour to Taichung, we will have an afternoon tea break at the origin store of Chun Shui Tang, where it is said that bubble tea was invented. This store is very popular and there are often long lines outside. The time we plan to get there is not rush hour. Generally, we can sit back and enjoy a cup of authentic bubble tea. In case there are more people, we'll buy one to take away.
►
Amazing Sunset at Gaomei Wetland
At the end of today's tour, we'll head to Gaomei Wetland for one of Taiwan's most spectacular sunset views. This is a shoal by the sea. At sunset, the wetland is like a mirror, connecting the sky and the earth, presenting stunning landscape. In addition to watching the sunset, you will find the ecological environment here is very good. There are myriad's of tiny crabs, mudskippers, birds and waterfowls. Kicked off your shoes and ran into the shallows. Feel the warm water, soft sand, and little fish bumping into your feet from time to time. We are sure you'll have a great time here, especially if you're traveling with children.
However, if it is not a sunny day, the view may disappoint you. In this case, we will arrange for you to explore the Fengjia Night Market instead.
Meals: Breakfast
Accommodation: Tempus Hotel Taichung




or similar
Day 4
Taichung to Sun Moon Lake; Visit the Lake
After breakfast at hotel, we will drive around 2 hours to the
Sun Moon Lake
, which is the largest natural freshwater lake in Taiwan. It has beautiful scenery and enjoys a reputation as one of the eight must-see attractions in Taiwan.
The cycle path around the Lake has been chosen by CNN as one of the 10 most beautiful cycle paths in the world
. Accompanied by the guide, you will experience different ways to view Sun Moon Lake. You will hike to the lake's secret attractions, ride along the elegant shoreline in the breeze, take a boat ride to see the water up close and enjoy panoramic views of the lake surrounded by mountains from a cable car. In addition to natural landscape, you will also visit its cultural sites such as Xuanguang Temple and Wenshu Temple.
Meals: Breakfast, Dinner
Accommodation: Sun Moon Lake Hotel




or similar
Day 5
Tribal Folk Culture Experience in Sun Moon Lake; Drive to Tainan
This morning, we will take an unusual journey to
an indigenous tribe
in Sun Moon Lake to see their original lifestyle and learn about their traditional culture. Activities there include trying their unique costumes, visiting their traditional houses, experiencing archery and enjoying traditional food. In the afternoon, we will drive 2.5 hours to Tainan and check in at the hotel.
Sun Moon Lake, Taiwan
Taiwanese Aboriginal Tribe
►
The Folk Culture of the Seedig - a Taiwanese Aboriginal Tribe
Seediq people, who belong to Meixi Tribe in Taiwan, are a very small minority of Taiwan's aborigines. They have unique life beliefs and traditional customs such as hunting, weaving, music, language, facial tattoos, ballads and dances. The Seediq people of the Alang Tongan (Meixi) tribe at Sun Moon Lake is the place we're going to explore today.
First, they will introduce you to their traditional clothes. The Seediq people get their dyeing materials from nature. Adult women are mainly dressed in red and young people in white with lacework. Red, representing blood and strength, is the favorite color of the Seediq people.
After that, you will visit their traditional house, which is a semi-cave dwelling. When you enter the house, the smell of charcoal fire immediately hits you. This charcoal fire is very important in the life of the Seediq people. It has functions of keeping warm, repelling insects and preserving food. The hostess guards the fire carefully, often adding wood and charcoal to keep it burning, especially when the host was away fighting or hunting. Because if the fire goes out, it means something bad will happen.
You will also experience their cultural activity of archery and enjoy their traditional foods. During the visit, you might see some tattooed Seediq. Can we try this, too? No, the Seediq don't give visitors that experience, because in Seediq culture, women are only qualified to have their faces tattooed if they are skilled weavers, and men are only qualified if they have hunted heads.
Meals: Breakfast, Lunch
Accommodation: Silks Place Tainan




or similar
Day 6
Tainan: Visit Anping Fort, Tree House, Sicao Green Tunnel, Jingzaijiao Tile-paved Salt Fields & Huayuan Night Market
Morning Activities:
Today is dedicated to exploring Tainan, a historic city with far-reaching cultural significance. This morning, we will meander along the old stone streets, which are said to have been built during the Qing Dynasty (1616 - 1912), and make delightful stops to visit
Anping Fort
and
Anping Tree House
.
Anping Tree House used to be a salt warehouse, which was abandoned after the World War II. The roofs were badly damaged and there are many large banyan trees growing inside, forming the wonders of today's tree house. This complex has been renovated to include raised wooden paths and overhead steel walkways, enabling visitors to better observe this unique phenomenon.
Afternoon Activities:
Besides historical sites, Tainan also has many places where people can interact with nature. The
Sicao Green Tunnel
is one of them. Sitting in a small boat and slowly moving forward, you will see the dense green branches reflected in calm water, as if you are venturing into the jungle. This is definitely a healing journey for body and soul.
Anping Fort
Jingzaijiao Tile-paved Salt Fields
After that, we will visit
Jingzaijiao Tile-paved Salt Fields
. With a history of more than 200 years, this is the oldest existing salt pan in Taiwan. It was once declared to be abandoned in 2000 and after a period of time, restored to perpetuate the local salt culture. Now it has become the most distinctive scenic spot in Tainan's coastal area. There are some sections with salt and tools for visitors to experience salt farm ploughing.
At the end of the day, we will take you to visit Huayuan Night Market and then transfer you back to the hotel.
Meals: Breakfast, Lunch
Accommodation: Silks Place Tainan




or similar
Day 7
Visit Chihkan Tower & Confucius Temple; Tainan to Taipei
Continue your visit at Tainan to learn more about Taiwan's ancient history. We'll start with a visit to the
Chihkan Tower
, also known as Fort Provintia. The tower was built by the Dutch in 1624. It has witnessed Zheng Chenggong's great achievements in recovering Taiwan, as well as the changes of Taiwan's political power and historical vicissitudes. Next, we will visit the
Confucius Temple
, the first Confucian temple built in Taiwan and the first institution of higher learning established in Taiwan after Zheng Chenggong recovered the island.
Then, we will drive onward to Taipei for about 5 hours. Upon arrival, check in at the hotel.
Meals: Breakfast, Lunch
Accommodation: Amba Taipei Songshan




or similar
Day 8
Departure from Taipei; Airport See-off
Your vacation will come to the end today as we escort you to the airport and help you board the flight back home. Thank you for allowing us the chance to serve you!

Meals: Breakfast
This trip can be customized to meet your individual needs!
Tour Prices
Christmas & 2024 Special:
12% off
- Book before Dec 31, 2023
Travelers
2-3 travelers
4-5 travelers
Year Round

USD3189

USD2806

USD2769

USD2436
Prices are per person on twin sharing basis.
The prices in red reflect 12% discount.
Any part of the itinerary e.g. tour length, activities & hotels can be tailored to your individual interests.
Price Includes
Accommodation with daily breakfast
Service of an English speaking guide
Services of a private driver and air-conditioned vehicle
Entrance fees for mentioned sights visited
Meals as mentioned in the itinerary
Price Excludes
International flights
Visa fee
Personal expenses (such as laundry, telephone, drinks, etc.)
Tips for guides and drivers
Personal travel insurance