Tunxi Ancient Street Photos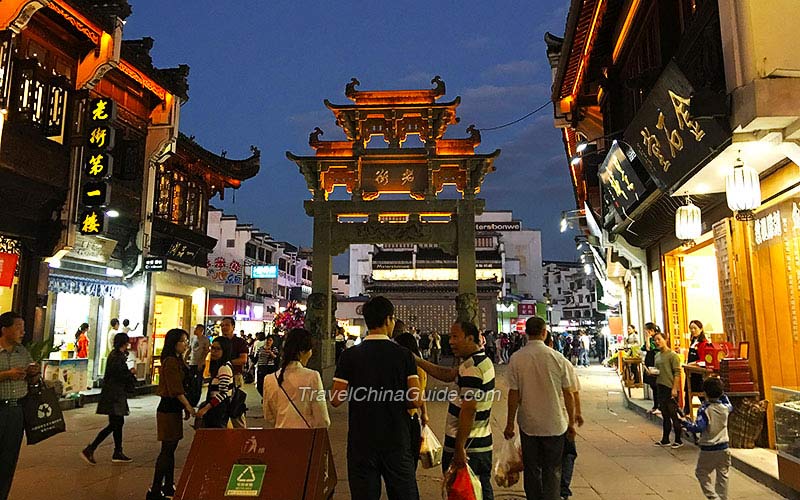 Tunxi Ancient Street is in Tunxi City, at the foot of Mt. Huangshan. The street starts in the west at Zhenhai Bridge, a stone arch bridge built during the Ming Dynasty, and ends in the east at the "Tablet of Memorial Archways." There are hundreds of old but well preserved rows of shops, evoking a bygone era in buildings that are simple and elegant. Attraction Intro:
Tunxi Ancient Street
- Last modified on May. 05, 2017 -
Questions & Answers on Tunxi Ancient Street Photos
Asked by Happy from USA | Jul. 02, 2016 13:14

Reply
After climbing to Huangshan, I would like to go Hongcun Ancient Village for one day?
1. Is it possible to tour both locations?
2. How to get to Hongcun from Huangshan?
How long?

THank you.

Answers (3)
Answered by Samson from BELGIUM | Jul. 03, 2016 20:26

0

0

Reply
Yes, you can take direct bus from the dispatch center at the south gate of the mountain to Hongcun. There are four buses a day departing at 8:00, 9:30, 13:30, and 15:40. The bus ticket costs CNY17 and you will arrive in the destination in less than one hour.
Answered by Happy from USA | Jul. 06, 2016 00:52

0

0

Reply
what time is the last bus from Hongcun to Huangshan?
I would like to go Tunix ancient street afterwards.

Thank you.
Answered by Samuel from NEW ZEALAND | Jul. 06, 2016 20:02

0

0

Reply
There are buses to HS Tunxi Bus Station and the last one leaves at 16:00. Upon arrival, you can take bus no. 1 in front of the bus station and get off at Ermalu station. Head north to start your visit to the ancient street
Asked by noah from ISRAEL | Aug. 13, 2012 15:06

Reply
hi, how do i get from shanghai to the villages of xidi and hongcun, by bus or train? thanks
Answers (1)
Answered by Mary | Aug. 14, 2012 04:17

0

0

Reply
No direct transport travels from Shanghai to Hongcun, Xidi. You can take bus from Shanghai to Huangshan City Bus Station, then transfer to bus to Yi County. After arriving at Yi County, you can take bus to Hongcun Village.
Asked by Mr.Jonathan | Feb. 18, 2011 00:56

Reply
How do I get to the Yellow Mountain?
I will take a train from Hangzhou to Huangshan, which is the best train in the morning? I speak fluently chinese, the language isn't a problem for me, but if I arrive in huangshan , how do i get to the yellow mountain? I don't wish to take any tourist bus.
Answers (1)
Answered by Mr.James | Feb. 18, 2011 21:26

0

0

Reply
There is no train from Hangzhou to huangshan. So you have to take a bus. Bus is available at Hangzhou West Bus Station.
Asked by Mrs.Mohua from INDIA | Jun. 09, 2009 02:01

Reply
We arrive at the Huangshan Airport at 20:50 from Guangzhou. We
would like to go up the Taiping Cable way early next morning.
I have two questions:

1. Can we go straight to Taiping Cable Car Station from the Airport?
How much a taxi would cost and how long would it take ? Are there places
(Hotel or hostel) near Taiping Cable Car station for a night stay ?

2. Is it too late in the night? Shall we stay in Tunxi that night and
go next morning ? What are the time and costs of a taxi from
Tunxi to Taiping Cable car station ?
Answers (1)
Answered by Mr.Shan from CHINA | Jun. 10, 2009 02:08

0

0

Reply
Hi Mohua, there is no bus could take you from the airport to Taiping Cable Car in Taiping County where the north gate of the Mt. Huangshan is located. So,you have to hire a cab if you would like to reach there at the same day. The taxi fare should be no less than 150RMB, may be much more at night. It takes 1.5 hours on the way.

Actually, it is suggested that you stay over in Tunxi and take a bus or a taxi to Taiping the next morning. On the other hand, it is easy for you to look for an economical and comfortable hotel in Tunxi. The taxi is also around 150RMB>

Hope this helps~