Xidi Ancient Village Photos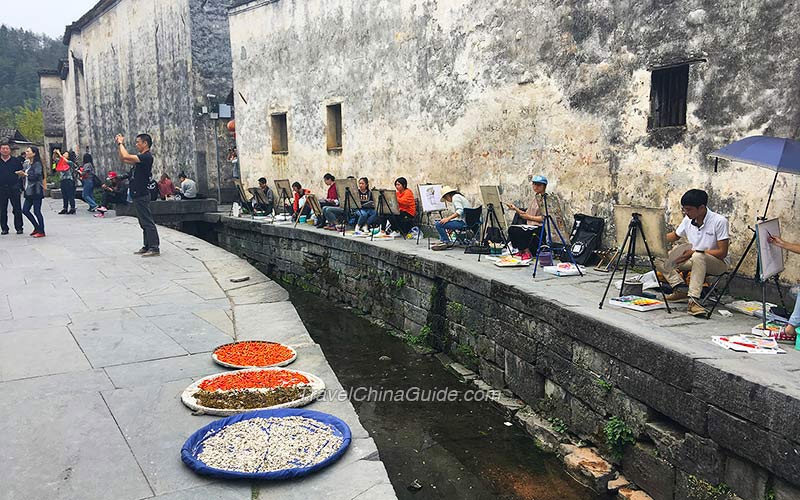 Located 40km (25 miles) south of Yellow Mountain, Xidi has about 400-500 years of history. The original residential style and features of the Ming and Qing Dynasties were preserved perfectly. Reputed as "A Living Ancient Residential Museum" by experts and tourists at home and from abroad, it has been listed as a world cultural heritage site by UNESCO in 2000.
Attraction Intro:
Xidi Ancient Village
- Last modified on Apr. 19, 2018 -
Questions & Answers on Xidi Ancient Village Photos
Asked by happy from USA | Jul. 04, 2016 01:10

Reply
Which one is better? Hongcun or Xidi?
How to get to Hongcun by bus? Timetable and return time?
How many hours I should spend in Hongcun?
Shall I buy return ticket bus to make sure when I get Hongcun ticket?
Answers (3)
Answered by Lynch from BELGIUM | Jul. 05, 2016 21:36

1

0

Reply
The two villages are both worth visiting. If you have enough time, it is recommended you visit them one by one.
So, are you in Huangshan City? If so, you can go to HS Tunxi Bus Station to take a bus to HC. The buses run from 8:00 to 16:00 every one hour. You don't need to book the ticket in advance. It would take 1.5h on the way. And the last bus back to HS also departs at around 16:00.
If you are not in a hurry, it is recommended you spend a night in HC. Or, half of a day can also be enough.
XD is in the middle of HS and HC and the bus will pass by that village in the midway. You can get off there to have a visit.

Answered by Happy from USA | Jul. 06, 2016 10:41

0

0

Reply
If I arrive in HS train station at 7am and planning to go Hongcun afternoon.
Since 4pm is the last bus to come back.
Am I going to have an enough time to look and climb?
Some site said HS Bus Station to Hongcun only takes 30 mins.

1. Is it 1 1/2 hr or 30 mins?
2. If we take a cab to come back, how much does it takes?
(we don't really speak Chinese much, it is safe to take a cab 1 1/2 hr?)
Answered by Lynch | Jul. 06, 2016 20:14

0

0

Reply
HC is around 37 miles away from HS and there is no highway between the two places. So the bus ride should take about 1.5h.
The train station is very near the Tunxi bus station. You can hail a taxi to get to the bus station in 10 minutes. You will get to the village before noon. You still have plenty of time to visit around the village. Since you cannot speak Chinese very much, it is not recommended you take a cab. The un-negotiated price may take too much. It is better to catch the bus back to HS.
Asked by Ana Creevey from NEW ZEALAND | Jun. 06, 2016 01:25

Reply
Xidi or Hongcun for Stay?
Hi
We are going to Mt Huangshan in mid November and stayed one night up in the mountain, then next day we are going to visit Xidi and Hongcun Village. Which one is more interesting to stay? and why? Do I have to pay entrance fee to these two villages even if I stay in one of them? Cheers
Answers (1)
Answered by Marlowe from NEW ZEALAND | Jun. 07, 2016 01:04

1

0

Reply
It is hard to say which one is better because they boast different features. If you want to view the scenery combining both natural landscape and water town scenes, you should go to Hongcun. Xidi possesses thicker cultural atmosphere for visitors to delve into the humanistic background of this area. You can choose the one according to your own preference.
As I know, you still need to pay entrance fee to these two villages. By the way, the entrance fee is CNY 104/person each.
Have a nice trip!
Asked by Mr.Chen | Feb. 17, 2011 01:57

Reply
Can I store my luggage in the Tangkou Bus Terminal which is located in front of the South Gate (south entrance) of the Huangshan Secnic area? Is there any locker service for me to store my big luggage instead of bring it up to Mt. Huangshan? How much is it per luggage?
Answers (1)
Answered by Mr.Sandy | Feb. 17, 2011 19:34

16

0

Reply
Won't you stay one night in Huangshan Mountain? First you should find a hotel and left you luggage there when you get there, then see the mountain. That is the safe way.
Asked by Mrs.Jolan from CANADA | Aug. 30, 2009 11:52

Reply
Hi,

I read it in a guide book that foreigners need a permit to visit or stay overnight at Xidi and Hongcun. If it's true where and how can I get a permit?

Thank you,


Answers (1)
Answered by Mr.Jamie | Sep. 01, 2009 21:27

13

0

Reply
I have never heard of this. Foreigners only need a permit to enter Tibet. That is not true.
Asked by Mr.Ronald from NETHERLANDS | May. 12, 2009 04:00

Reply
Hi there, Im currently in hefei for internship, i would like know how to get to Xidi or Hongchun village from hefei city center by public transport or by local tour.
Thanx
Answers (1)
Answered by Mr.James from CHINA | May. 12, 2009 20:55

3

0

Reply
Hi, Ronald. There is my answer:
By bus: Hefei Long-distance bus station has two buses a day (7:30am and 12:30am)running to Yixian County, then shift to regular buses to Hongcun. The last bus from Yixian leaves at 5:30pm. Or you can take buses at Hefei East Bus Station to Tunxi of Huangshan City where you can find direct tourist buses to Hongcun. Buses from Hefei to Huangshan leaves about every one hour from 7am to 4pm and 6 tourist buses from Tunxi to Hongcun from 8am to 4pm.
By train: No trains to Yixian, so you should get to Huangshan first, then change buses to Yixian (the last at 5:30pm), finally get to Hongcun from Yixian. Xidi is in the opposite direction of Yixian County, easy to get from one to another.
Enjoy!