Confucius Temple Pictures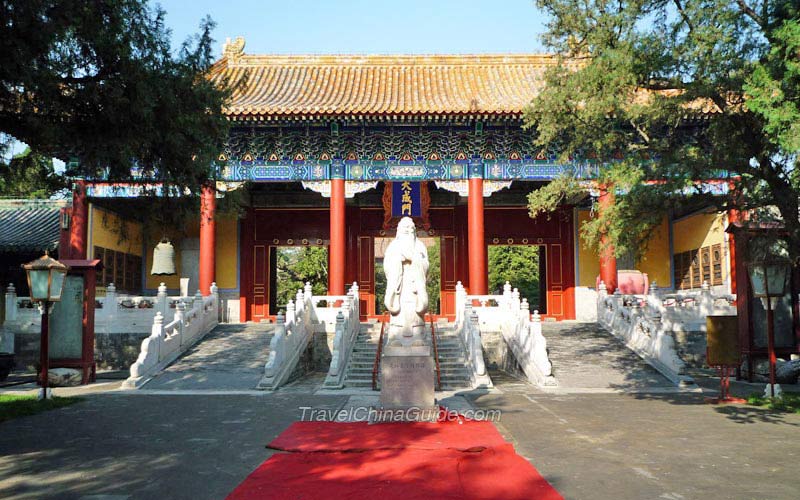 Confucius is, by any standard, the greatest educationist, ideologist and philosopher in China. His contribution to the Chinese culture, ideology and society is incomparable. He was respected by Emperors as well as scholars and common people. This statue stands in front of the Gate of Great Accomplishment (Dachengmen) in the Temple of Confucius, Beijing.
The Temple of Confucius is located on Guozijian Street, inside Anding Gate. Sacrifices were made to Confucius, the greatest ideologist and educationist in ancient China, during the Yuan (1271-1368), Ming (1368-1644) and Qing (1644-1911) Dynasties at this temple. Now, the temple houses the Capital Museum. This is the second largest Confucius temple, next only to the one in Qufu, Shandong Province.

More Photos on: Confucius Temple in Qufu, Confucius Temple in Nanjing
Attraction Intro:
Confucius Temple
- Last modified on Jul. 15, 2017 -
Questions & Answers on Confucius Temple Pictures
Asked by Mr.Yen | Dec. 15, 2010 04:48

Reply
We will be transiting in Terminal 3 of Beijing Capital International Airport for 12 hours and we have 2 kids under 4yr old. Is there any Transit Hotel in the terminal? Thanks!
Answers (1)
Answered by Mr.First name | Dec. 15, 2010 20:09

6

1

Reply
There are Pay-in Lounges in the airport, which are hotel-like leisure places with single rooms, standard rooms and other service facilities.
Asked by Ms.May from BELGIUM | Mar. 04, 2010 10:40

Reply
Hi,

We are visiting Bejing this year. What is the best way to travel from Bejing to Datong and how long does it take. Do you know if there are any organised trip (no combined trips).

Regards.
Answers (1)
Answered by Ms.KAYE from CHINA | Mar. 04, 2010 20:45

5

1

Reply
Taking a train is the best way. It costs 6 hours to get there. You'd better book a tour through an agency.
Asked by Mr.chad from AUST | Sep. 29, 2009 02:36

Reply
Can you please tell me what time the parade will start in teinemin sqaure tomorrow (30th sept) and are people allowed to go and watch? Does is cost anything?
Answers (1)
Answered by Ms.Melody | Sep. 29, 2009 20:23

4

1

Reply
Hi,Chad. The parade will start from 10 o'clock in the morning of Oct.1. You can go to watch at Tiananmen Squre. It cost nothing, but it will be crowded. LOl