Post System of Great Wall Photos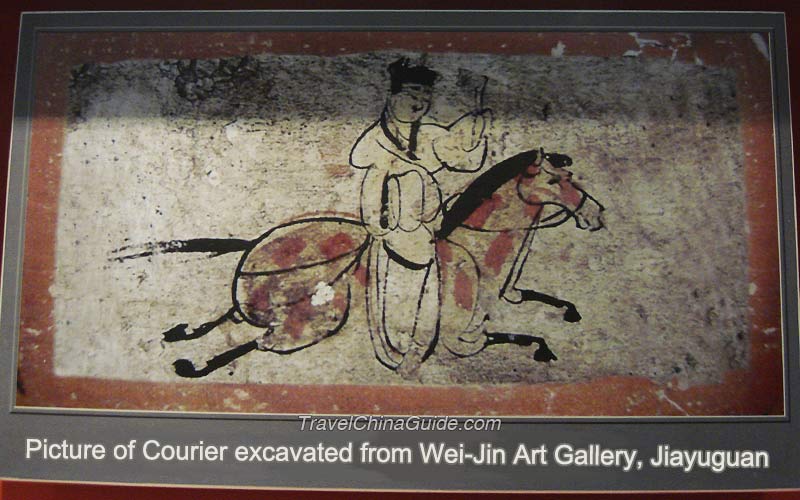 Picture of Courier excavated from Wei-Jin Art Gallery, Jiayuguan
Based on the records on tortoise bones, Chinese post system can be traced back to the message delivering by horse of the Shang Dynasty (16th - 11th century BC). Later, some other message delivering ways were created along with the development and progress of the society, including beacon fire, wood slips, clay seal and so on. In ancient China, there was a posthouse at equal distances from one another for changing messengers and horses.
- Last modified on Nov. 06, 2017 -
Questions & Answers on Post System of Great Wall Photos
Asked by Ms.Nodame | Nov. 26, 2010 20:33

Reply
How was this wall made? I mean the procedure.
Answers (1)
Answered by Mr.Chang | Nov. 26, 2010 22:57

0

0

Reply
Toward the end of the Ming dynasty much building was done in the eastern mountains to protect the capital city, Peking. Builders began using bricks and blocks of stone instead of pounded earth. Walls built of stone and brick didn't erode in wind and rain. they didn't need constant repair as earth walls did. Stone and brick walls were strong and durable, but they were more complicated to build. Progress was slow. Stone had to be dug from quarries, cut into blocks, and transported to the wall. Bricks were made from mud and then baked in kils. workers with special skills - stonemasons and brickmakers - were needed to handle the new materials...
FYI: Great Wall Construction(https://www.travelchinaguide.com/china_great_wall/construction/) .