Weaponry Photos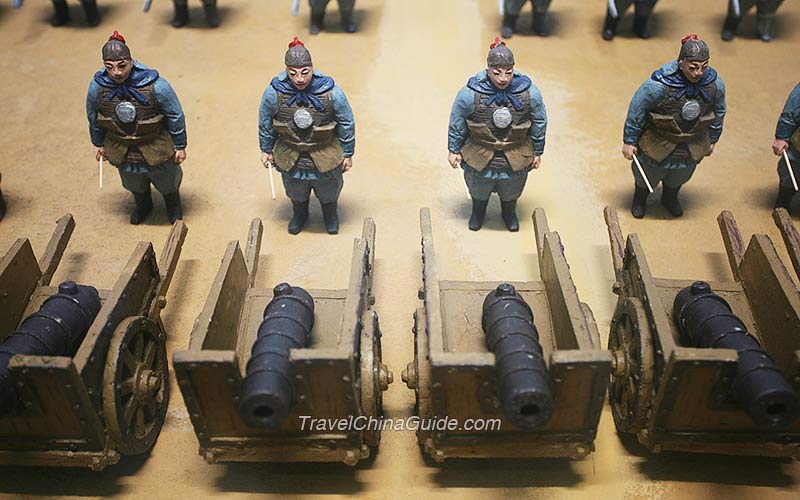 Legend has it that there were 18 kinds of weaponry in ancient China, while the contents of the 18 instruments are not the same in different historical stages in China. Generally speaking, the 18 instruments are bow, crossbow, spear, stick, sword, falchion, lance, shield, axe, tomahawk, halberd, scourge, shu, mace, hammer, fork, dagger and rake. In fact, there were no fewer than a hundred kinds of weapons in Chinese martial art in addition to various special weapons and colorful hidden weapon.
- Last modified on Aug. 02, 2017 -
Questions & Answers on Weaponry Photos
Asked by Mr.J from NG | Nov. 30, 2010 01:55

Reply
Was the Great Wall of China benefit for shihuangdi or his people? Please post answere ASAP! 4 mi report!!! thanx
Answers (1)
Answered by Mr.Leo | Nov. 30, 2010 21:30

41

0

Reply
Hi,Ms.J,
The Great Wall of Qin Dynasty was built for shihuangdi and his people. It protected the people from the attracks from the enemines and northern tribes.
Asked by Ms.girl from USA | Oct. 24, 2009 14:37

Reply
what invention of war made it essental to buld the wall with bricks
Answers (1)
Answered by Mr.Leo | Oct. 24, 2009 20:38

32

0

Reply
The Great Wall was used to defend the attacks by the northern nomadic tribes.
Asked by Mr.tirumala rao from INDIA | Apr. 25, 2009 01:07

Reply
what is the actual life of china wall
Answers (1)
Answered by Mr.Leo | Apr. 26, 2009 19:46

10

0

Reply
Hello, I guess you mean how old is the China Great Wall, right? The China Great Wall is already over 2,000 years old!