Chinese Calligraphy Pictures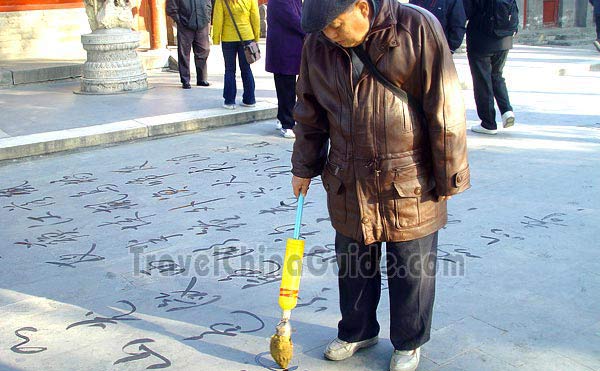 Take the groud as paper and use water as ink. Beautiful Chinese calligrapgy is drawn with a strong pencil.
Chinese calligraphy is a special form of art based upon Chinese characters. The written form of the language appeared about 5000 years ago, in the Yangshao Culture Period. It maintained a close relationship with Chinese cultural development. In history, different styles of calligraphy evolved, such as seal script, Li script, cursive script and regular script. These are the gems of of Chinese culture. Culture Intro:
Chinese Calligraphy
- Last modified on Jun. 16, 2017 -
Questions & Answers on Chinese Calligraphy Pictures
Asked by Ms.Charlotte from USA | Mar. 19, 2011 04:35

Reply
I would like
to know can you purchase writing tools in Chicago for my son. He is taking Manderin in School and he needs to learn how to write the Chinese characters.
Answers (1)
Answered by Mr.Jason | Mar. 21, 2011 21:31

18

0

Reply
Go to the China Town.
Asked by Mrs.Sanchez from USA | Feb. 04, 2010 11:45

Reply
I am a teacher in the USA. I am coming to Guangzhou in June 2010. I would like to know where to shop for traditional calligraphy and calligraphy supplies, musical instruments and music, art and reproductions. Thank you.
Answers (1)
Answered by Mr.ROBERT_LUO from CHINA | Feb. 05, 2010 09:46

18

0

Reply
you can try to go to the wende road.there have some shop sall this calligraphy.hope can help you little
Asked by Ms.Jacklyn from MALAYSIA | Jan. 11, 2010 03:31

Reply
I am visiting Beijing next week, I would like to know where can I buy nice and affordable chinese painting and calligraphy? My travel agency will bring us to wangjujing Street, Palace Shopping Mall, Yueshow Market and QianMen Street. Do any of these market sell chinese paintings?

And kindly note what is the best price range that we can bargain for the clothing and painting? Thank you very much.
Answers (2)
Answered by Ms.KAYE from CHINA | Jan. 11, 2010 19:08

5

0

Reply
Ms.Jacklyn:
Panjiayuan and Liulichang (coloured glaze factory) are the places dealing in Chinese painting and calligraphy. Some book stores sell the Chinese painting and calligraphy. If you want to know the price, you can look around and then bargain for the best price.

Answered by Ms.KAYE from CHINA | Jan. 11, 2010 18:59

6

0

Reply
New Century International Children's Hospital (NCICH), which is located at No.56 Nanlishi Road, Xicheng District, Xidan Financial Street. This is the international hospital for foreigners.