Modern Chinese Wedding Pictures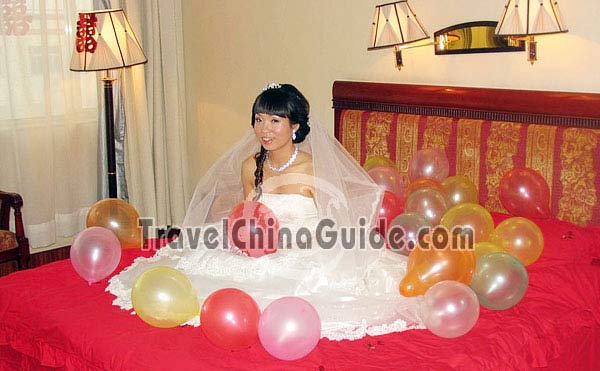 Beautiful bride is waiting for the bridegroom to meet her in a hotel. Generally speaking, bride should stay at her parents' home before the wedding ceremony, but nowadays some bride will stay at a luxurious hotel.
Modern Chinese weddings combine elements of a traditional Chinese marriage culture with those of a western wedding. In fact, bride and bridegroom have completed their marriage registration at the local Bureau of Civil Affairs weeks before this elaborate ceremony. This wedding is just a big joyful banquet to celebrate their marriage. The friends and relatives of bride and bridegrooms attend this ceremony and give gift of money to the couple. Culture Intro:
Mordern Chinese Wedding
- Last modified on Apr. 15, 2017 -
Questions & Answers on Modern Chinese Wedding Pictures
Asked by Ms.Jane from CAMBODIA | Apr. 20, 2010 03:12

Reply
we both are compatible or not if he is 13 years older than me?
Hi i was born in the year of snake and i have a boyfriend was born in the year of Dragon..he is actually 13 years older than me...we are thinking about getting married next year in 2011 but i wonder if we both are compatible or not? according to the Chinese zodiac it is ok for us..however, to my culture belief it was bad. now i have no idea which one to believe.should i trust myself and go for my own gut or what? i mean i can't leave him..we both are deeply in love.
Answers (3)
Answered by Ms.May | Apr. 20, 2010 03:50

20

0

Reply
Hello,Ms.Jane
Just take those saying as a reference. Donot follow it. As you say you are compitable according to the Chinese zodiac while not in your own culture. How long have you been with each other? Are you two sure that you will be the life long partner of each other? Review your relations and think over before getting married. I am not saying you are not made for each other. Just trying to make you have a sensible marriage. Anyway wish you happy forever.
Answered by Ms.Jane from CAMBODIA | Apr. 21, 2010 02:09

17

0

Reply
Thank you so much Ms.May for your advice! My boyfriend and i have been dating for 2 years. we are getting along very well since we both have lots of things in common. He is an educated man,outgoing,and honest. i can see how much he has committed for our relationship. however, lately we were very sad when my family found out that our years are not compatible and strongly refuse our marriage.To my belief, we the people are the master of our fate..no one really know what will happen in the future. I mean i can't just trust what they have predicted for my life...everything's coming from my own actions and decisions.Recently, i am really under pressure and lost interest of doing usual activities because of this issue. What should i do? i can't let him go and follow my family. i trust myself and never regretted in whatever decisions i made.My life would not complete without him. Is time the answer to everything? or is it true we can't be together because of my culture's belief? if so he and i will just live with pain and sorrow for the rest of our life. He is the best guy that i ever asked for!
Answered by Ms.May | Apr. 22, 2010 02:28

8

0

Reply
Hello,again.Ms.Jane
What you have said is really great. The people are the master of our fate and everything's coming from our own actions and decisions. You are a good lady. If i were you, i would feel the same way, pressed and upset. No matter what happens to my life, i believe that time is the answer. As all good and bad things vanish with time passes by. You need to be cool and calm. Think things over and make your own decide and follow it. If it must be "you canot eat the cake and have it too" case, just choose one that you cherish more.
Asked by Mrs.Amy from MALAYSIA | Sep. 24, 2009 21:20

Reply
i'm a lady in my late 50's looking for evening wear to attend my daughter's wedding. Please advise where I can find the evening wear in Shanghai.
Answers (1)
Answered by Ms.Sisley | Sep. 25, 2009 01:25

3

0

Reply
Two places for you to have a try: one is on the 4F of the Huanlong Mansion (环龙商厦), which is located close to Shanghai Railway Station. The other one is Huasheng Street (华盛街), located at the People's Square.
Hope this helps!
Asked by Mr.Ricky from VIETNAM | Sep. 22, 2009 02:42

Reply
Hi!

I love Kunming scenery very much. I and my fiancee plan to visit Kunming in order to take wedding photoes. Please advise the local best wedding studio service provider for our contact.

Thanks a lot :-)
Answers (1)
Answered by Mr.Liu from CHINA | Sep. 25, 2009 10:46

3

0

Reply
I must say sorry to your question,I'm living in Kunming ang I know many wedding studios here,but I don't know which one is the best.