Fengqiao Ancient Town Pictures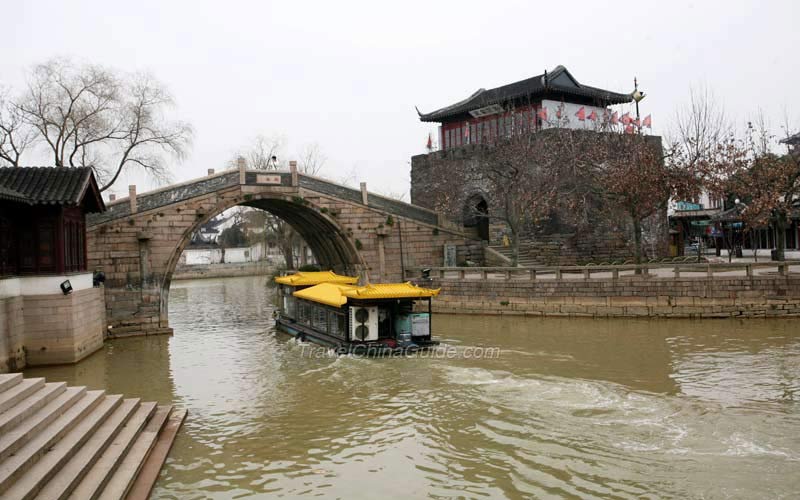 Fengqiao Ancient Town, used to be the transportation hub in ancient time in Suzhou, lies by the side of the Jinghang Grand Canal. Along the river, there are two streets – Fengqiao Street and Hanshansi Lane. A lot of merchants gathered here and it was extremely prosperous during the Ming (1368-1644) and Qing (1644-1911) dynasties.
- Last modified on Jan. 16, 2017 -
Questions & Answers on Fengqiao Ancient Town Pictures
Asked by Mr.Li | Apr. 11, 2011 04:53

Reply
Hi

We are planning a tour and need some help. Is Suzhou on the way from Shanghai to Huangzhou? If yes, how does it take from Shanghai to Su Zhou and then Su ZHou to Huangzhou? Thanks very much in advance.

Answers (1)
Answered by Ms.cindy | Apr. 11, 2011 19:59

0

0

Reply
No, Suzhou is not on the way from SHanghai to Suzhou, but they are not far from each other. Suzhou is half a hour by bullet train from Shanghai, Hangzhou is 1.5 hours by bullet train from Shanghai, different rail routes. Suzhou is 2 hours by bus from Hangzhou.
Asked by Ms.marta from CATALONIA | Nov. 05, 2009 05:42

Reply
Hi,

Is it possible to go from Huangyan (Zhejiang) to Suzhou without going to Shanghai?
How long do I need to visit Suzhou?
Can anyone recommend any nice hotel in Suzhou?

Thanks!

Marta
Answers (1)
Answered by Mr.Shan | Nov. 06, 2009 02:08

0

0

Reply
Yes, at the Huangyan Bus Station or the Taizhou South Bus Station, you could take a coach to arrive in Suzhou directly.
Usually, it is suggested that you spend 2~3 days in downtown Suzhou, or one more day to its neary water town.
Asked by Ms.shaz from AUSTRALIA | Sep. 20, 2009 21:33

Reply
Hi there,
Are tickets from Shanghai to Suzhou easy to buy? (will be in Shanghai in dec)I have heard horror stories of how difficult it can be to buy train seats with large crowds and all that. I also heard there are self ticketing machines. Would it be ok to buy Suzhou tickets on the day of travel? I am australian-chinese and can speak mandarin, but not that fluently. please advise.

Answers (1)
Answered by Mr.Jamie | Sep. 23, 2009 01:51

0

0

Reply
It is not difficult to buy the ticket in December. Still suggest you buy ticket in ticket counters of Shanghai Railway Station and the ticket back from Suzhou is also available.