Hanshan Temple Pictures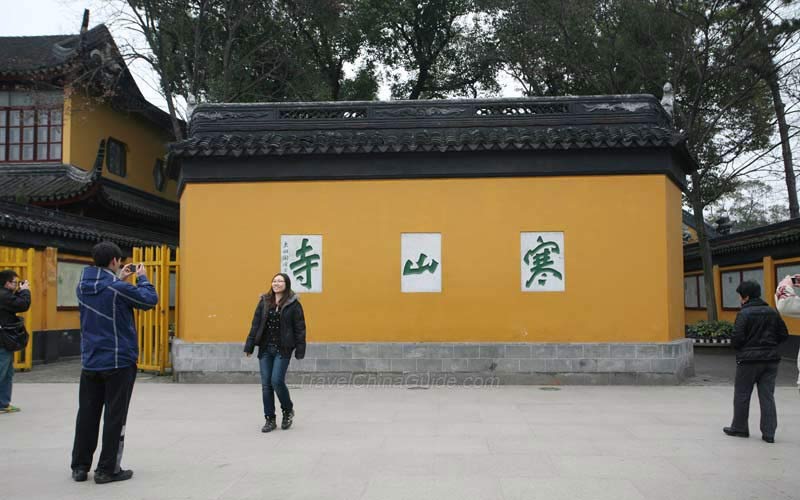 Standing on the Fengqiao Bridge in Fengqiao Ancient Town, one can see a temple with yellow walls and green tiles hidden in lush trees. Being called Hanshan Temple and built between year 502 and 519, it is renowned for housing the big bell. The temple was one of China's ten most famous Buddhist one with numerous historical relics inside. The main building inside include the Grand Hall (Daxiong Baodian), Sutra Depository, Bell Tower, Fengjiang Tower, etc. Attraction Intro:
Hanshan Temple
- Last modified on Dec. 31, 2017 -
Questions & Answers on Hanshan Temple Pictures
Asked by Mr.Frex | Apr. 11, 2011 04:46

Reply
How is the weather in suzhou during the june holiday period?
Answers (1)
Answered by Mr.Sandy | Apr. 11, 2011 19:54

0

0

Reply
It is about 20-30C in June, but not the hottest month. It is wet, often has rain and shower.
Asked by Ms.Michelle from USA | Nov. 02, 2009 19:15

Reply
Hello,

I have three days in the Shanghai area next week. I want to see Suzhou and Nanxun and Shanghai, of course. Is it possible to cover the first two cities in one day if I start early and only see the best sights? I will be coming on an overnight train from Beijing. Should I depart in Suzhou and then take the bus to Nanxun then bus to Shanghai, or should I come into Shanghai and take the bus to Nanxun then bus to Suzhou then bus/train back to Shanghai? Any suggestions for the 3-day itinerary?
Answers (1)
Answered by Mr.Jamie | Nov. 05, 2009 01:30

0

0

Reply
Generally, you can not finish visiting the two cities in one day.
I advise you to arrive in Suzhou from Beijing and the go to Nanxun from South/North/Wuzhong bus stations after a brief visit. It is some one hour journey. Then you can take a breif look in Nanxun and then leaving for Shanghai on the same day. The last day can be used for visiting Shanghai.


Asked by Mr.jackie from M'SIA | Sep. 11, 2009 02:57

Reply
Hi
Is Shantang and ShanGtang different places? If yes, how far is it from each other?
What difference are these two places?
Answers (1)
Answered by Ms.Cindy | Sep. 13, 2009 23:20

0

0

Reply
They are different places, actually, two streets, but close to each other. The east end of Shantang is next to Shangtang.