Pictures of Lion & Dragon Dance Performances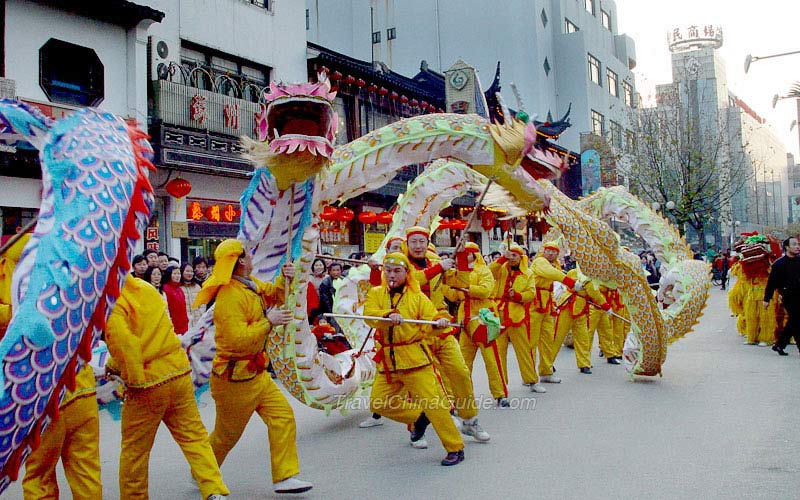 The bamboo-frame dragon is about 108 feet in length, dragon dance in the street, Suzhou.
Lion Dance and Dragon Dance both are traditional folk dances of China. Dragon appeared in Chinese book in the very early times. Dragon dance has the meaning of prosperity to the country and peace to the people. Lion dance became popular in China during the Southern and Northern Dynasties (386-589). Traditional custom believes that lion dance drives away ghosts and evils.
- Last modified on Jan. 01, 2017 -
Questions & Answers on Pictures of Lion & Dragon Dance Performances
Asked by Mr.ewe chong | Apr. 11, 2011 04:45

Reply
I would on the trip to Hangzhou/Suzhou/Shanghai from Sept 21 to 29.Reach Xiaoshan Airport about 23.00. My planned journey: Holiday Star Airport Hotel one night. Next morning to Suzhou for 2 nights(22/23). 24 to Shanghai for 2 nights(24/25). 26 to Hangzhou 3 nights(26/27/28). On 29 Sept. Xiaoshang Airport back to Malaysia. Please commend.
Answers (1)
Answered by Mr.Jamie | Apr. 11, 2011 19:53

1

0

Reply
I think that's fine. Why do you just stay 4 nights in Hangzhou at first? You arrive in Hangzhou late at night, but there is till airport bus to the city center and then you can take a taxi to your hotel. Well, just offer another choice. Yours are fine.
Asked by Mr.alex from AUSTRALIA | Jan. 20, 2010 21:02

Reply
Hi,I am travelling out from suzhou to wuxi on the 1st October with my my family. What are my chances of getting a train ticket on that day? Is it easier to take a taxi/cab out to wuxi? Would appreciate any information. thanks
Answers (1)
Answered by Ms.Cindy | Jan. 23, 2010 22:20

0

0

Reply
Booking tickets one or two days in advance is suggested, since it will be difficult for you to get a ticket at spot at that time. Not all the taxi drivers would like to run to another city, and it may cost very expensive that day. You should try to get the train ticket first and bus is the secondary choice.
Asked by Ms.JANNICE from MALAYSIA | Nov. 04, 2009 09:32

Reply
Hi All..

my concern here is what is the best way from suzhou to Xiaoshan International Airport .
do you have any suggestion?

i need to catch up my flight( depart from Xiaoshan Airport) at 1pm and back to Malaysia.

your suggestion/response will be highly appreciated. thanks
Answers (1)
Answered by Mr.Shan | Nov. 04, 2009 23:16

0

0

Reply
You could take the shuttle bus directly. It is suggested that you catch the one departing from Zhongshan Dasha, Renmin Road, Suzhou at 07:45. The journey is about 3 hours at least.