Lion Grove Pictures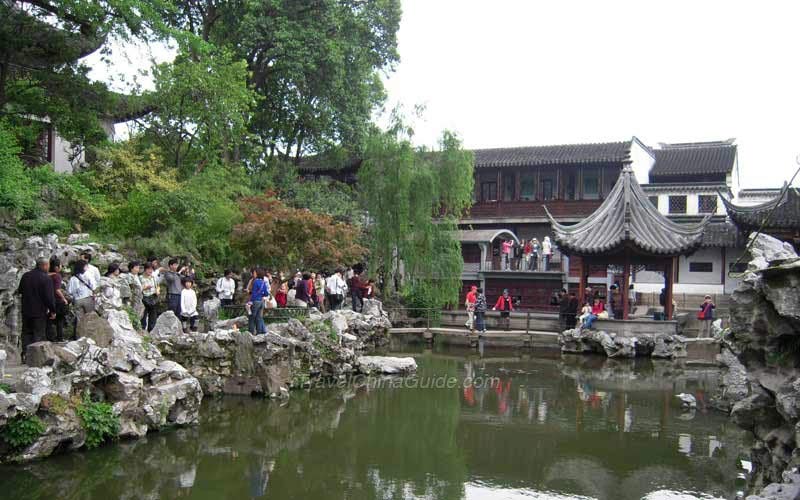 Mid-lake Pavilion was particularly built in the center of the lake, Lion Grove Garden, Suzhou.
Situated at 23 Yuanlin Road, northeast of Suzhou, the Lion Grove Garden (Shizilin) was built by a monk in 1342 during the Yuan Dynasty (1279-1368) . Covering an area of about 10,000 square meters, Lion Grove Garden is an ideal site for sightseeing as it has rich ornamental pavilions and towers in different styles. The most noted and attractive scenery is the labyrinthine rockery, made mostly of limestone materials from Taihu Lake of Wuxi City, Jiangsu. Attraction Intro:
Lion Grove
- Last modified on Apr. 16, 2017 -
Questions & Answers on Lion Grove Pictures
Asked by Ms.Eve | Mar. 31, 2011 03:40

Reply
Hello, I will be travelling to SuZhou around end of Apr to May, is the weather warm around that time?
Answers (1)
Answered by Mr.Jerry | Mar. 31, 2011 04:03

17

0

Reply
It is warm at that time. The temperature is about 15-20 degrees.
Asked by Mrs.Lau from CANADA | Oct. 05, 2009 06:30

Reply
My brother took a boat trip from Suzhou to Wuxi along the canals many years ago. He was with an oversea organised tour group.He said that it lasted about 2 hours. Could anyone tell me whether there is such a boat trip available as part of public transportation or part of local tour in Suzhou in late October?
Thank you. M.Lau from Canada (
hotmail.com|mlau79
)
Answers (1)
Answered by Mr.Jamie | Oct. 07, 2009 22:41

9

0

Reply
No boat between the two cities any more. If you want to go to Wuxi, you can try to go to Hangzhou and then to Wuxi.
Asked by Ms.TRIP0903 from UNITED STATES | Aug. 26, 2009 19:10

Reply
Hi, we are planning to visit Suzhou, Hangzhou, Huangshan and Yixian (Xidi and Hongcun villages) at the end of Nov. Our flight arrive & depart via Hangzhou. Is it better to visit Huangshan and Yixian first before visiting Suzhou? What would be the best way to get to Suzhou from Hangzhou? Or by train/bus from Tunxi/Tangkou to Suzhou? What is the best way in transportation mode to do the route? Thanks for your suggestions.
Answers (3)
Answered by Mr.Hang | Aug. 29, 2009 01:16

4

0

Reply
Both are okay that you could go to Suzhou once arriving in Hangzhou or after you visit Huangshan. Not suggest that you take bus from Suzhou to Huangshan, since there is only two buses everyday. One situation for example, your route should be Hangzhou->Suzhou->Hangzhou->Huangshan->yixian->Hangzhou

Buses between Hangzhou and Suzhou are very conveniently. You could take a bus from Hangzhou East Bus Station, which will cost you about 2 hours.


Answered by Ms.TRIP0903 from UNITED STATES | Aug. 31, 2009 02:21

0

0

Reply
Thank you, Mr. Hang. Yes, I think the route you suggested is best. What is the best way to go from Huangshan to Yixian and back to Hangzhou? By bus? How frequent? Convenient? Thank you very much.
Answered by Ms.Jasmine | Sep. 01, 2009 22:55

0

0

Reply
Huangshan Bus station in the scenic are has direct buses to Xidi and Hongcun, departing time is at 8:00, 10:00, 13:40, 16:00. Suggest you confirm the infor to the bus station. It may changeable sometimes. There is one bus from Yixian to Hangzhou directly, leaving from Yixian at 8:30am.