Lantern Festival Pictures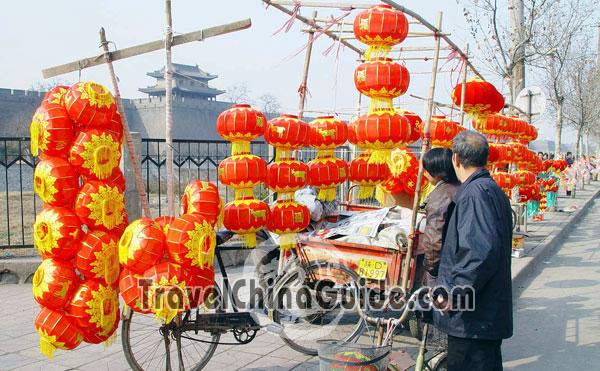 The red lanterns are sold in the streets, Xi'an City.
Lantern Festival falls on the 15th day of the first month in Chinese lunar calendar. It is as important as the Chinese New Year because on that night, the moon is full, symbolizing reunion. People celebrate the festival through various means such as watching the lanterns, guessing lantern riddles, performing lion dances, walking on stilts and eating Yuanxiao (Glutinous rice ball with fillings). Holiday Intro: Lantern Festival

More Related Pictures: Xi'an City Wall Lantern Festival Pictures
- Last modified on Sep. 27, 2018 -
Questions & Answers on Lantern Festival Pictures
Asked by Ms.Jenny from UK | Oct. 03, 2009 09:42

Reply
Hello. I am planning a trip to china, but would like to see the ensure i see the ice lantern festival. If I arrive on the 12th february will this be too late?

Thanks
Answers (3)
Answered by Mr.Colin | Oct. 05, 2009 04:42

9

0

Reply
No. It is too early. Feb 14, 2010 is the first day of lunar Chinese new year, and 14 days later, it is the lantern Festival.
Answered by Ms.Jenny Welsh from UK | Oct. 06, 2009 08:19

9

0

Reply
It is Jenny again.

You misunderstood my question Colin. I want to be in Harbin for the Ice lantern festival, but want to know the dates of this please.

Thank you
Answered by Mr.Ryan from CANADA | Nov. 08, 2009 13:10

4

0

Reply
The Ice and Snow Festival of Harbin often sees its roots in the traditional ice lantern festival. Thus, there are plently of snow and ice sculptures in Harbin at that time. The Lunar calendar will tell you if you have hit the exact day for the "festival". The city or provincial government sites will have more - i.e. Heilongjiang.
Asked by Mr.LT Tan from SPORE | Feb. 16, 2009 09:10

Reply
Can someone advise if the LongQing Gorge snow lantern festival still on during 27 feb 09? How far and what is the better time to reach there and turn to Beijing. Thank in advance
Answers (1)
Answered by Mrs.Hai from CHINA | Feb. 16, 2009 21:22

0

0

Reply
It'll last untill Feb.28,2009