Tai Chi Quan Pictures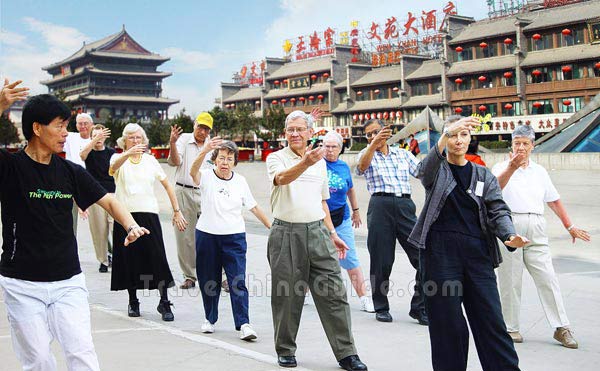 A Chinese coach is teaching foreigners to play Tai Chi Quan.
Tai Chi Quan, an internal Chinese martial art, is widely practiced by Chinese people for body-building. Despite there are controversies about the origins and the schools of Tai Chi Quan, nowadays it is recognized as a valuable form of exercise in practically every country in the world. It is being promoted as an excellent way for the elderly and the weaker men to strengthen and reclaim their natural vigor end energy. Attraction Intro:
Tai Chi Quan
- Last modified on Feb. 25, 2017 -
Questions & Answers on Tai Chi Quan Pictures
Asked by Mr.Edgar from ARGENTINE | Feb. 26, 2010 04:43

Reply
ni hao, i wish to know if is possible to train in the temple shaolim ?
or another school for kung fu ? xie xie
Answers (1)
Answered by Mr.Jacky | Feb. 26, 2010 22:08

0

0

Reply
Hi,Mr.Edgar
It is hard to train in Shaolin Temple. Dengfeng has many Kung Fu schools. The famous ones are Shaolin Temple Kungfu Training Center, Shaolin Tagou Wushu School, Shaolin Epo Wushu College... You can choose one from them. Good Luck!
Asked by Mr.KOH from SINGAPORE | Nov. 14, 2009 02:38

Reply
I understand there are many training schools outside shaolin temple at Deng fengbut I am interested to send my son of 18 years old without knowledge of kungfu or chinese language to learn it and live with the local at the temple itself if possible. Do you you if its possible at all to do that and how much does he need for accomodation plus meal to train kungfu and chinese language for one year and when is the good time to do it????

thank you
Answers (2)
Answered by Mr.Jacky from CHINA | Nov. 21, 2009 06:54

0

0

Reply
Hi,Mr.KOH,You can do that in your thinking way, i was born near shaolin temple, now i worked in shanghai,if possible, i can introduce you to some schools,but for kungfu training,and language school, it not the end-end one stop school, now, China not have this kind of school.the best time to go those kungfu school is in spring, now China is winter, and near new years day,not good time.
Answered by Mr.WOODCHUC from UNITED STATES | Nov. 25, 2009 22:15

0

0

Reply
Hey could you introduce me to some schools too? i am really interested in training.
Asked by Mr.Renato from NORWAY | Oct. 25, 2009 17:36

Reply
Hello,
I plan to visit Hainan Island. Does anybody know if there are any Taiji quan schools there?
Answers (1)
Answered by Mr.sheng from U.S.A | Oct. 25, 2009 20:19

0

0

Reply
no! there is not.