Jewish Refugees Museum Pictures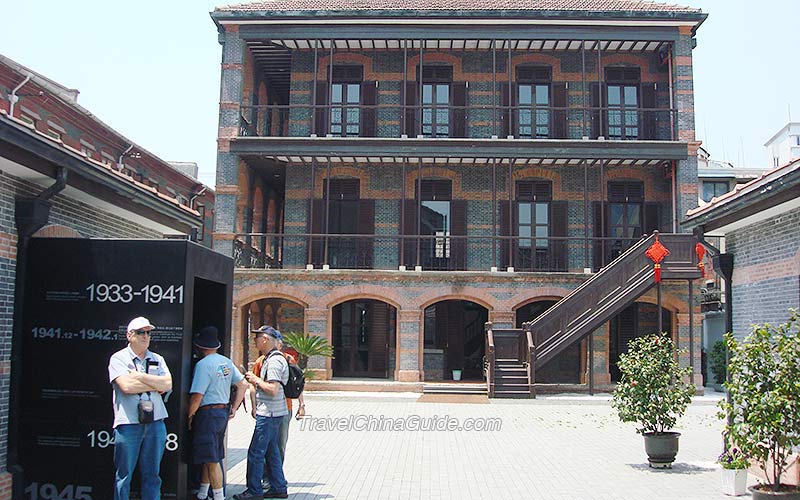 The Ohel Moshe Synagogue was established in 1907 and moved to present site in 1927. In the year of 2007, the People's Government of Hongkou District allocated special fund to renovate this building and had it restored to its historical appearance in 1928.
Located at 62 Changyang Road, Hongkou District, the Jewish Refugees Museum was built on the site of the Ohel Moshe Synagogue. During World War II, thousands of Jewish refugees flooded to this city and settled in Hongkou District. The museum has three floors, the Jewish Cultural and Artistic Center is on the first floor, many precious historic pictures are shown on the second floor and the hall of historical data about those refugees in this city is on the third floor. Attraction Intro:
Shanghai Jewish Refugees Museum
- Last modified on Oct. 29, 2017 -
Questions & Answers on Jewish Refugees Museum Pictures
Asked by Mr.Manoj from INDIA | Oct. 20, 2009 06:39

Reply
I am travelling to Shanghai this November 2009 - I just want to know how will the climate at that time. I think its winter time .. so Swetter or Jacket would be needed??
Answers (1)
Answered by Mr.Bruce | Oct. 20, 2009 20:04

16

0

Reply
Yes, that's necessary. For the details about Shanghai climate, you can read this website:
https://www.travelchinaguide.com/climate/hongkong.htm
Asked by Mrs.Stahl from USA | Oct. 07, 2009 16:35

Reply
I'll be in Shanghai on 12/3 - 12/5. Any recommendations for reasonable rate hotel (clean with Internet access) close to Airport and attractions to see for 2 nights, 2 days? Does the hotel provide transporation from and to the Shanhai-Pu Dong Airport? What is the current exchange rate for U.S. dollar and can I get the Chinese currency at the Airport? Do the shops accept American Express or Master Card? Thank you.
Answers (1)
Answered by Ms.Sara | Oct. 10, 2009 02:27

15

0

Reply
You can check related website to get to know the exchange rate for U.S. dollar.
Currency exchange service is available at both Hongqiao and Pudong Airport, but a bit higher. I suggest you exchange your currency before leaving for China. Also Union Pay is used univerally in China. Master Card is acceptable but it won't be economical.
Asked by Mr.rutter from NETHERLANDS | Aug. 08, 2009 21:34

Reply
Are there any beaches around Shanghai? We are there in a couple of days and like to visit one of them with our kids.
thanks Allard
Answers (3)
Answered by Mr.Stanley from CN | Aug. 10, 2009 21:18

4

0

Reply
Hi, i don't think there's any beach around, but you can visit the Bund.
Answered by Mr.SHAOLIN from CHINA | Aug. 12, 2009 09:48

4

0

Reply
hi,you can visit Putuo island, which is a nearby island, you can enjoy the seaside, and the buddha culture in China.
Answered by Mr.Lee from CN | Aug. 20, 2009 21:32

5

1

Reply
Hi, actually there are two baches near the city. One is Jin Shan city beach in Jin Shan district. its ticket costs 50 RMB/person (at night weekend) and 30 RMB (at rest time). the other is Bi Hai Jin Sha beach in Feng Xi'an district. its ticket cost always 50.
I have ever been to the beach in Jin Shan, here is bus info if you wish to get there:
1: take subway line 1, get off at lotus(in Chinese, Lian Hua) station
2: go to a crowded bus station which is at the left side of lotus station's north exit, about 100 meters away.get on a bus with title "莲卫线" and you can sleep now.
3: about 1 hour later, you can get off at the terminal stop. Take a taxi to the beach and enjoy!