Mian Mountain Pictures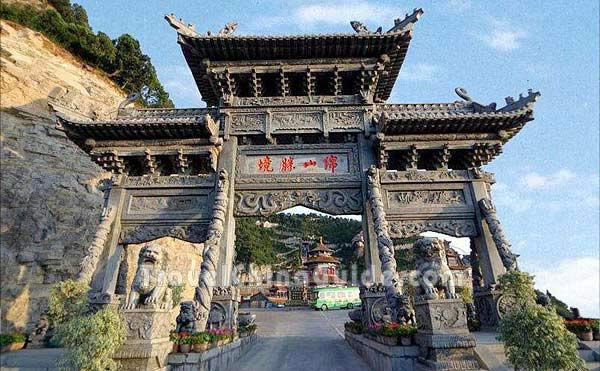 Located in Jiexiu City, Shanxi Province, Mian Mountain is 40 kilometers (25 miles) south of Pingyao and 160 kilometers (99 miles) south of Taiyuan. It is the birthplace of Cold Food Festival where boasts of 88 temples, such as Tiewa Temple, Daluo Palace (the largest Taoist temple in China), Dragon Head Temple and Yunfeng Temple. Climbing the cliffside plank and sky bridge is irritative. Visitors can see woods, waterfalls and fantastick rocks in Shuitao Valley and Qixian Valley.

All photos are provided by Mr. David C. Aroner.
- Last modified on Jul. 31, 2017 -
Questions & Answers on Mian Mountain Pictures
Asked by GAPALINA from RU | Sep. 04, 2016 03:51

Reply
Is there a direct bus to Mianshan from Jiexiu Railway Station the end of October (25 October)?
I arrive in Jiexiu by bus from Luliang (Lishi Bus Station). Is this the correct translation of the Jiexiu Railway Station?
Answers (4)
Answered by Hansen from GERMANY | Sep. 04, 2016 20:03

1

0

Reply
I heard that there are direct buses at Jiexiu Railway Station to the scenic area every day, which is located opposite the Jiexiu Bus Station.
The translation of Jiexiu Railway Station is 介休火车站, pronounced as Jie Xiu Huo Che Zhan.
Answered by GAPALINA from RU | Sep. 05, 2016 02:38

0

0

Reply
Thank you Hansen.
Answered by Happy from USA | Jul. 31, 2017 15:39

0

0

Reply
What time is the first bus from jiexiu railway to mianshan?
Answered by Hansen from GERMANY | Jul. 31, 2017 20:57

1

0

Reply
The first bus set off at 5:30 in the morning.
Asked by Javed Iqbal from TURKEY | Oct. 12, 2014 03:49

Reply
What is the best way to go to Mian Mountains from Beijing by train?
Where to stay ( nearby hotel ) to explore the whole set of attractions easily in Mian Mountains in two days? In which city to stay Pingyao or Taiyuan? What would be the weather like in February? How to go to Lijiang from there? Thanks in anticipation.
Answers (2)
Answered by Ivan from DJIBOUTI | Oct. 13, 2014 01:24

0

0

Reply
You have two options, bullet train or ordinary train. If you plan to take ordinary train, you need to go to Beijing Railway Station and take train to reach Jiexiu (介休). Available trains are K603, 2602 and K609. It takes 10 to 15 hours. A hard berth costs CNY 190 and a soft one costs CNY 285. In front of the railway station, you can find buses for Mianshan. It costs around CNY12.

Or you can take high speed train D2005 from Beijing West to Lingshidong. It takes around 4.5 hours. The first class seat costs 269 and the second class seat costs CNY 195. Then you can catch bus from the railway station to Mianshan. It costs CNY 5 for each person.

It's winter in Feb. So it's very cold on the mountain. You'd better wear thick winter clothes. There is no direct flight or train from there to Lijiang. You may get back to Lingshidong and then take train to Xi'an. Then you can fly from Xi'an airport to Lijiang directly.
Answered by Javed Iqbal from TURKEY | Oct. 13, 2014 08:31

0

0

Reply
Thank you Dude.
Asked by Tony from MEXICO | Jun. 26, 2013 08:58

Reply
How can I get to the Mian Mountain from Baotou, Inner Mongolia?
Is there a direct train from Baotou or do I need to go first to Taiyuan??

Answers (1)
Answered by Juana from AUSTRALIA | Jun. 27, 2013 20:12

0

0

Reply
Hi, you don't have to go and transfer at Taiyuan.
It is suggested to take a train from Baotou to Jiexiu. There is a direct bus at Jiexiu Train Station to the scenic area, leaving around 08:00. If you miss that, I suggest hiring a car to reach then.
Asked by Mr.ROYNOLAN from SPAIN | Jan. 14, 2011 17:17

Reply
can you do a Mian Mountain trip from Pingyao, and is half a day enough to see the main sites?
Is there public transport to there, and how would I get round the site?
thank you
Answers (1)
Answered by Mr.George | Jan. 14, 2011 21:19

8

0

Reply
there seems to be no tour to Mianshan on this website. I think half a day is enough for you to visit the main sites there. There is no public transportation to Mianshan, I think you will have to rent a car.