Pictures of Ancient City of Gaochang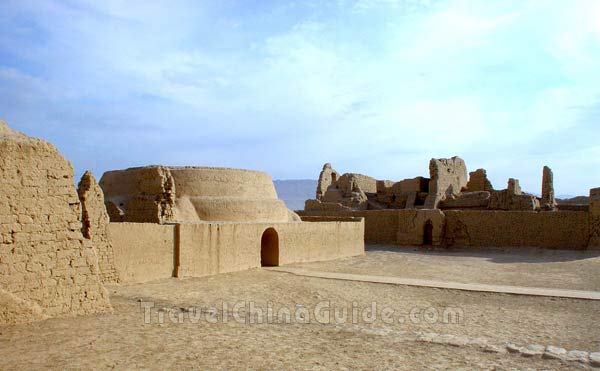 Gaochang City is another famed city on the Silk Road, Turpan, Xinjiang.
The Ancient City of Gaochang along with the ancient city of Jiaohe is the best-preserved ruins of the ancient cities in China. Situated at the foot of the Flaming Mountain, it is about about 47 kilometers (29 miles) southeast of Turpan. The ruins site covers an irregular square, occupying an area of about 220 hectares (2,631,178 square yards). Its layout resembles that of the Chang'an during the Tang Dynasty. Attraction Intro:
Ancient City of Gaochang
- Last modified on Dec. 13, 2017 -
Questions & Answers on Pictures of Ancient City of Gaochang
Asked by Mrs.KL from USA | Apr. 04, 2009 16:06

Reply
I'm planning a visit to Xinjiang from Xi'an by train in mid July of 2009. I want to see everything but I have only 2 weeks. What are the must-see sights between Xi'an and Turpan/Urumqi? Will it be very hot in July? is there any cell phone/internet coverage in the area? Do trains run on Beijing time or not
Many thanks in advance.
Answers (6)
Answered by Mr.michael | Apr. 07, 2009 04:01

10

0

Reply
hi ,Mrs KL,you can visit silk road.In xinjiang ,you should visit kashgar ,very different from the normal city in china,and Turpan there is a tour city because of its various customs,weather in Turpan is very hot especially in july, Turpan is famous for its hot.The temperature in july will be 30-40'c.you can visit ancient city of jiaohe,Grape valley,Flaming moutain,karz irrigation systerm and the thousand budda caves,very amazing!! you can use cell phone and internet locally. we use beijing time.
Answered by Mrs.KL from USA | Apr. 09, 2009 14:55

10

0

Reply
Michael,

Thank you so much for the reply, yes, those are some of the places I want to visit as well, however, I'd also like to go off the beaten track a little, eg, going from Urumqi to Buerjin, then to Kanas Lake. What are my transportation options? How much time do I need if I want to go from Urumqi -> Buerjin-> Kanas Lake. I heard that I can find lodging by the lake in a yurt. How do I arrange that? Is it hard to find lodging/bus /train tickets without advance reservation?
Answered by Mr.michael | Apr. 10, 2009 00:32

5

0

Reply
hi.Two ways to kanas lake.Fly to Altay prefecture, then take a coach to kanas lake,after visiting the lake,fly back to Urumqi city. it just needs two days.another way is take tour coach to Buerjin,stay one night there and then take coach to Jiadengyu(near the lake),and then go to visit the lake ,stay there one night,and then back to Buerjin,stay there one night,the last day back to Urumqi.It needs four days.It will be a little difficult fou you to find lodging without advance reservation,cz July is a busy tour season.If you want you find a lodging temporary,the fees will be very high.In addtion,there is no train to go there,just bus or plane.more infos,you can write email to me :
yahoo.com.cn|majun_6
Answered by Mr.A from USA | Apr. 13, 2009 03:46

0

0

Reply
I want to visit that place in between the end of May and beginning of July, too. Probably from May 19-June 7th. Would this be much better than travelling in the summer? I figured if I travel in May/June it won't be AS hot (still hot, but a little better) and perhaps much less tourists. A few questions:

1) In May, is there already a lot of fruit produce, such as the Hami melon, grapes, wine, etc? Or is this only available later in the summer?

2) Will costs be less due to the lower peak season?

3) Is Hotan worth visiting?
Answered by Mrs.KL from USA | Apr. 18, 2009 21:48

0

0

Reply
Michael,

Thank you so much for the info. Upon checking travel document requirements, I realize that I may need Aliens' Travel Permit in areas that are bordering other countries such as Russia. Is it possible to get the permit once I arrive in Urumqi? How long does it usually take? Should I apply for the permit at the same time when I apply for VISA?
Answered by Mr.Jerry from CHINA | Apr. 21, 2009 20:17

0

0

Reply
Urmqi Aiport has office to handle border visa for foreigners. If you also have Russian visa, it is also no problem. That's all I can help. As to the fruit, it should be the right time to taste at summer or autumn. If you want to see the Lunkun Mountain and jade, Hetian is worth visiting.