Karez System Pictures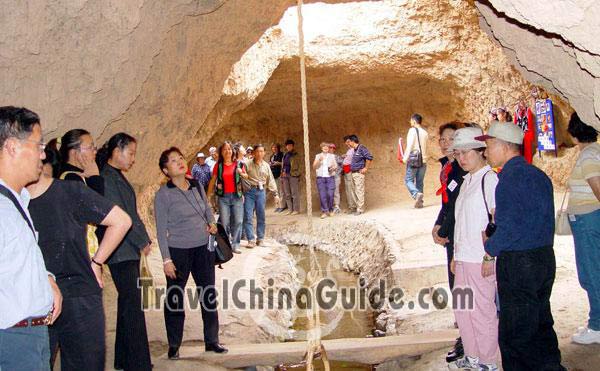 People ingeniously created the karez to draw the underground water to irrigate the farmland.
The Karez systems in Xinjiang, along with the Great Wall and the Grand Canal, are considered as the three great projects of ancient China. Generally, the Karez systems are made up of vertical wells, underground canals, above-ground canals and small reservoirs. The water source is the melting snow from the Tianshan Mountain. Attraction Intro:
Karez System
- Last modified on Aug. 12, 2017 -
Questions & Answers on Karez System Pictures
Asked by Jason from NEW ZEALAND | Jun. 06, 2011 21:21

Reply
How many "Karez Well" for tourist viewing ?
We joined a pre-arrange tour . One of the itinerary was to "Karez Well". However, the one we been to NOT like ANY of the pictures here ! The one we'd been to was kind of dark, and all covered by glasses - not really able to see anything, not able to see any "hole" from above, or where the well goes to... therefore, no picture able to be taken (due to darkness and Nothing to take) . Can anyone tell me what happened ? Are there more than 1 place to view Karez Well ? And you specific the name of the place the looks like those in the pictures here ? Thank you.
Answers (1)
Answered by Carlos from CHINA | Jun. 09, 2011 20:36

9

0

Reply
I know that there are two places where the Karez Well is open for tourists, one is 五道林, and the other is 五星乡. Both are located in the suburban area of Turpan City.
Asked by Mr.bradshaw from BRITAIN | Jul. 27, 2009 17:06

Reply
I am planning to ride a motorbike through Xinjiang entering from Kazakhstan on 16 september - what are the road conditions like and is petrol plentiful away from the main highways?
Answers (2)
Answered by Mr.ALVIS from USA | Nov. 24, 2009 15:09

9

0

Reply
HELLO fellow biker---What a great idea!!..motoring
through China's countryside...now,that's what I call a
roadtrip...It is now late November,did your trip went well?..I would love to hear about your experiences on two wheels; Many years ago I traveled from CHICAGO to
Anchorage,Alaska on a Honda Goldwing tourer W/trailer
...ever since,I wanted to try someting like that...
I recently read a book/watched movie of "motorcycle
daries and once again..got the "bug" to ride longways
Hope to hear from anybody that has traveled in China
or surrounding countries ... thanks "AL'..in Dallas
Answered by Mr.J P Charcutier from GERMANY | Nov. 25, 2009 14:10

4

0

Reply
Hi there! My friend from Urumqi had suggested to do such a trip rather in spring or early autumn. Another friend from Beijing offered some guidance... and... great bikes, too. Ever heard of 750cc two-cylinder BMW-like bikes and side-cars. We're going to arrange guided tours from Beijing to the West of Xinjang and back... If u r interested feel free to post a note or email me (
me.com|dwo
). CU
Asked by Mr.Straus from U.S. | Jul. 11, 2009 12:12

Reply
In U.S. English (southern U.S.), what is the proper phonetic pronunciation for the province of Xinjiang?

Answers (1)
Answered by Mr.Alan | Jul. 12, 2009 03:01

0

0

Reply
I think it much sounds like Cin Jong.