Xinjiang Regional Museum Pictures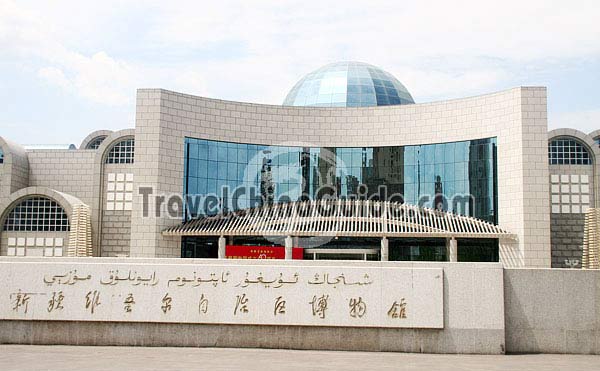 Xinjiang Region Museum located in Xibei Road of Urumqi is a Uygur style structure. Built in 1953, the exhibition hall occupies an area of about 7,800 square meters (approx. 9,328 square yards). There are more than 50,000 items in the museum, displaying the local culture including costumes, religion, marriage customs and festivals. Attraction Intro:
Xinjiang Regional Museum
- Last modified on Aug. 14, 2017 -
Questions & Answers on Xinjiang Regional Museum Pictures
Asked by Mr.Sauer from GERMANY | Jul. 30, 2009 14:25

Reply
We arrive in Urumqi (from Beijing) august 11th and we want to go on to almaty as soon as possible. Is there any possibility to get a reservation for the almaty bus on wed 12th aug or thu 13th in advance (e-mail, telephone..)? Or is it possible to book a place on the almaty bus from beijing? Thank you for answering!
Answers (1)
Answered by Mr.Mike | Aug. 03, 2009 01:52

10

0

Reply
Not very sure about the bus information, but I think you could ask some travel agencies for help to book the train ticket.
Asked by Ms.adeline from SINGAPORE | Apr. 17, 2009 02:19

Reply
I would like to visit xinjiang in october will this be start of cold month, my itinery should start form guangzhou to urumuqi and end in islamabad hopefully. Alone the way i hope to see places like kashgar, turpan, tianchi mt,kunlun, lake kanas, kunjerab pass
karakoram highway all these for 3 wks, am i too ambitious, could anybody give me an advice, or does anyone organise a tour for a small group for something like this. Please help me.
Answers (6)
Answered by Mr.Jerry from CHINA | Apr. 17, 2009 21:03

9

0

Reply
Yes, it will be cold in October. You can get to Turpan and then the route can be divided into south and north.North: Urumqi, Tianchi, Lake Kanas. Comparatively, the south route has more of your favored places. You can get to Korla from Turpan, then to Hetian through the desert railway, visite the Kunlun mountain, then transfer to Kashgar, arrive he Kunjerab Pass though Karakoram Highway. Wow, it is a long journey. Good Luck!
Answered by Ms.adeline from SINGAPORE | Apr. 18, 2009 08:38

2

0

Reply
Thanks Jerry for the info. It would be helpful to join a tour group to visit these places some if not all, but upon checking with some agencies on-line the cost is extremely high does anyone know any reliable
agent locally that charges resonable . Travel between sept-oct 2009 or perhaps april-may2010
Answered by Mr.Jerry from CHINA | Apr. 21, 2009 19:57

0

0

Reply
It is a long way to travel all you destinations, and I think it is hard to find areliable agency offering such a route to cover all the places you want to. You can think about this: to participate in a one or two day group in one place. Or you can find a travel companion?!
Answered by Mr.Vladimir from RUSSIA | Apr. 29, 2009 09:12

0

0

Reply
Hi Adeline!
I,m planning to visit Xinjiang at end September.
I think after arrival in Urumchi to make short jumping to Kashgar/2 hours by plane/.I know chinese man from tourist office and he,ll drive me around Kashgar.After Kashgar I,ll drive with my guide to Khotan/400 km/.Hotan is 2 days. After Hotan my way is to north across desert/500 km/ to Aksu across Tiansheng and arriving to Urumchi.I think my way across southern and most interesting part of Xinjiang will near 5 days. Rates of hotels in province is cheap.
Vladimir
Answered by Mr.White from CHINA | May. 10, 2009 22:44

0

0

Reply
Hello, Ms.adeline,
If you want to travel to so many places, the best way and the least costly one is to find a reliable local agency to arrange that. I see there are some others like Mrs.KL(USA) aslo want to go there. So I suggest you try to find some travel companions, the more people in a group, the less expensive!
Answered by Ms.Gwen from CHINA | May. 22, 2009 04:03

0

0

Reply
Hello Adeline

My family are coming over in Oct and I want them to travel with me to Xinjiang. We will start off in Guangzhou or meet them in Beijing.
But the Singaporeans need convincing.