Small Putuo Pictures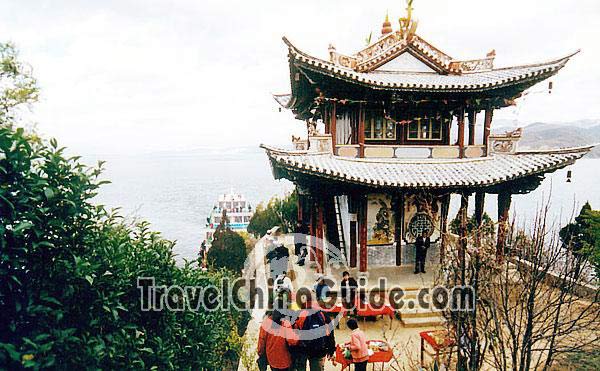 This pavilion was initially built in the Ming Dynasty.
Xiao Putuo is a tiny island in the Erhai Lake. Strictly speaking, it's not an island but a big reef. On Xiao Putuo, you can see a two-storied pavilion-style building. On the first floor, there is a statue of Sakyamuni and on the second floor is the statue of Kwan-yin.
- Last modified on Jul. 05, 2017 -
Questions & Answers on Small Putuo Pictures
Asked by Mr.Yan from USA | Aug. 10, 2009 09:43

Reply
One more question regarding travel to Shangrila / Zhongdian in January - is there regualr air service between Kunming and Diqing in January?
Answers (1)
Answered by Mr.Frank | Aug. 10, 2009 22:34

0

0

Reply
Yes, there are direct flights between the two places everyday, even in Jan.
Asked by Ms.PETERSEAFORD from AUSTRALIA | Jul. 09, 2009 22:20

Reply
I have had the pleasure of visiting Yunnan.

breathtaking place - fabulous people - full of wonder

The theatre at Kunming was unbelievable.
Answers (1)
Answered by Mr.Bai | Jul. 16, 2009 09:59

0

0

Reply
water splashing is in Xishuangbanna,SE of Yunnan.people in Yunnan are quite friendly,really.hehe...places highly recommended are Dali,Lijiang and Shangarlila.im a Dali-er studying out to Yunnan,
Asked by Mr.GOMIN from SRI | Jun. 13, 2009 01:41

Reply
Can i as a foreigner buy a ticket to take a train ride from kumming to shangira its nearest train station.After arriving in the nearest train station to shangri la- how long will it take to take taxi to shangri la.Are there taxis at rail stations.What is about the best two hotels in Shangri la.GOMIN
Answers (1)
Answered by Mr.John from CHINA | Jun. 14, 2009 03:37

0

0

Reply
To Mr. Gomin
Yes, you can buy the ticket and the nearest train station would be Lijiang. Buses are eay to find in Lijiang bus station, about 4 hours to Shangri-la. Yes, there are taxis, but it is too expensive. You may pay 600RMB per day.