Guilin Attractions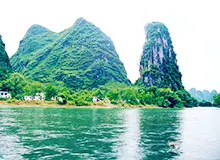 Charming Li River
As a centre for tourism, Guilin boasts magnificent natural beauty and many precious cultural relics. The colorful ethnic background lends a touch of mystery that enhances its fame. Why delay - come and enjoy this huge natural theme park.
Top Attractions

Li River

Elephant Trunk Hill

Folded Brocade Hill

Seven-Star Park

Reed Flute Cave
One of the top China's tourist destinations, Li River is honored to the most beautiful gallery of the world, and sure a must for your Guilin vacation. The picturesque river is a major component of the scenery in that place. As it sparkles in the sunlight the river meanders through lush mountains like a liquid jade belt. To really appreciate the scenery a cruise from Guilin to Yangshuo is a must and your voyage of discovery can be divided roughly into three sections:
The first of these is from downtown area where you board the cruiser to Huangniu Xia (valley). As soon as you leave the landing stage you will begin to enjoy the natural wonder and local customs. Upon reaching Huangniu Xia (valley) the cruise enters upon the second section. This part is the very essence of Li River. The gorgeous mountains and the crystal water together with the romantic legends are certain to impress you. Shuiluo Village marks the beginning of the third and final section that ends at Yangshuo. Along this stretch of the river you pass through pastoral scenes unchanged for generations as the banks are lined with quaint fishing villages, farmland and bamboo groves.
Beautiful rural scenery
Located at the confluence of the Taohua (Peach Blossom) River and the Li River, Elephant Trunk Hill is too famous to be missed. It is said to be the symbol of local scenery and also a highlight in Li River .
Diecai Hill, also named Gui Hill, famous for its amazing scenery and stone caving, is one of the most attractive scenery there. The easiness for climbing makes great contribution to its popularity among visitors.
Seven-Star Park is located on the bank of Li River, crossed by Xiaodong River. The park got its name owing to seven peaks looking like Charles' Wain. This is the largest and most popular park in the city with the longest history. Hills, rivers, caves and stones are highlights of this park.
Reed Flute Cave is 5 kilometers (3miles) from city downtown area in northwest suburb. Here the scenery is focused on caves, and their rural setting. Within the cave there are enchanting stalagmites, stone pillars, stele, stone curtains and stone flowers.
More Attractions

Lingqu Canal

Merryland Resort

Silver Cave

Solitary Beauty Peak and Jingjiang Prince City

Two Rivers and Four Lakes Scenic Spot

Wave-Subduing Hill

Yao Mountain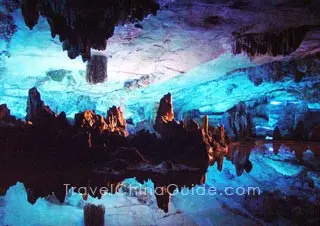 Reed Flute Cave
Fubo Hill (Wave-subduing Hill) is famous for its six beauties: hills, water, caves, stones, courts, and cultural relics.
Lingqu Canal is one of the impressive human landscapes worth seeing. It was built from 219BC to 214BC in the reign of Emperor Qin Shi Huang, and it is one of the oldest and most well-preserved canals in the world.
Merryland Resort is a comprehensive resort with a five-star hotel, a golf club, a forest village with a cottage area and a campsite area, a theme park featured by exotic flavors.
Solitary Beauty Peak is known as Sky-Supporting Pillar in the South. This is the oldest place of interest in the city.
Mausoleums of Jingjiang Princes are a state cultural relic. On the southwest of Yao Mountain in east suburb of the city, these tombs are well preserved and date from the Ming Dynasty (1368-1644).
Xishan Park is the local second largest park, which is comprised of Xi Hill and Yin Hill. This used to be a shrine of Buddhism and one of the five Buddha Temples in the south. The City Museum is also located in the park.
Yu Hill Park is the cradle of the city's history. Legend has it that one of the ancestor of Chinese nationality, Shun (Yu) visited here and Qin (B.C.220-B.C.206) people set up temple to memorize him. In the past 2000 years, numerous people came here to offer up sacrifices; hence this park has a strong influence of Confucianism.
Yuzi Paradise is the largest sculpture park in China. One hundred and fourteen artists from no less than forty-seven different countries have contributed to this magnificent symphony of nature and humanity. Located 30 km (18.6miles) from downtown, this park is a harmonious blend of life and art. Visitors are given the opportunity to make clay wares under instruction. Also you can enjoy the delights of the art salon, cafe, barbeque and buffet.
In addition to the above-mentioned parks, Nanxi Park in the south of the city and Chuanshan Park in the southern suburb, each with their own beauty and attractions, are wise choices for a leisure vacation in the city.
| | |
| --- | --- |
| Folk Culture Village | Picturesque scenery |
Bear and Tiger Park is the largest wild animal centre. Four breeds of tigers facing extinction can be seen there. Over three hundred tigers, four hundred bears and a hundred lions will give you a fresh idea of the survival needs of such wild animals. Also there are animal performances, which will surely excite kids and adults alike.
City Ocean World is on the south of Nanxi Park. Here can be seen many aquaria containing some thousand or so varieties of fish are divided. The centre has an observation area, performance area, tropical forest and waterfall area, a touching area, underwater tunnel, sea area and so on. Marine treasures like giant hundreds-year old salamander, lungfish, clownfish, sea flowers, nautilus, living coral and sharks from around the world can all be seen here.

Guilin Tours
: