Shanghai Transportation - By Ship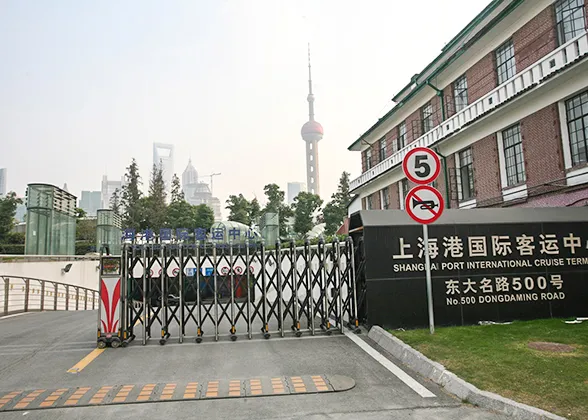 Shanghai Port International Cruise Terminal

Shanghai, situated at the estuary of Yangtze River and midpoint of China's north-south coastline, is the world's third largest port and China's largest seaport. It is the only port in China connecting the country's shipping system of sea, river, and freshwater.

Ships sailing from Shanghai Port voyage to some 500 ports in over 160 countries and regions all over the world. Due to the slow speed, some long-distance sea routes have been closed. However, the quantity of the goods moved in and out of this port ranks highly among the world's major ports. Passenger transportation through it is also busy. The following is detailed introduction to the main passenger ports in Shanghai.

International Cruise
Shanghai Port International Cruise Terminal
Located at the North Bund Area in Hongkou District near downtown, this terminal has been under construction since 2004, and the whole project including the passenger port, Shanghai International Port Group Building, and some corresponding business establishments. Its Complex Buildng for passenger transport was built in a creative shape of a drop of water. It now can accommodate three luxurious passenger liners at the same time, all of which are 77,162 short tons (68,894 long tons). Sailing here, international cruises can reach Japan and South Korea.

'Costa Allegra', the first cruise ship berthing in this port, operates a regular 6-day tourist cruise routed: Shanghai (China) <---> Nagasaki (Japan) <---> Cheju (South Korea).

'Korea-China Bridge' operates regularly between China's Shanghai and Mokpo Port in South Korea. A single journey takes only 12 hours.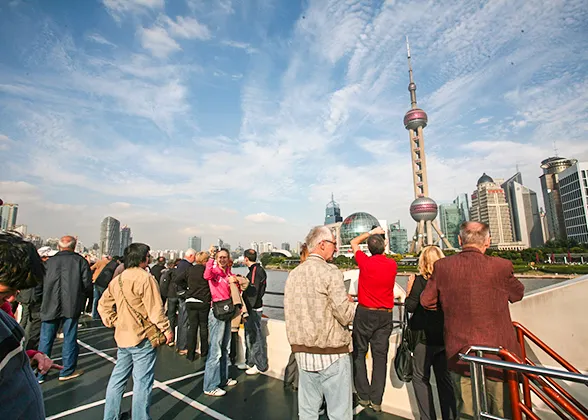 Shanghai Port International Cruise Terminal

'New Jianzhen' is a passenger and cargo ship sailing regularly between Shanghai and Japan. It starts from Shanghai at 13:00 every Saturday, and arrives at Kobe or Osaka Ports of Japan on Monday morning the next week. It makes its return voyage from Kobe or Osaka at 12:00 every Tuesday, and arrives on Thursday. Its speed is low, and a round trip usually takes over 80 hours. However there are still many people who choose this liner because of the good environment, excellent service, and low price. A single journey passage costs CNY1,300 to CNY2,600 (JPY20,000 to JPY40,000) per person according to the standard of cabin chosen. Alternatively you can pay CNY6,500 (JPY100,000) for a VIP room, which can accommodate two persons. For more information of this liner, you can phone 021-63257642.

'Suzhou' also voyages between Shanghai and Osaka in Japan. Starting from Shanghai at 11:00 every Tuesday, it reaches Osaka at 9:00 on Thursday. Every Friday, it makes its return at 12:00, and gets bon Sunday. The passage is almost the same as that of 'New Jianzhen'.

When you take an international cruise, you'd better go to the port two hours before departure to conduct the boarding procedures. Ship tickets can be bought or booked at Shanghai International Ferry Co., Ltd. with your passport or other valid identification.
Ticket Office Address: D-G, 15 F, Jin'an Mansion, No.908, East Daming Road, Hongqiao District
Ticket Information Line: 021-65375111

After completion of the whole project, Shanghai Port International Cruise Terminal will have more international passenger liners to facilitate the needs of modern tourism.

Domestic Cruise
Wusong Passenger Transport Center
Located at the meeting of Yangtze River estuary and Huangpu River, it is an important passenger port with many domestic sea routes in operation. Succeeding the former Shiliupu Port, it has regular departures for neighboring areas like Nantong City of Jiangsu Province, Dinghai, Shengsi, Zhoushan, and Mt. Putuoshan area of Zhejiang Province, as well as some cities along the Yangtze River.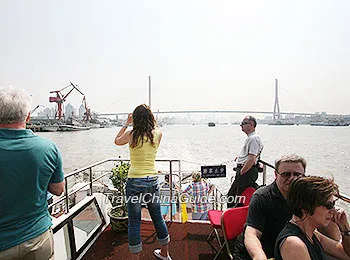 A Port along Huangpu River

Wusong Passenger Transport Center can be reached by many city buses as follows:

51: Wusong Passenger Transport Center <---> Dabaishu <---> Baochang Rd.
116: Baoshan <---> Wusong Passenger Transport Center <---> Quyang Xincun
522: Wusong Passenger Transport Center <---> Dongfang Rd. <---> Lanling Rd.
719: Haijiang Xincun <---> Wusong Passenger Transport Center <---> Gongkang Xincun
728: Baoyang Rd. Bus Station <---> Wusong Passenger Transport Center ßà West Changjiang Rd.
848: Mohe Rd. <---> Wusong Passenger Transport Center <---> Zhapu Rd.
849: Baoshan Hotel <---> Wusong Passenger Transport Center <---> Pushan Rd.
952: People's Square <---> Wusong Passenger Transport Center <---> Haijiang Rd.
Baoyang Port Special Line: Baoyang Rd. Bus Station <---> Wusong Passenger Transport Center <---> Shanghai Railway Station
Songjia Line: Wusong Passenger Transport Center <---> Luodian <---> Jiading Passenger Transport Center
Songjia Special Line: Wusong Passenger Transport Center <---> Luodian <---> Jiading Passenger Transport Center
Songma Line: Wusong Passenger Transport Center <---> Fengzhou Rd.
Yongluo Line: Wusong Passenger Transport Center <---> Luodian Bus Station
Song'an Special Line: Wusong Passenger Transport Center <---> Yanghang Town <---> Malu Town <---> Anting Town
Songjing Special Line: Wusong Passenger Transport Center <---> Changfa Rd.
Tourist Bus 5: Shanghai Stadium <---> Wusong Passenger Transport Center <---> Baoyang Port

Here is information on ways to get to Wusong Passenger Transport Center from several transportation hubs in the downtown:

1. From Shanghai Railway Station: take Baoyang Port Special Line; or take Metro Line 3 to Jiangwan Town, and then take the bus No. 51.
2. From People's Square: take No. 952 bus; or take Metro Line 1 to Shanghai Railway Station, and then transfer to Baoyang Port Special Line.
3. From Wujiaochang: take No. 90 bus to Zhanghuabang, and then transfer to No. 51 bus.
4. From Hongqiao International Airport: take No. 941 bus to Shanghai Railway Station, and then transfer to Baoyang Port Special Line.
5. From Pudong International Airport: take Airport Line 4 to Dabaishu, and transfer to No. 51 bus.

Other Ports in Shanghai
Gongping Rd. Port in Hongkou District has ships bound for Dalian about 558 nautical miles (about 1033 kilometers or 642 miles) away in Liaoning Province. Luchaogang Port in Pudong New Area has ships to Mt. Putuoshan, Shengsi, and Zhoushan Archipelago. Jinshan Port in Jinshan District also has ships sailing to Zhoushan Archipelago. In Chongming, Luhua Port operates ships voyaging to Haimen in Jiangsu Province; Nanmen Port has ships to Liuhe in Jiangsu; and Xinmin Port has ships bound for Qidong of Jiangsu.

Note: Ship schedules can vary according to the weather conditions, and you can get up-to-date information by contacting the main ports listed below:
| Port | Address | Tel | Bus Route |
| --- | --- | --- | --- |
| Shanghai Port International Cruise Terminal | No. 800, East Daming Road | 021-65952299 | 22, 37, 135, 330 (Night Line), 868, 921, 934 |
| Wusong Passenger Transport Center | No. 251, Songbao Rd., Baoshan District | 021-56575500 | 51, 116, 522, 719, 728, 848, 849, 952, Baoyang Port Special Line |
| Gongping Rd. Port | No. 60, Gongping Rd., Hongkou District | 021-65418829 | 13, 19, 37, 135 |
| Luchaogang Port | No. 1969, Luchaogang Rd., Pudong New Area | 021-58281919 | 631, Longlu Line, Ludu Line |
| Jinshan Port | Qijiadun, Jinshan District | 021-57944431 | Puwei Line, Tangwei Line, Jincao Line |
| Luhua Port | Lugang Village, Luhua Town, Chongming | 021-69693666 | Nanjian Special Line |
| Nanmen Port | No. 93, Nanmen Rd., Chongming | 021-69693666 | Nanniu Special Line |
| Xinmin Port | Nanshou, Xinmin Town, Chongming | 021-59465396 | Nanbao Line, Hengxing Line |

Related Link: Shanghai Cruise