Ningbo Attractions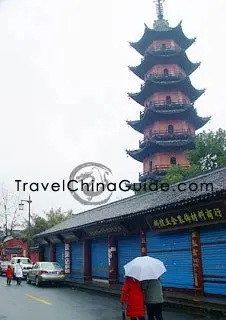 Tianfeng Pagoda

Baoguo Temple

Tianfeng Pagoda

Tianyi Pavilion

Yandang Mountain

Hangzhou Bay Bridge

Xikou-Tengtou Tourist Area
Ningbo, with its beautiful natural scenery and wealth of historical attractions throughout its 7000-year history, draws tourists from all over the world.

Culture Relics
Ningbo is the birthplace of the Hemudu Civilization. The Hemudu Site is one of the earliest Neolithic Age sites discovered in China. It is situated in the Yuyao Town, just 20 kilometers (12 miles) from the city proper. The site covers an area of 40,000 square meters (9.8 acres), and contains four different layers, each representing a different cultural age - the deepest layer of which goes back around 7000 years. Over 7000 artifacts have been unearthed from the site. These include a number of implements and tools made from bones, jade, wood and clay. The remains of buildings, animals and even cultivated rice have also been discovered in the area.
Thousands of years' history left Ningbo with abundant cultural relics which reveal the great importance of this city in Chinese history, especially in terms of Buddhism. The Asoka Temple is one of the most prominent of the city's cultural relics. It is one of the 'Five Mountains' of Buddhism in China - the 'Five Mountains' referring to the five official temples with the highest status in Chinese history.The temple is famed for the dagoba which houses the Buddhist relics of Sakyamuni, the founder of Buddhism. (Dagoba is similar to pagoda yet it usually refers to which houses the relics of the eminent monk.)
Ningbo is also home to a number of other prestigious temples: one of those is the Baoguo Temple ,a wooden-structured building first erected during the Northern Song Dynasty (960-1127).
Another local Buddhist sanctuary is Tiantong Temple, which lies at the foot of Taibai Mountain. It covers an area of almost 60,000 square meters, one of the largest of its kind in China. It contains over 720 uniquely structured buildings,each subtlety decorated and finely designed.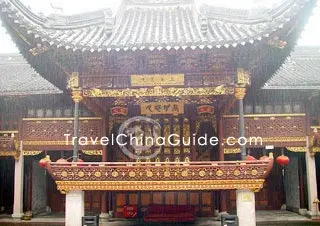 Tianyi Pavilion
The city's Tianyi Pavilion and Tianfeng Pagoda are also worth visiting. Tianyi Pavilion was built during the years 1561-1566. Today, it houses a collection of around 300,000 volumes. Most of them are block printed editions and hand copied books from the Ming Dynasty (1368-1644). The pavilion itself is also surrounded by an elaborate landscape garden. Tianfeng Pagoda, located in the city center, is a seven-storey tower with another seven stories underground. It is renowned for its long history, architectural value and ancient artifacts.

Natural Sceneries
The region is blessed with the beautiful natural scenery of the Siming and Tiantai Mountains. The Tianhe Scenic Area lies in the mid-section of Tiantai Mountain, and is actually made up of three separate scenic areas: Big Pine Creek Canyon, Double Peak Forest Park and the On-Water Visiting Area. Big Pine Creek Canyon stretches for 20 kilometers (12 miles), and is known as the 'No.1 Canyon in east Zhejiang Province'. The canyon contains numerous peaks, rock formations and waterfalls.
7 kilometers (4 miles) to the southeast of the city centre, Dongqian Lake adds much charm to the cityscape. It is four times larger than the
West Lake
and is the largest fresh water lake in Zhejiang Province. Surrounded by green mountains, the lake with its serpentine bank is one of the city's most attractive locations. There isn't tourist infrastructure like West Lake Hangzhou, but the Xiayu Temple is a jewel. Take care: the public buses (from train station) to there needs 2 hours, stops 50 times and it's a fighting to get on them by departure of the Lake.
Another great place for relaxing is the Nanxi Hot Spring southeast of the city. Various hot springs and a peaceful environment provide comfort and enjoyment to those that choose to visit. There is also the Ningbo Zoo. To go there always the same buses problem, but the place is great. Situated in a green park you can stay there the whole journey to enjoy nature and a lot of animals.
Tip: To go somewhere have the chinese name writing on a paper, because nobody will understand you if you tell the name of the place where you wanna go in english.



Top 10 Things to Do in Ningbo
- Last modified on Apr. 01, 2021 -
Questions & Answers on Ningbo Attractions
Asked by SL LIM from MALAYSIA | Aug. 17, 2018 08:06

Reply
Is there a train from Ningbo Railway Station that goes direct to Ningbo airport?
I will be going to Ningbo in September, staying in Wyndham Grand Plaza Royale Ningbo near Ningbo Railway Station. Is there a train from Ningbo Railway Station that goes direct to Ningbo airport?
Answers (4)
Answered by Reina from GERMANY | Aug. 21, 2018 00:51

0

0

Reply
No direct bus is available but you can take subway line 2 to the airport directly.
Answered by SL LIM from MALAYSIA | Aug. 21, 2018 17:40

0

0

Reply
Hi Reina
Thank you very much for your reply. By the way what is the name of the station where I can get to take the subway line 2?
Answered by Reina | Aug. 21, 2018 18:23

0

0

Reply
Ningbo railway station is a subway station of line 2 and you can follow the signs to find the entrance easily.
Answered by SL LIM from MALAYSIA | Aug. 25, 2018 11:38

0

0

Reply
Hi Reina
Thank you
Asked by SL LIM from MALAYSIA | Feb. 02, 2018 12:29

Reply
Where can I find accommodation in Mount Putuo island itself?
How do I book one in advance?

Answers (4)
Answered by Lily from DENMARK | Feb. 04, 2018 23:42

2

0

Reply
Well, you can stay in Zizai Shangzhuang Hotel in the area, call 0580-6094999/ 400-660-8690 for booking.
Answered by SL LIM from MALAYSIA | Feb. 05, 2018 14:10

2

0

Reply
Hello Lily
Thank you for your reply. Do you have their email address that I can write to them. I cannot speak nor can I read mandarin , Thank you.
Answered by Lily from DENMARK | Feb. 05, 2018 19:06

2

0

Reply
Sorry, I only find their fax: 0580-3261982.

Or you can try to dail the hotline and see whether if they have English service. :)
Answered by SL LIM from MALAYSIA | Feb. 28, 2018 10:23

0

0

Reply
Hi Lily
Sorry for the late reply. I appreciate the information given by you. Thank you very much.

sllim
Asked by Elvis from SINGAPORE | Sep. 19, 2015 05:44

Reply
subway in Ningbo
Is there any subway connecting all the way from the airport to places like NB railway station and Tianyi Square?
Answers (1)
Answered by Melson from FRANCE | Sep. 20, 2015 02:10

0

0

Reply
No, there is not. Only subway line 1 now is in operation and it doesn't connect the airport and rail station. Anyway, I can tell you the Tianyi Square is close to Dongmenkou metro station of line 1.
Asked by William from UK | Feb. 06, 2015 13:07

Reply
Are there any traditional Chinese medicine tours in Ningbo?
Answers (2)
Answered by Jackson from USA | Feb. 06, 2015 21:26

0

0

Reply
As far as I know, there is a special tour of traditional Chinese medicine tour in this city. You can ask help for the people in the Community of this website. There will have some people that know the detailed information about this tour. :-)
Answered by Julia Germany | Apr. 16, 2017 01:55

0

0

Reply
Did you find one? I would also be interested...
Asked by geleiqin from PHILIPPINES | Aug. 28, 2013 02:55

Reply
Places to Visit in Ningbo
Hi,

I'm in NB right now and is planning to go to places by the first week of October since it's a holiday/no work the entire week. I've been searching for famous attractions but I'm looking for more. I've heard about something like ocean park here in NB. Where's that? How about Harborland. Is it suitable for Kids below 3 years old? Also, is there an entrance fee or tickets for Children below 3 years old?

This may sound stupid, but are there libraries here in Ningbo that displays books in english?

P.S, I've been here in NB for 5 months now and I've been to Moon Lake, Tianyi Square, Fuming Park and that park they called Switzerland.

Thank you!
Answers (5)
Answered by Gueen from SOUTH AFRICA | Aug. 28, 2013 04:14

2

0

Reply
You must refer to local Ocean World, which is located at No. 936, Sangtian Road, Jiangdong District.

As for the Harborland at Mt. Fenghuang, it is suitable for kids below 3 years old. The entrance fee is CNY160 for adult and kid under 1.2m can travel for free. As for kids between 1.2m and 1.5m, they get 50% discount.


Answered by Gueen | Aug. 28, 2013 04:16

1

0

Reply
You may find the books in English at NB Library. It is at No. 135, Yongfeng Road.
Answered by geleiqin from PHILIPPINES | Aug. 28, 2013 04:45

0

1

Reply
Hi Gueen!

Thank you for that very quick response though I'm not sure if what you meant by 1.2 and/or 1.5m is 1 year and 2 months? If so, 1.2-1.5m get 50% discount, how about 2 years and 7 months old? They get to pay the 160 rmb ticket?

thanks again!
Answered by Gueen | Aug. 31, 2013 04:08

0

0

Reply
Sorry to mislead you. Actually, I meant 1.2meters to 1.4meters/1.5meters (not very clearly now). Thus if he is above the height, it is needed to buy an adult entrance ticket.
Answered by geleiqin from PHILIPPINES | Sep. 08, 2013 04:10

0

0

Reply
Hi Gueen!

Thank you. I was asking about age so I thought m was month/s. lol! Thank you for your help! It's very much appreciated. I'm excited to wander around Ningbo specially now that summer's almost over! :))