Tiantangzhai Scenic Area (Heavenly Village)
Featured for the rich magnificent waterfalls, amazing mountain peaks, dense woods and rare animals, Tiantangzhai Scenic Area (Heavenly Village) is the second highest peak of Dabie Mountains. Located in Jinzhai, Lu'an, Anhui Province, it is an interesting place to enjoy the beauty of nature and breathe fresh air. On the mountain are living 185 kinds of animals, with more than 100 waterfalls as well as hundreds of peculiar mountain peaks and rocks scattered. Additionally, covered by numerous green plants which amount to 1,881 kinds, the mountain is a natural oxygen bar, providing abundant fresh air for visitors.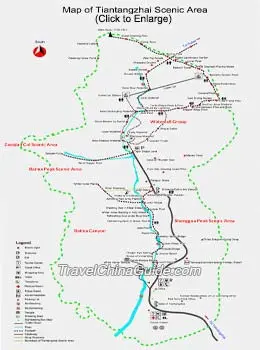 Map of Tiantangzhai
(Click to enlarge)
There are 108 fascinating waterfalls on Heavenly Village, with the most magnificent ones listed as following:



Nine-Shadow Waterfall is the first waterfall coming into your eyes in the scenic area, the drop of whom is about 230 feet (70 meters). Under the waterfall is a deep pool with an area of about 600 square yards (502 square meters), the water in which never dries up.

Lover Waterfall is a cliff waterfall, with the drop of about 145 feet (44 meters) and the width of about 33~50 feet (10~15 meters). The flow of this waterfall is gentler, like a quiet young girl petting her soft hair.

The third main waterfall you may encounter on the mountain is Jade Discharging Waterfall, with the drop of about 205 feet (62 meters). The downward flowing water looks like the rolls made by sea waves.

Going up, the next waterfall comes into sight is Lady Waterfall. It is 33~53 feet (10~16 meters) wide, with the drop of about 187 feet (57 meters). Lady Waterfall flows along the rocks, forming three wide parts and two narrow parts, looking like a young girl wearing a chiffon skirt dancing in the woods.

With the drop of about 223 feet (68 meters), Silver Bow Waterfall seems to be a silver bow to be launched, looking for the target. The water drops down to the pool beneath, in which are living the giant salamander (one of the second class protection animals in China).

Another major landscape in Tiantangzhai is mountain peaks in various shapes, with the most famous ones introduced below:


White Horse Peak is named so because the whole peak looks like a horse, consisted of the saddle, the horseback as well as the horsetail. Every time after rain, the peak is like a white horse flying in the sky with the rainwater flowing from the mountain top and the clouds made of the mist under his hooves.

Going up to the main peak of Tiantangzhai, the elevation is about 5,673 feet (1,729 meters). There are plenty of plants on the peak, with the distinct features of zonality.

Downward the mountain, there is a peak named Zheren Peak in the southwest of the scenic area, which means the peak is shaped like a head of a person, seeming to be a philosopher thinking of some questions. Zheren Peak is formed totally with rocks, with the height of about 300 feet (91 meters).

The next peak is Lover Peak. Because of the gravity activity as well as the weathering erosion, the two stones stand face to face, like the lovers hugging each other.

Tianping Peak is close to the upper terminal of cableway. With the elevation of about 5,266 feet (1,605 meters), the peak is a good place to admire a lot of sites such as Scissors Rock, Turtle Rock, and so on.

Longjian Peak is located between Tianping Peak and Jade Discharging Waterfall. Longjian here means the peak looking like a huge sword. It is featured by the rugged rocks as well as the steep cliffs, especially the steepness of Longjibei, the mountain ridge. Visitors passing by need to use both hands and feet since there are some slopes of 70 degrees.

Additionally, Second Mount Huashan is of the elevation of about 3,615 feet (1,102 meters), with the cliffs in both sides of the narrow pathway. This peak is named so because it is as precipitous as Huashan Mountain in some degree.

Heavenly Village is also valued as a natural oxygen bar, with the plants vertically distributed. Red rhododendrons bloom both in spring (March~ May) and in autumn (September~ October), making the mountain extremely dainty; the pine trees stand upward erectly, showing visitors the vitality; bamboos are tall and straight, being of great use in making pens and chopsticks. There are plenty of plants and animals on the mountain, with high value of studying and appreciating.
Tips:

You'd better spare at least two days to visit Tiantangzhai Scenic Area since it is a little far and there is a lot to see. Only one day may be not enough to appreciate all the scenes. There are many local hotels and restaurants both in the scenic area and outside scenic spot around the entrance, where you can stay overnight and have meals.

After arriving at Jade Discharging Waterfall, there are two ways to go to the main peak. Visitors may choose to take the cableway or to climb the mountain on your own. Please note that there is still a long way to go to arrive at the top of mountain after you get off the cable way.

If you just have one day, you may take the sightseeing bus, get off at the middle of the mountain to visit the famous waterfalls first and then go upward to the main peak. Afterwards you may consider going to the lower part of the mountain if you have extra time.
How to get to Tiantangzhai from Hefei

Take a bus to Tiantangzhai from Hefei Tourism Bus Station. The two buses are at 07:00 and 12:30 respectively. Duration is about 5 hours and ticket fare is CNY85.

Take a bus to the village from Hefei West Bus Station. The two buses are at 07:40 and 13:10 respectively. About CNY 85 is needed.
How to get to Tiantangzhai from Lu'an
Take a bus to Tiantangzhai from Lu'an South Bus Station. The two buses are at 07:30 and 12:30 respectively. About CNY 45 is needed. Duration is about 4 hours.
How to get to Tiantangzhai by train
Take a train to Jinzhai Railway Station, and then there are two ways to go to Tiantangzhai.
Click to search for the real-time
China Train Schedule

Take the bus at the railway station to the scenic area. The four buses are at 06:30, 07:30, 12:00 and 13:00 respectively. About CNY 26 is needed. Duration is about 2-2.5 hours.

Take a taxi to the scenic area directly. About CNY 350~400 is needed.

Admission Fee
CNY 100, valid for two days.
* Children of 3.9~ 4.6 feet (1.2~ 1.4 meters) enjoy half price tickets.
* Children below 3.9 feet (1.2 meters) enjoy free tickets.
Sightseeing Buses
CNY 28. One can take the bus unlimitedly within two days.
Running time: 07:30~17:30.
Cableway
Jade Discharging Waterfall- Tianping Peak:
CNY 70 for upward ride;
CNY 60 for downward ride.
Running Time: 08:30- 16:30.
Strop Ropeway
White Horse Canyon~ White Horse Peak:
CNY 35 for single trip;
CNY 60 for round-trip.
Running Time: 08:30- 17:00.
Opening Hours
06:00-17:30
- Last modified on Oct. 09, 2019 -
Questions & Answers on Tiantangzhai Scenic Area (Heavenly Village)
Asked by Aishath shafeea from MALDIVES | Oct. 01, 2019 21:13

Reply
Do you have discounts for students to enter tiantangzhai scenic area?
Answers (1)
Answered by Freda from USA | Oct. 09, 2019 20:50

0

0

Reply
Yes, students can show their student ID to enjoy a half-price discount.