Money in Yuan, Ming and Qing Dynasties
Yuan Money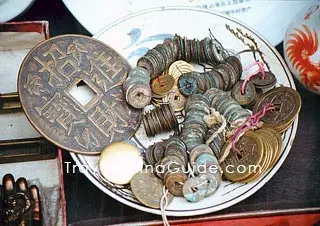 Ancient Coins
The heyday of Chinese ancient paper note came during the Yuan Dynasty (1271 - 1368). Throughout the dynasty, paper note was used and the concerned system was developed and perfected. Surrounding countries such as India, Korea, Japan followed the Yuan Dynasty and issued paper note.

Coins were also minted during this time but they could not be compared to those made in the Song Dynasty either in quantity or quality.

The name of yuan bao originated from the Yuan Dynasty. It had the meaning of the treasure of the Yuan and later referred to gold and silver money. Though gold and sivler ingots were not in circulation any more, their mimics could be seen easily.


Ming Money
The
Ming Dynasty
(1368 - 1644) issued Da Ming Tong Xing Bao Chao (paper note circulating in the Ming Dynasty) and this was the only paper note during the whole dynasty, which was unprecedented in the previous dynasties. The note, claimed to be the world's largest note, is 34 cm long and 22 cm wide.
With the depreciation of the paper note, mintage was started again. The reign of Jia Jing by Emperor Shi Zong of Ming Dynasty witnessed a breakthrough in the mintage technique. With the addition of zinc, brass coin emerged. Before this, all the coins were made of bronze.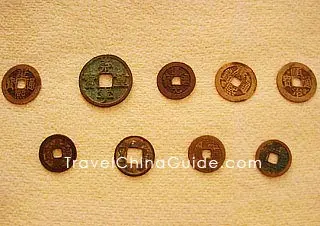 Ancient Coins of Qing Dynasty
Qing Money
At the beginning of the Qing Dynasty (1644 - 1911), there was not issuance of paper note until 1651. This issuance lasted only ten years. After the Opium War, to deal with the financial crisis, the Qing Dynasty began to issue paper note again in 1853.

In the late of the 19th century, foreign imperialist countries invaded China and set up banks and issued paper notes. The Qing Dynasty set up mintage factory in Beijing in 1908 and the first steel money template was made during this time. However, hardly were any notes issued, the Qing Dynasty collapsed.
- Last modified on Apr. 24, 2019 -
Questions & Answers on Money in Yuan, Ming and Qing Dynasties
Asked by Mrs. Peterson from USA | Mar. 01, 2009 22:19

Reply
It is interesting, although a picture would make it more presentable. :)
Answers (1)
Answered by i luv cooper! from USA | Feb. 29, 2012 20:06

1

0

Reply
i agree with u. like i said, MORE PICS!