Shang Dynasty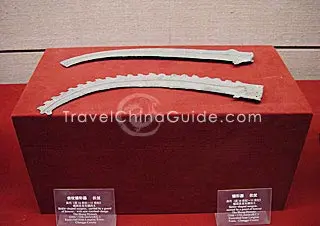 Sickle-shaped Weapon
Originally a tribe living in the lower regions of the Yellow River during the Xia Dynasty (21st - 17th century BC), Shang Dynasty was established by King Tang in 1675 BC after overthrowing the tyrannical rule of Jie, (Xia's last emperor). This dynasty lasted over 600 years and was led by 30 different emperors. As the capital of the Shang was always based in Yin (the now Xiaotun Village, in Anyang City of Henan Province), it is also known as 'Yin Shang'.

Political History
Drawing from the 'lessons' of Jie, Tang implemented a series of innovative measures with the help of his two ministers. He is best known for abolishing the persecution and oppression of the people carried out by Jie, and for governing his people with benevolence and compassion. During his reign, conflicts eased, people lived happy lives, and the country prospered. In all areas, from economy to culture, there were great achievements.

The dynasty flourished through the reign of the ninth emperor. During the rule of the tenth emperor however, conditions began to deteriorate and there were multiple attempts by the emperor's own family to overthrow him and take command of the kingdom. Social problems began to emerge and the emperor's power gradually declined.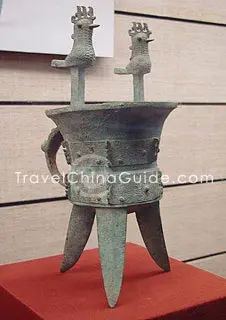 A Three-legged Wine
Heating Vessel
During the final period, the country was in turmoil and vassals from other countries began to rebel. Despite the turmoil and the impending uprising, Emperor Zhou (Shang's last emperor) led a luxurious life and tortured both his ministers and his people. This intensified conflicts across the kingdom and the empire was finally overthrown by Wu (chief of Zhou tribe), ending the long reign of the Shang Dynasty in Chinese history.

Economy
Shang rulers attached great importance to agriculture. Fishing began to grow as an industry as the people fished in the fresh waters.
In the handicraft industry, the work was subtly allotted to many different workers and crafts were made in large quantities and varieties, showcasing the different techniques used during this time. The bronze wares in particular reached a high level of artistry that signified the Shang's advanced civilizationnasty. The most famous bronze work from this time is the Simuwu Quadripod, weighing 832.84 kg (about 1836 pounds) it is the largest and heaviest Chinese bronze vessel. Porcelain wares were also invented during this time, the jade carving techniques were of the highest quality and the woven silk fabrics displayed the great skill and capabilities of the artisans.
With the grown of the agriculture and handicraft industries, the commodity exchange was promoted and the role of the commodity exchange dealer began to appear in the late Shang.
Culture and Arts
In the field of music, there was also great progress. The improvements in the bronze casting techniques allowed for delicate musical instruments to be made. In Yin Xu (Yin Yuins) in Xiao Tun Village of Anyang City, archeologists discovered musical instruments of the Shang Dynasty including: Xun (Ocarina made of baked clay), drums, and copper cymbals.

Great advancements can also be seen in the written characters of Shang Dynasty which are considered the oldest Chinese written form for communication. The characters were usually carved on tortoise shells, animal bones, bronze wares or some other utensils. Many Oracle Script pieces that have been found in the Yin Ruins offer us many important events happened during that period.
| | |
| --- | --- |
| Cooking Vessel | Mask with Man-face Motif |
The sculpture produced during this time was also superb. Various kinds of patterns were carved on bronze, jade, and pottery wares. On other goods, like stones, animal bones, and horns, fine pictures can also be seen.

In terms of beliefs, Shang people believed that God dominates the world. They also worshipped their ancestors, the sun, the moon, the river, and the earth and sacrifice ceremonies were typically grand events. In addition, the art of fortune telling was popular during this time.

Science
The Oracle Scripts contain records about solar and lunar eclipses, stars and other celestial happenings. The records clearly demonstrate great advancements in astronomy. During this time, the calendar system continued to advance and in the area of math, people performed elementary accounting distinctions between odd and even numbers appeared.

Emperors
| Order | Name | Notes | Reign Time (years) |
| --- | --- | --- | --- |
| 1 | Tang | Family name: Zi; Given name: Tang; He overthrew the tyrannical rule of Jie of the Xia Dynasty. The society was stable and the people lived happy lives during his reign. | 30 |
| 2 | Wai Bing | Son of Tang | 3 |
| 3 | Zhong Ren | Son of Tang and younger brother of Wai Bing | 4 |
| 4 | Tai Jia | grandson of Tang | 33 |
| 5 | Wo Ding | Son of Tai Jia | 29 |
| 6 | Tai Geng | Son of Tai Jia and the younger brother of Wo Ding | 25 |
| 7 | Xiao Jia | Son of Tai Geng | 36 |
| 8 | Yong Ji | Brother of Xiao Jia; The dynasty began to decline under his rule. | 12 |
| 9 | Tai Wu | Younger brother of Yong Ji | 75 |
| 10 | Zhong Ding | Son of Tai Wu | 11 |
| 11 | Wai Ren | Son of Tai Wu and younger brother of Zhong Ding | 15 |
| 12 | He Dan Jia | Son of Tai Wu and younger brother of Wai Ren | 9 |
| 13 | Zu Yi | Son of He Dan Jia; the Shang Dynasty came into prosperity again. | 19 |
| 14 | Zu Xin | Son of Zu Yi | 16 |
| 15 | Wo Jia | Son of Zu Yi and the younger brother of Zu Xin | 20 |
| 16 | Zu Ding | Son of zu Xin | 32 |
| 17 | Nan Geng | Son of Wo Jia | 29 |
| 18 | Yang Jia | Son of Zu Ding; the country was in decline during his reign. | 7 |
| 19 | Pan Geng | Son of Zu Ding and the younger brother of Yang Jia; He moved the capital to Yin, thus the dynasty is also called Yin Shang. The country was prosperous during his reign. | 28 |
| 20 | Xiao Xin | Son of Zu Ding and the younger brother of Pan Geng. The country declined again in his reign. | 21 |
| 21 | Xiao Yi | Son of Zu Ding and the younger brother of Xiao Xin | 21 |
| 22 | Wu Ding | The best emperor after Pan Geng. He enlarged the domain of the country through a war. Social productivity developed to a high level, including aspects of textile, medicine, and astronomy. There were great achievements during his reign. | 59 |
| 23 | Zu Geng | Son of Wu Ding | 7 |
| 24 | Zu Jia | Son of Wu Ding and younger brother of Zu Geng | 33 |
| 25 | Lin Xin | Son of Zu Jia | 6 |
| 26 | Geng Ding | Son of Zu Jia and younger brother of Lin Xin | 6 |
| 27 | Wu Yi | Son of Geng Ding | 4 |
| 28 | Tai Ding | Son of Wu Yi | 3 |
| 29 | Di Yi | Son of Tai Ding; the country was declined even worse. | 37 |
| 30 | Zhou | Family name: Zi; Given name: Xin; He acted atrociously toward his people and doted on his imperial concubine, Daji. He was finally defeated by the tribe of Zhou. | 33 |
- Last updated on Aug. 09, 2022 -
Questions & Answers on Shang Dynasty
Asked by Paul McEnery from AUSTRALIA | Aug. 21, 2018 22:49

Reply
Can you tell me more about the Three-legged Wine Heating Vessel pictured on this page ?
Please can you tell me all I know all you

Kind Regards

Paul
Answers (4)
Answered by Beth from USA | Aug. 22, 2018 20:25

0

0

Reply
It was made of bronze and used to warm wine in the ancient time. It has three feet, a Pan (ear), two column and round mouth in the shape of horn.
Answered by Paul McEnery from AUSTRALIA | Aug. 22, 2018 23:13

0

0

Reply
Hi Beth,

thanks for responding to my question. Do you know were this photo was taken? Is it in a museum, I have a very similar piece in my collection its called a double Phoenix Jia...from the late Shang Dynasty. Any additional information would help greatly in authentication of my piece.

Regards

Paul
Answered by Beth | Aug. 23, 2018 18:27

0

0

Reply
If you have a chance to come to China, you can see that in National Museum of China, located at the east of Tian'anmen square in central Beijing. And I have little knowledge about this and you are advised to find a cultural relics expert to help you.
Answered by Paul McEnery from AUSTRALIA | Aug. 24, 2018 03:59

0

0

Reply
Thanks your answer has been helpful

Paul
Asked by AMANI92 | Jan. 24, 2017 03:01

Reply
Can you compare how travel has changed through the ages from the Shang Dynasty Era to modern day?
Answers (1)
Answered by Joanne from UNITED KINGDOM | Jan. 25, 2017 01:17

11

17

Reply
In ancient times, emperors, officers, scholars, and merchants often set out travels. Ordinary people were usually busy making a living and they seldom travelled.
The major transportation means were horses and carriages. Nowadays, travel becomes easier with various means, such as train, bus, boat, and plane.
Asked by Willyboy Ragadio from PHILIPPINES | Dec. 15, 2016 01:30

Reply
What was the purpose of the Shang dynasty in building dikes?
Answers (1)
Answered by Lee from GERMANY | Dec. 15, 2016 20:54

5

16

Reply
The dikes were constructed to prevent floods. :)